Joshua Clover's "Haecceity"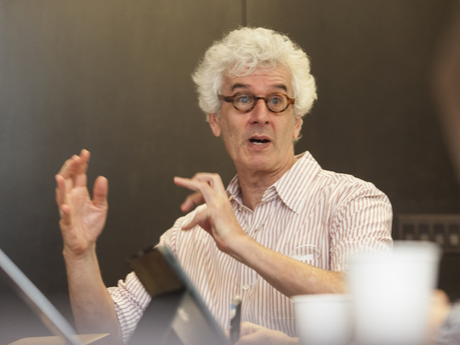 If what you want is calm
to be restored you are still the enemy
you have not thought thru clearly
what that means

if what you want is a national
moment of silence the indictment
of a single police officer
or two or three you are still
the enemy you have chosen the reverie
of law for you and your friends if you want

another review panel a Justice Dept
study a return to democracy rather than
for riot and looting to leap beyond
itself from county to county
rift to rift until it becomes general
you have not understood
what a revolution is it's just this

it's coming out again night after night more of us
than there are of them it's saying no
to every deal remember nothing
belongs to you because nothing
belongs to anyone



From Red Epic (Commune Editions, 2015). Reprinted with permission of the author. All rights reserved. 
On "Haecceity"
The poem is a derivation of Diane Di Prima's "Revolutionary Letter #19" ("if what you want is jobs / for everyone, you are still the enemy,/ you have not thought thru, clearly / what that means…"). It's the last poem written for the book. Red Epic tracks the world following on the global collapse of 2007, trying to grasp it both systemically and at the level of local textures of life. It follows the rises and falls of political mobilizations, an oscillation I call "era of reading groups, era of helicopters, more reading groups, more helicopters." These mobilizations began locally with the riots after the murder of Oscar Grant, and then university struggles against austerity's nihilism; they peak, perhaps, with the Oakland Commune in 2011. As I was starting to prepare the book for publication, Michael Brown was killed. I went to Ferguson as soon as I could, and spent some time there; this poem comes from that experience as well as the riots in the Bay Area after the grand jury failed to indict the killer. Each riot is powerfully particular; each has (oft-dispiriting) similar aspects, the police murder of a black kid most common among them; all of them are a picture of the future, of what struggle is going to look like. I am moved by all of this, and never want to lose sight of the particulars. We don't really have a word for "haecceity" in English; it's usually translated as thisness. The thisness of social antagonism, that's what I am trying to get a hold on.
Kazim Ali on "The Voice of Sheila Chandra"
One day in New York City, about twenty years ago now, I was mistaken three times on the same day for a man I had never met. It happens in my life, every now and then, but that first time, it was specific: there was a festival of South Asian dance happening, and there was a dancer there who bore some kind of strong resemblance to me. One person recognized me on the street, another woman in the subway, and finally sitting down to dinner at Baluchi's in the West Village, the waitress exclaimed in delight when she saw me. T
Read Article
Editor Sarah Coolidge on the anthology Home: New Arabic Poems
The second in our newly launched Calico Series, Home is a collection of nine contemporary poets from eight countries across the Arab-speaking world. While this book is focused on daily life and the intimacy of the home, it was always intended to be expansive, bringing to light a side of Arabic poetry that may be less familiar to Anglophone readers.
Read Article