Stopping by with Anna Deavere Smith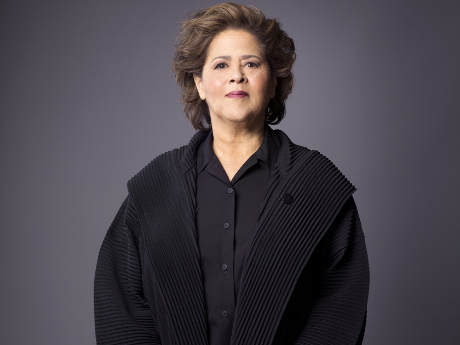 During this extraordinary moment—of both pause and activism—we asked writers, musicians, curators, and innovators to reflect on the power and memory of language, shared spaces, and this moment in time.
---
Anna Deavere Smith is an actress, playwright and teacher. She is known for creating a new form of theatre based on interviews, and in which she portrays multiple real people. She's the recipient of a MacArthur Award, two Tony nominations, the National Endowment for the Humanities Medal, the Dean's Medal from Stanford Medical School, and others. She has been a cast member of TV shows such as Nurse Jackie, The West Wing, and For the People. Her books include Talk To Me and Letters to A Young Artist, as well as printed versions of her plays. She is a professor at New York University's Tisch School of the Arts.

---
What is the last thing that moved you?

I am always moved by Ella Fitzgerald—as much by her excellence as by what she sings. I am also moved by the music of Max Richter, no one album in particular— I've always been interested in and moved by music that is repetitive and builds. I suppose that comes from my youth in the black church where many of the hymns had repeated lines and refrains. You couldn't find two more different kinds of music, but there you go.

What is a book that changed your life?

Dibs in Search Of Self, written by child psychologist Virginia M. Axline, is an excellent portrait of a relationship between a child and a caring adult other than parents who changed his life with patience and imagination.

What is a book you think everyone should read or a piece of art everyone should encounter?

That is a very difficult question because there is no "everyone" in America. The country is so divided culturally and politically. Some suggestions:

Notes on the State of Virginia by Thomas Jefferson. We see the seed of problems deep-seated in origins. Some chapters will shock, alarm, and distress readers, but I think we have to see the root of problems to fix them.

The Constitution of the United States.

Jacob Lawrence's The Migration Series. Very beautiful, humble story of America through the lens of African Americans on the move.

What is your first memory of poetry?

All of the nursery rhymes and other rhyming verses and songs read to me by my mother. And of course our introduction to poetry as children comes in the form of rhyming verses and songs because they are easy to learn and most children enjoy them.

The pandemic has emptied many public spaces (libraries, concert halls, museums, parks, transit systems, etc.). What space—and community—do you miss the most?

We can't go to any theaters, and there are many in New York City. I don't believe I have a favorite theater or concert hall in New York. I miss them all. And I love going to En Japanese Brasserie in the village. The owner has become a friend, and I like to visit her restaurant in NYC and the one in Los Angeles. I also miss my swimming pool and the gyms I go to!

Public space is rife with words—signs, logos, advertisements. If you were to choose one poem or text to inscribe in a public place right now, what would that be? And where would you place it?

"I know I'm ready to write when I'm fretting about something." —Toni Morrison

On the doorway, in any elementary school where the principal will personally tack it to the door and spread it through social media.

Have you thought differently about the role and power of language and art in the wake of murder of George Floyd, Breonna Taylor, and the wide-spread protests?

I have not thought differently. This moment is in the tradition of protest poetry and art that goes back centuries. I hope that this pain will lead to beautiful works of arts.

Have you created something during the lockdown, or are you working on anything now?

I am working on things, but I don't talk about what I'm working on because it makes me think I've done more than I have.