Stopping by with Jacqueline Woodson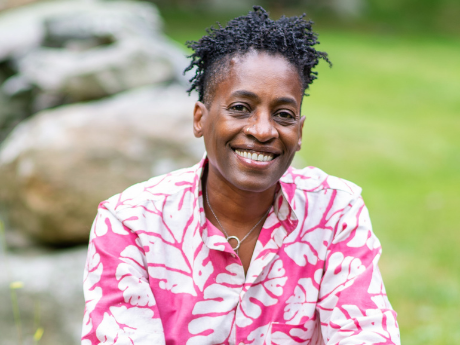 ​During this extraordinary moment in time, we asked writers, musicians, curators, and innovators to reflect on influence, memory, language, shared spaces, and the power of poetry to bring us together.

---
Jacqueline Woodson is the recipient of a 2020 MacArthur Fellowship, the 2020 Hans Christian Andersen Award, the 2018 Astrid Lindgren Memorial Award, and the 2018 Children's Literature Legacy Award, and she was the 2018–2019 National Ambassador for Young People's Literature. Her New York Times bestselling memoir, Brown Girl Dreaming, won the National Book Award, as well as the Coretta Scott King Award, a Newbery Honor, and the NAACP Image Award. She also wrote the adult books Red at the Bone, a New York Times bestseller, and Another Brooklyn, a 2016 National Book Award finalist. Her dozens of books for young readers include Before the Ever After, New York Times bestsellers The Day You Begin and Harbor Me, Newbery Honor winners Feathers, Show Way, and After Tupac and D Foster, and the picture book Each Kindness, which won the Jane Addams Children's Book Award.

---
What is the last thing that moved you?

I have to say I watched all the episodes of High On The Hog and found myself tearing up often. It's basically a journey through the history of African American cooking and food, and being the cook/foodie that I am, I was truly moved by the connection I have to so much of that history—from the fact that James Hemings is a many-great uncle of mine to the way I find myself trusting the ancestors' guidance when I'm seasoning food. I have so many burns on my arms from cooking and now think of them more as tattoos of a sort. I have an actual tattoo of an olive tree on my forearm, a homage to my family's many years visiting Provénce with a close friend who is a chef and sommelier. My newest burn—from the side of a sauté pan in which I was toasting slivered almonds for a salad, is now like another root on that tree, starting right where the last spindly root ends. I am truly moved by how much Black folks were able to hold onto given how much was taken.

What is a book that changed or greatly influenced your life?

When I was a kid, I ended up borrowing—then having to pay for it out of my allowance because I refused to give it back—a copy of American Negro Poetry Anthology edited by Arna Bontemps and featuring many of the poets of the Harlem Renaissance. I spent hours copying poems from this book then rewriting them as my own. I fell in love with poets like Georgia Douglas Johnson, Donald Jeffrey Hayes, Countee Cullen and Audre Lorde through that anthology. To this day, I still have the book. When old Jacqueline needs to remember the passion of young Jackie's desire to become a writer, this is where I go.

What is your first memory of poetry?

I grew up Jehovah's Witness. It was/is (I'm no longer a Witness) a text-based religion so we spent many hours studying the Bible, Watchtower, Awake! and the many other texts the religion publishes. So I'd have to say my earliest memory of poetry comes from the Bible—"For God so loved the world, that he gave His only begotten son…" I don't know, but as a child I was fascinated with the word 'begotten'. How could a word no longer be a part of the world? And what did it mean to give up your child? There was something in the heartbreak and the craziness of that gesture that had so many other stories buried within it. I always say I write because I have questions, not answers. And that sentence had me all up in my questions—the juxtaposition of the love and the relinquishing of that love sent me all kinds of messages about narrative, language, loss and brevity.

How has this last year changed you, and what is something that you will take with you into a post-pandemic world?

I was never a television watcher. We don't even have one in Brooklyn. But during the pandemic, we moved outside of the city and I found myself spending the evenings watching TV with my son—starting with The Office, which prior to the pandemic I couldn't even glance at and didn't get the humor of but then, inside the pandemic, I found myself completely addicted. The Office became Atlanta became Wanda Vision and so on. I hadn't had patience for television before, and now that I'm back to writing, find myself watching little to none again. BUT, I've since started writing for television and film and thus entered the very confusing world of "Hollywood." My break from writing of any kind remains what it has always been—poetry. I find myself revisiting the works of Natalie Diaz, Tracy K. Smith, Tim Seibles, Nick Flynn, Danez Smith, Donika Kelly, Aracelis Girmay and many others. And always, when I'm out for a run, I have Smith's "The Slowdown" in my ear. Poetry just makes the world feel more… navigable.

Who or what is your greatest creative influence?

My mother had a record album of Nikki Giovanni reciting her poetry—I think it was The Way I Feel. The first time I heard it, I was like "What? Who? Is that?!" I remember just sitting beside the record player staring at Giovanni's lovely face and listening to her speak to me. Part crush, part absolute Is this something a person can do? Be? There is nothing I've written since that moment in my childhood that hasn't been influenced by Giovanni's album, including the fact that I have to read everything I write out loud to make sure the rhythm and wording of it is working.

If you were to choose one poem or text to inscribe in a public place right now, what would that be? And where would you place it?

Before the Jehovah's Witnesses sold all that real estate in downtown Brooklyn for who knows how many millions (!!) every time you drove across the Brooklyn Bridge, you saw the sign: READ GOD'S WORD THE HOLY BIBLE DAILY. Even as a kid, I was constantly adding punctuation like "READ GOD'S!" & "WORD THE HOLY BIBLE!" So because you can't miss that spot on your way to Manhattan and because that sign—that kept me entertained for so much of my life is no longer there, I'd throw up a tag from a Tim Seibles poem: I wish someone could tell me / how to live in the city. Every time I crossed that bridge, those words would offer me something new.

What do you see as the role of art in public life at this moment in time?

Good art just makes us . . . better. It grows us. It stretches us. It grounds us.

What do you want people to take away from your writing?

The above.

Are you working on anything right now that you can tell us about?

A film that is based on someone real. A feature film based on my novel, Red At The Bone. A TV series based on my book, Behind You. A non-fiction book. A middle grade book. Two plays for the Kennedy Center where I'm beginning a residency. Baldwin For The Arts—we just accepted our first group of fellows. Yeah, I know. That's a lot. Lemme get my butt back to work!


Photo courtesy of the John D. and Catherine T. MacArthur Foundation.