PLEASE NOTE
Due to the coronavirus pandemic, we are temporarily unable to ship store orders. Thank you for your patience. We will fulfill your order as soon as possible.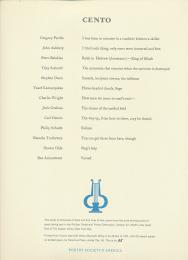 Pulitzer Centennial Broadside
The cento is composed of titles and first lines of first poems from prize-winning books of poets who participated in the Pulitzer Centennial Celebration on October 27, 2016, in the Great Hall of The Copper Union, New York City. Printed in an edition of 100.
$15.00
Chapbooks
An ongoing series featuring our annual chapbook fellows
See All
Poetry In Motion
For fans of the beloved public arts program
See All
PSA Award Winning Books
A selection of collections by PSA award-winning poets
See All