PLEASE NOTE
Due to the coronavirus pandemic, we are temporarily unable to ship store orders. Thank you for your patience. We will fulfill your order as soon as possible.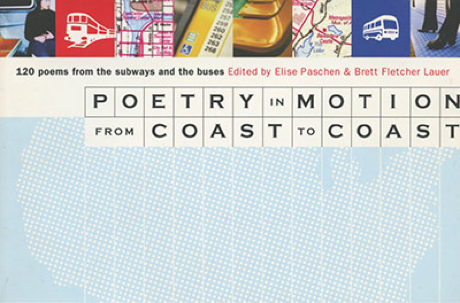 Poetry In Motion® from Coast to Coast: 120 Poems from the Subway and the Buses
Originating in 1992 in New York City, the Poetry In Motion® program traveled to Chicago and now has appeared in numerous cities nationwide, from Baltimore to Houston, Orgeon to Los Angeles. The wonderfully diverse poets represented include Sherman Alexie, William Blake, Billy Collins, Sharon Olds, Langston Hughes, Pablo Neruda, and Joy Harjo, among many others. As in the previous edition, the varied poetic voices in this anthology are selected from hundred of possibilities by the two editors, themselves poets.

Edited by Elise Paschen and Brett Fletcher Lauer
$10.00
Chapbooks
An ongoing series featuring our annual chapbook fellows
See All
PSA Award Winning Books
A selection of collections by PSA award-winning poets
See All
Broadsides Etc.
Collectible editions of treasured poems
See All