Selections from theVERSEverse: A Poetry NFT Gallery, curated by Lillian-Yvonne Bertram
The Poetry Society's new window installation, curated by poet and artist Lillian-Yvonne Bertram, explores how poets are using emerging technologies like blockchain to create poems that are also works of art. Featuring the work of more than a dozen poets and artists, selected from the online NFT gallery theVERSEverse and displayed on Infinite Objects, the window showcases the ways poets are pushing the boundaries of contemporary poetry.

---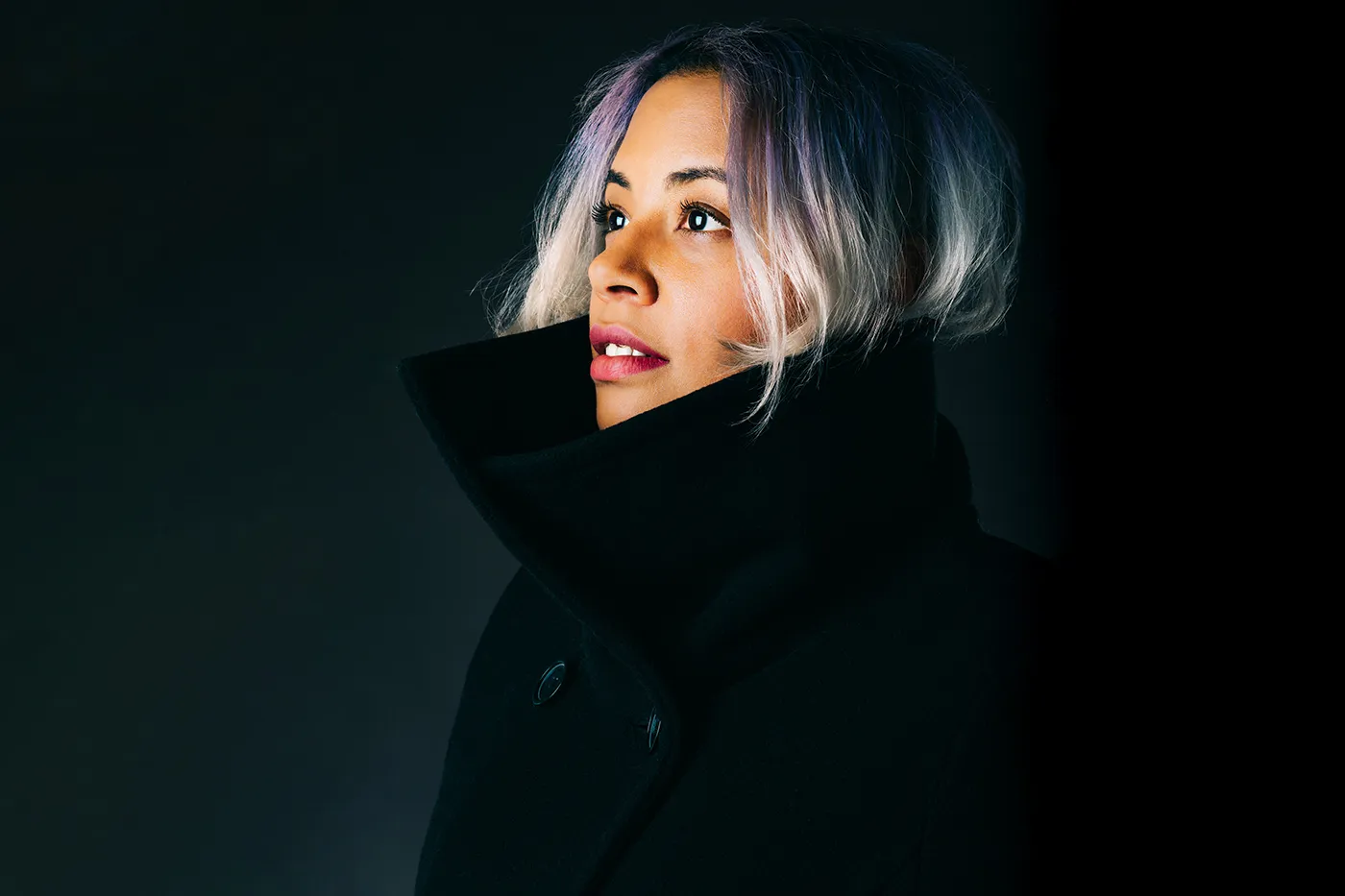 Lillian-Yvonne Bertram is an African American writer, poet, artist, and educator who works at the intersection of computation, AI, race, and gender. They are the author of Travesty Generator (Noemi Press), a book of computational poetry that received the Poetry Society of America's 2020 Anna Rabinowitz prize for interdisciplinary work and longlisted for the 2020 National Book Award for Poetry. They are the recipient of a National Endowment for the Arts Poetry Fellowship. Their other poetry books include How Narrow My Escapes (DIAGRAM/New Michigan), Personal Science (Tupelo Press), a slice from the cake made of air (Red Hen Press), and But a Storm is Blowing From Paradise (Red Hen Press). Their fifth book, Negative Money, is available now. They direct the MFA in creative writing program at the University of Maryland. Their new chapbook, written with AI, is called A Black Story May Contain Sensitive Content and won the 2023 Diagram/New Michigan chapbook contest.

---
Artists and Poets Featured

Lillian-Yvonne Bertram
Ana Maria Caballero
Tina Chang x Emily Edelman
Victoria Chang x Dianna Frid
Franny Choi x Alida Sun
P. Scott Cunningham x Connie Bakshi
Silvina López Medin
Sasha Stiles
Julie Marie Wade x Rose Jackson
---
About the Artists and Poets

Ana Maria Caballero is a first-generation Colombian-American poet and artist. Her work explores how biology delimits societal and cultural rites. She's the recipient of the Beverly International Prize, Colombia's José Manuel Arango National Poetry Prize, and a Sevens Foundation Grant. Her work has been exhibited internationally and is part of GAZELLiO, where she's been an art resident. She has two books forthcoming in 2023, written in the hours before the world wakes up. 

Tina Chang us the first woman to be named Poet Laureate of Brooklyn, and she served in this role for over a decade. She is the author of three critically acclaimed collections: Hybrida (W. W. Norton, May 2019), Of Gods & Strangers (Four Way Books, 2011), and Half-Lit Houses (Four Way Books, 2004). She is a professor and Director of Creative Writing at her alma mater, Binghamton University, where she also oversees the initiatives under the Binghamton Center for Writers.

Emily Edelman is a New York City artist, designer, and curator. Working primarily in generative art, her algorithms explore text, typography, communication, scale, and color theory. Her work has been shown internationally with Art Blocks, Verse Works, Artsy, and VellumLA. She is the cofounder of Token Art, an art and tech unconference.

Victoria Chang's forthcoming book of poems, With My Back to the World will be published in 2024 by Farrar, Straus & Giroux. Her most recent book of poetry, The Trees Witness Everything was published by Copper Canyon Press in 2022. She has also received a Guggenheim Fellowship and the Chowdhury Prize in Literature. She lives in Los Angeles and is a Faculty member within Antioch's low-residency MFA Program.

Dianna Frid is an artist working at the intersection of material texts and textiles. Her artist's books and mixed-media works make visible the tactile manifestations of language. In her work, embroidery is a prominent vehicle for exploring the relationships between writing and drawing, and the overlaps of transcription, translation, and legibility. She is Professor in the Art Department at the University of Illinois at Chicago. Her work has been exhibited nationally and internationally, and she has received numerous grants including awards from 3Arts Award, the Illinois Arts Council, the Canada Council for the Arts, and the Chicago Department of Cultural Affairs and Special Events.

Franny Choi is a queer Korean American writer. Their books include The World Keeps Ending, and the World Goes On (Ecco/HarperCollins, 2022), Soft Science (Alice James Books, 2019) and Floating, Brilliant, Gone (Write Bloody Publishing, 2014). She is a Lilly/Rosenberg Fellow, a recipient of Princeton's Holmes National Poetry Prize, and a graduate of the University of Michigan's Helen Zell Writers Program. The founder of Brew & Forge, she is Faculty in Literature at Bennington College.

Alida Sun is an artist and technologist whose practice integrates presence, resistance, and the nature of adaptation in the age of algorithms. Every day for over 1,400 days and counting she has coded and built new generative artwork spanning installation, sound, choreography, architecture, drawing and light. Sun is the creator of Art Blocks Curated project glitch crystal monsters. Her work has been exhibited at the Venice Biennale, Ars Electronica, UCCA Center for Contemporary Art, Seattle NFT Museum, and audiovisual festivals around the world.

P. Scott Cunningham is the author of Ya Te Veo (University of Arkansas, 2018). His poems, essays, and translations have appeared or are forthcoming in The Nation, American Poetry Review, Gulf Coast, POETRY, A Public Space, Harvard Review, Monocle, and The Guardian, among others. He lives in Miami, FL, where he serves as the Executive Director of O, Miami.

Connie Bakshi is an artist based in Los Angeles, trained as a classical pianist and biomedical engineer. Working predominantly with artificial intelligence, she probes postcolonial narratives that emerge on the boundaries between the synthetic and organic, material and immaterial, the human and nonhuman. Her works often recode language, lore, and ritual to invoke the unspoken memories and desires of a collective consciousness. She has received the Red Dot: Best of the Best Award for Concept Design and the International Takifuji Arts Award. She has spoken and exhibited at FEMGEN at Art Basel Miami, VellumLA, MoCDA, NFCastle, The NFT Gallery in London, and Salone Satellite in Milan and is an alumna of the VerticalCrypto Art Residency and NEW INC, the New Museum's incubator for art, technology, and design. 

Silvina López Medin books of poetry include La noche de los bueyes (Loewe Foundation International Young Poetry Prize), 62 brazadas (City of Buenos Aires Poetry Prize), and That Salt on the Tongue to Say Mangrove (tr. Jasmine V. Bailey, Carnegie Mellon University Press, 2021). Her hybrid poetry book Poem That Never Ends (2021) was a winner of the Essay Press Book Contest. She co-translated Anne Carson's Eros the Bittersweet and Robert Hass's Home Movies into Spanish. She currently teaches in the Spanish Creative Writing MFA at NYU. She holds an MFA in Creative Writing from NYU and is an editor at Ugly Duckling Presse.

Sasha Stiles is a first-generation Kalmyk-American poet, artist and AI researcher probing the intersection of text and technology. A pioneer of generative literature and blockchain poetics, she is the recipient of a Future Art Award and a nominee for the Forward Prize, Pushcart Prize and Best of the Net, and Poetry Mentor to the humanoid android BINA48 since 2018. Her first book, Technelegy (Black Spring Press Group, 2021/2022) has been hailed as an "instant techno-classic."

Julie Marie Wade is the author of 16 volumes of poetry, prose, and hybrid forms, including the newly released lyric essay chapbook, Fugue: An Aural History (New Michigan Press, 2023) and the lyric essay collection, Otherwise (Autumn House Press, 2023), selected by Lia Purpura as the winner of the 2022 Autumn House Nonfiction Book Prize. A winner of the Marie Alexander Poetry Series and the Lambda Literary Award for Lesbian Memoir and a recipient of grants from the Kentucky Arts Council and the Barbara Deming Memorial Fund, Julie has taught in the creative writing program at Florida International University since 2012. .

Rose Jackson is an Australian textile and digital artist. She uses traditional wet felting methods to hand-make wool felt, from which she creates a range of digital artworks combining those physical felt artworks with animation and GAN. Inspired by her surroundings in the bushland of Blue Mountains, Australia, she makes abstract artworks to explore the connection between the natural and digital worlds.

---
theVerseVerse is a poetry NFT gallery where poem = work of art. Founded by Ana Maria Caballero, Kalen Iwamoto, and Sasha Stiles in 2022, it onboards acclaimed writers to web3.0 by featuring works on the blockchain, celebrates the rise of crypto-native poetry, and empowers writers creatively and financially. The gallery has hosted several successful exhibitions and collaborations featuring works adapted for the blockchain and native generative text projects.

Infinite Objects is dedicated to creating novel and compelling ways to elevate the way we experience moving images. These Video Prints can play up to 24 hours of video content on a continuous loop and do not require the aid of external computers or apps. Beautifully framed in acrylic and sustainably-sourced bamboo, Infinite Objects enable videos to be appreciated in the same way posters, prints, and photographs have been for decades.
---