Seeing Into Tomorrow
The Poetry Society of America launches a major new public art project in Brooklyn, featuring the haiku of Richard Wright.

Read
Stopping By
During this extraordinary moment in time, we asked writers, musicians, curators, and innovators to reflect on influence, memory, language, shared spaces, and the power of poetry to bring us together.
Poetry in Motion
Poetry in Motion® places poetry in the transit systems of cities throughout the country exposing it to millions of viewers every day. It was launched by MTA New York City Transit and the Poetry Society of America in 1992. It currently appears in Los Angeles, Nashville, Providence, San Francisco, and New York City.
New York
Smelling the Wind
Audre Lorde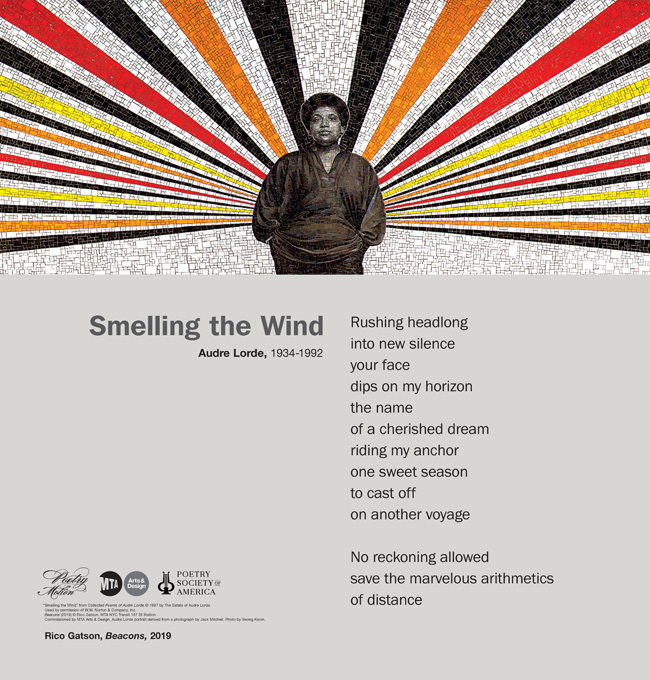 ---
Enjoy a Poem
Lucille Clifton
Let there be new flowering
let there be new flowering
in the fields let the fields
turn mellow for the men
let the men keep tender
through the time let the time
be wrested from the war
let the war be won
let love be
at the end







"Let there be new flowering" from good woman: poems and a memoir 1969-1980 by Lucille Clifton. Copyright © 1987. Reprinted with the permission of BOA Editions, Ltd.