Award Winners
2023 Anna Rabinowitz Award
Farid Matuk and Nancy Friedemann-Sánchez
Selected by Joyelle McSweeney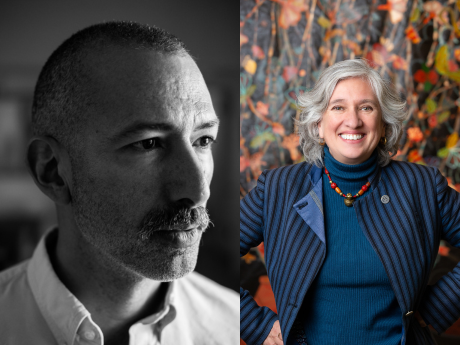 Joyelle McSweeney on Farid Matuk and Nancy Friedemann-Sánchez

Black, rich, and resinous, the folding world of Farid Matuk and Nancy Friedemann-Sánchez's Redolent (Singing Saw Press) signals at a glance that we must shed our earthly lungs to breathe this mysterious element. In this dark stratum, all icons circulate and show themselves to have secret sides—even birds and flowers, even the human hand and the human eye, which do not bother to hide their doubleness. Matuk's lyrics trace an ill, ecstatic fuse, now intimate, now cosmic, now hushed, now explosive, melting history, nation, and time down to a black fluid across which ancestors may cross. But will they ever arrive? The future is as close as the daughter's face, as distant as a mother's unimaginable youth. Friedemann-Sánchez's panels ground and propel, anticipate and echo the convulsive intimacy of Matuk's verse. Her pictoriality seems at once quotational, testimonial, visionary, and speculative, and is layered with material as alien as Tyvek, as close-to-hand as the botanically-derived barniz de Pasto technique that yields this refulgent black. Most importantly, the poet's and the artist's hands protect and disclose each other's visions with immediacy and responsiveness. Against the omni-extractiveness that defines our current moment and seeks to rattle our futures as it has our pasts, Redolent entails a singular rejoinder: collaboratively constituted, inextricable, and radiant with refusal.
*
Farid Matuk is the author of the poetry collections This Isa Nice Neighborhood and The Real Horse, and of several chapbooks including My Daughter La Chola. Matuk's work has been supported, most recently, by the Headlands Center for the Arts and by a Holloway Visiting Professorship in Poetry & Poetics at UC Berkeley.
Nancy Friedemann-Sánchez is a Colombo-American artist with an interdisciplinary practice. She grew up in Colombia as the child of a Colombian and a United States citizen and migrated to the US as an adult. Her art is about the experience of having physically migrated yet still having a piece of herself rooted in Colombia. Her work is in the Elizabeth A. Sackler Center for Feminist Art at the Brooklyn Museum; she participated at the 20 Congreso Internacional: La Experiencia Intelectual de las Mujeres en el Siglo XXI in 2012 in Mexico City. Shows include Utah Museum of Contemporary Art, the Nerman Museum of Contemporary Art, Miami Museum of Contemporary Art, The Contemporary at Blue Star, the Bemis Center for Contemporary Arts, La Bienal de Cuenca, Ecuador, the Sheldon Museum of Art, the Joslyn Art Museum, the Portland Museum of Art, El Museo del Barrio, and the Bronx Museum of the Arts. She was awarded the Doctorow Prize in Painting, a Nebraska Arts Council Grant, a Smithsonian Artist Fellowship, a Puffin grant, a Pollock-Krasner grant, and a NALAC grant. She was nominated to the Joan Mitchell Foundation grant, the United States Artists Fellowship, the Rema Hort Mann Foundation and to the Anonymous Was a Woman Foundation. She was a resident at Art OMI, Fountainhead, Tamarind Institute, Yaddo, Gasworks, the Bemis Center for Contemporary Arts, and Bronx Museum of the Arts. Nancy coruns FIENDISH PLOTS, an exhibition space in Lincoln, NE.
Special Mention
I also wish to recognize Eduardo Kac's Porneia (Nightboat Books), which arrives like the last bus from the twentieth century, raunchy with possibility. The Movimento de Arte Pornô, of which Kac was ringleader, for two years countered a military dictatorship with nudity, guerilla performance, nude guerilla performance, slogan tee-shirts, goofy phallic masks, cheerfully graphic cartoons and photos, primitive computer graphics, bad puns, and a cosmic pink miniskirt—whose pinkness must be imagined, and thereby perfuses the entire trove with its buoyancy. Kac's Porneia entails a joyful toolkit for collaboratively countering the latest diktat with an endless gozo of possibility.