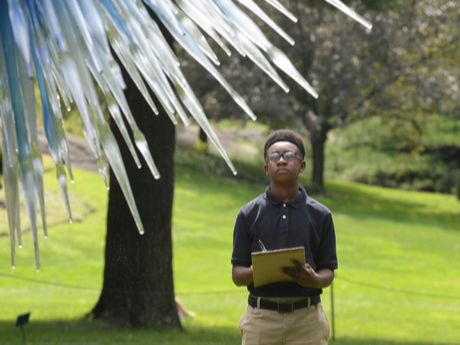 Our Visiting Poets Program places excellent contemporary poets in the classrooms of Harlem Academy in New York. Over the course of several weeks poets work closely with students on writing, revision, and performance.
Since 2012, the Poetry Society of America has worked with Harlem Academy, an independent school in Upper Manhattan for promising students from under-served backgrounds whose potential might otherwise go unrealized. Each spring we place a diverse cohort of excellent, contemporary poets in the school's middle English classes where they provide inspiration, mentorship, and curriculum crafted especially for each group, with classes dedicated to composition, revision, and performance.
Through the Visiting Poets Program, students have written poems inspired by images and objects with Ama Codjoe, explored the power and playfulness of concrete nouns with Geoffrey Nutter and the endless possibilities of metaphor with Samantha Thornhill. They've read Robert E. Hayden with Patrick Phillips and Gwendolyn Brooks with Camille Rankine, and they have compared the freedom of writing in and without strict forms with Rachel Zucker.
Inspired by the success of the program at Harlem Academy, the PSA will bring the Visiting Poets Program to GALS, a charter school for girls, in Los Angeles in Spring 2020.

Watch a video about the program.