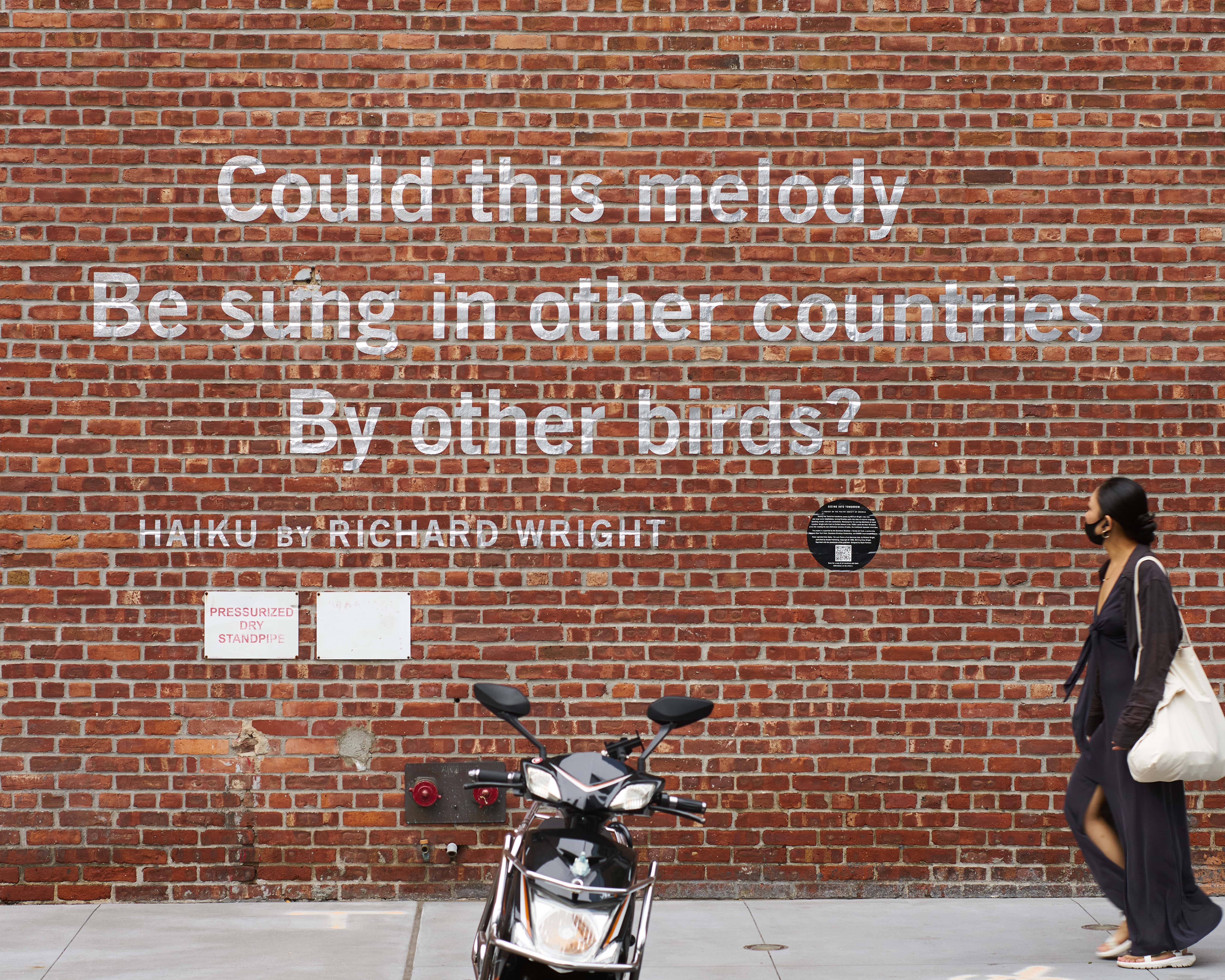 The Poetry Society of America launches a major new public art project in Brooklyn, featuring the haiku of Richard Wright.
---
Seeing Into Tomorrow transforms short poems by Richard Wright into large-scale installations, turning Brooklyn walls into sites of inspired language, sparkling wonder, and new connections. The project commemorates the achievements of a major Black writer, who lived on Carlton Avenue in Fort Greene in the 1930s, while also inspiring residents and visitors alike to "read" the city in new ways.
Best known for his searing depictions of racial injustice in books such as Native Son and Black Boy, Wright spent the final 18 months of his life creating his own distinctive versions of haiku, the traditional Japanese verse form. Wright's haiku are a defiant act of hope, a crossing of cultures and traditions that 60 years later continues to offer us a vision for a different "tomorrow."

---
Watch a short video of the project.
---
"For Richard Wright, hunger and beauty were once upon a time terrifying and ravaging. But writing these poems kept him spiritually afloat . . . They are Richard Wright's poetry of loss and retrieval, of temperate joy and wistful humor, of exile and a dreamed return. They lie somewhere between the loss for words and the few charmed syllables that can heal the loss." — Julia Wright

"Richard Wright wrote nearly 4,000 haiku towards the end of his life. Studying the greatest translations of the Zen-inspired art form, he created work that makes us movingly aware of our connection to the ephemeral beauties of life. His haiku remain some of the finest in the West." — Kimiko Hahn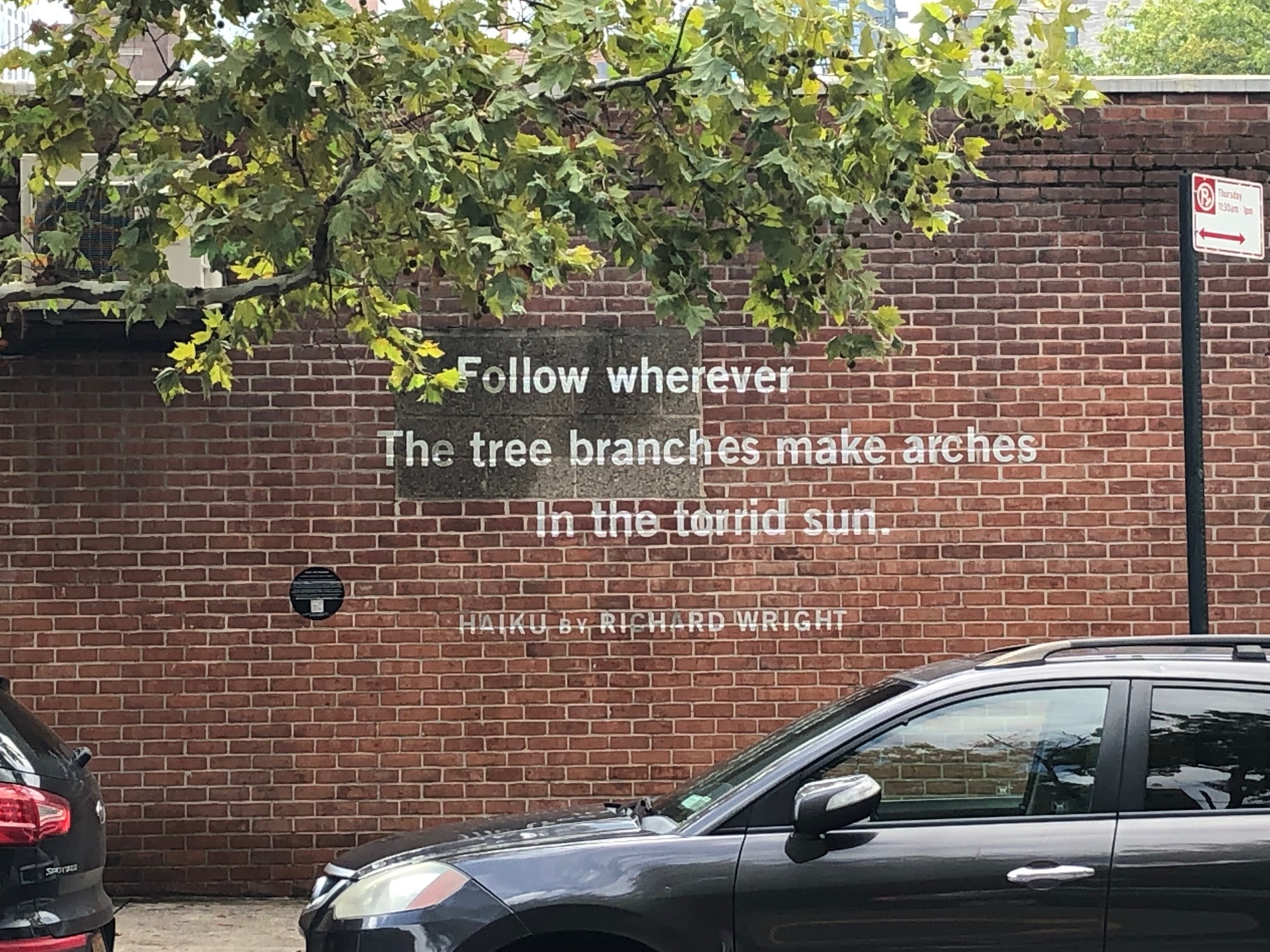 ---
Designed by Doyle Partners, this multi-site installation invites readers to travel through the neighborhoods of Downtown Brooklyn and Fort Greene—to cross boundaries and make surprising discoveries. The sites range from the Fulton Mall shopping district to cultural landmark to small stores at the NYCHA Whitman Houses. You can use the map below to visit all the sites.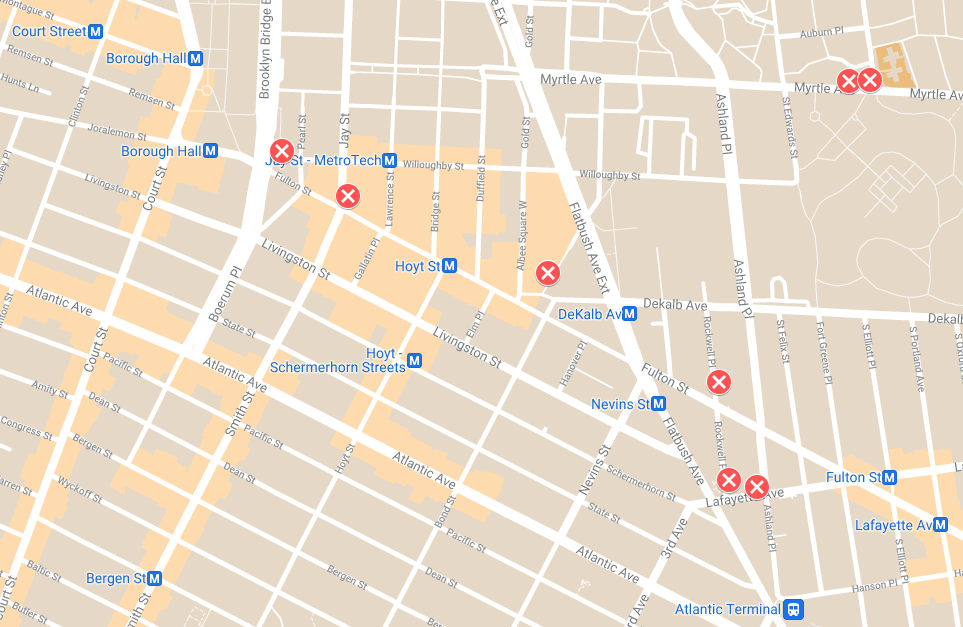 ---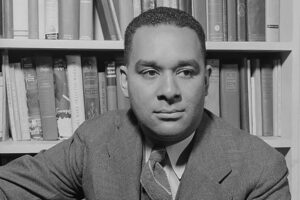 Richard Wright (1908-1960)

Born on Rucker's Plantation, near Roxie, Mississippi, in 1908, Richard Wright moved to Chicago as a young man and worked odd jobs while pursuing his dream of becoming a writer. In 1937, he moved to New York, where he began to publish his work. In 1940, he published Native Son, the story of a young Black man's descent into poverty, hopelessness, and violence. The first book by a Black author to be selected as the Main Selection of the Book-of-the-Month Club, the novel brought Wright international aclaim. His later books include his memoir Black Boy and the novels The Outsider and The Long Dream. In 1947, Wright emigrated to France, where he became friends with Camus and other writers, and spent much of his time assisting liberation movements in Africa and Asia. While he had written poems throughout his career, Wright devoted the final two years before his death in 1960 to the study of haiku and ultimately wrote more than 4,000 of these 17-syllable poems.
---
Seeing Into Tomorrow is supported by the Downtown Brooklyn + Dumbo Art Fund. A partnership between New York State, Downtown Brooklyn Partnership, and DUMBO Improvement District, the Fund seeks to enhance public space, increase access to cultural programming, and connect the neighborhoods of Downtown Brooklyn and Dumbo.
Poems reprinted from Haiku: The Last Poems of an American Icon, by Richard Wright, published by Arcade Publishing. Copyright © 1998, 2012 by Ellen Wright. Reprinted with the permission of the publisher.