Announcing the 2022 Shelley Memorial Award winner, Joyelle McSweeney
Joyelle McSweeney has been named the winner of the 2022 Shelley Memorial Award. Established by the will of Mary P. Sears in 1930, The Shelley Memorial Award recognizes poetic genius and is bestowed upon one distinguished American poet each year.

Selected by Rick Barot and Calvin Bedient.
---
Judge's Citation
In Toxicon (published last year in tandem with its epilogue, Arachne, on a newborn's death), Joyelle McSweeney emerged with a genius for assault that was no longer carnivalesque (as in Percussion Grenade, 2012) but, instead, tragic. She joined the small party of the great poets of the disease and evil of being, and not just of the human being, pathetically evil, but that of the cosmos, which even the molecules, in one of her poems, ask to be excused from, but no dice. The sheer scope of the book's powerful indictments is breathtaking. Nothing is safe from her rhetoric, which wrings necks.

Nonetheless, the poems of Toxicon are shapely, if far more ready to splatter than the neat stanzas of The Red Bird (2002). Where Percussion Grenade all but required parataxis, Toxicon tightens up formally against invasive things, everything toxic, corrupting, spoiling, devastating. Writing like a champion boxer, with clean, sharp jabs, is what gets you through. The force of her lines, her imagination's daring, her phrasing's shuddering vigor, are exhilarating.

No one would write so tragically beyond pity, so on the offense, except from profound grief that the gentle qualities that people have lived and died for are trodden bested by the violence in things. But weeping, defeat––these are not allowed. The thing is to be the Anti-, the Excoriator, the Equal to. McSweeney has an extreme sensitivity to being pressured, come at, taken advantage of. Even dawn is a terrible ordeal: comes the sun's detonations. But it is this abnormality that makes her alert to every bullying thing. 
—Calvin Bedient
---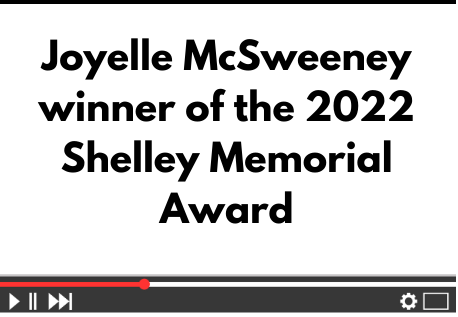 ---
In Joyelle McSweeney's dynamic body of work, lyric intensity becomes a means of investigating the world in all its toxic radiance. Her published works span poetry, prose, drama, translation, and criticism. Her debut volume The Red Bird (2001) inaugurated the Fence Modern Poets Series; her verse play Dead Youth, or, the Leaks (2012) inaugurated the Leslie Scalapino Prize for Innovative Women Playwrights; and her most recent double-collection, Toxicon and Arachne (2020), called a "frightening and brilliant book" by the New Yorker, was a finalist for the Kingsley Tufts Prize. Her influential volume The Necropastoral: Poetry, Media, Occults (2014) counters conventional ecopoetics by locating aesthetic and political possibility in such signature Anthropocene phenomena as mutation, contagion, contamination, and decay. She is a co-founder of Action Books, an international press which has built readerships for major poets from Asia, Latin America, Europe, Africa, and the US, while centering translators and the art of translation itself. In 2022, McSweeney was recognized with a Guggenheim fellowship as well as the Arts and Letters Award in Literature from the American Academy of Arts and Letters. McSweeney is a Professor of English at the University of Notre Dame.
---