Courtney Faye Taylor Wins 2023 Four Quartets Prize
The T. S. Eliot Foundation and the Poetry Society of America are pleased to announce that Courtney Faye Taylor is the winner of the 2023 Four Quartets Prize for her collection Concentrate (Graywolf Press, 2022).

She was selected by judges Terrance Hayes, Hoa Nguyen, and Geoffrey G. O'Brien, who hailed her work as "a statement of poetics as well as a vision of existential struggle . . . where the poet is detective and witness, poems as an accumulating series of lyric takes."

The judges also named Brenda Hillman for "The Sickness & the World Soul" from her collection In a Few Minutes Before Later (Wesleyan University Press, 2022) and Gabriel Ojeda-Sagué for his book Madness (Nightboat Books, 2022).

Courtney Faye Taylor will receive an award of $21,000, and each finalist will receive an award of $1,000.

The Four Quartets Prize—which was launched in 2018 on the 75th anniversary of the publication of T. S. Eliot's Four Quartets in a single volume, in America, in 1943—is first and foremost a celebration of the multi-part poem, and is awarded to a unified and complete sequence of poems published in America in a print or online journal, chapbook, or book in 2022.

"We are enormously grateful to the T. S. Eliot Foundation," said Matt Brogan, Executive Director of the Poetry Society, "for their vision in establishing the Four Quartets Prize, which has already become an indispensable award, one that recognizes the growing importance of the sequence in contemporary poetry."
---
Judges' Citation, Four Quartets Prize Winner
Courtney Faye Taylor's virtuoso Concentrate is not only an elegy to Latasha Harlins, it is a lyrical study of Black womanhood. From the opening line: "So far, my sentence as a Black woman has been hard to hone, homed in sore white pith," we are presented with a statement of poetics as well as a vision of existential struggle. Latasha Harlins is more than a ghost here, she is a sister, muse, and doppelganger to the poet. The traditional first-person voice of a debut collection recedes as Taylor allows striking textual and visual experimentation to express and implicate. In many ways, this imaginative debut presents a lyrical documentary-style poetics, where the poet is detective and witness, poems as an accumulating series of lyric takes. Concentrate becomes both archivist's field guide and an artist's scrapbook; it becomes a bricolage of poetic invention remixing Sharifa Rhodes-Pitts's Harlem Is Nowhere and Theresa Hak Kyung Cha's Dictee. Courtney Faye Taylor's formal innovations would make this a groundbreaking debut whatever the subject. At the same time, the poet and Harlins feel mutually present in superb narrative poems and in striking mixed-media portraits of Black women. Taylor's ingenuity is anchored in empathy. Saidiya Hartman said, "Care is the antidote to violence." Concentrate is a work of brilliant rigorous care. It is one of the most daringly crafted and emotionally urgent books to emerge in recent years.
Courtney Faye Taylor is a writer, visual artist, and the author of Concentrate (Graywolf Press, 2022), selected by Rachel Eliza Griffiths as the winner of the Cave Canem Poetry Prize. Concentrate was named a finalist for the NAACP Image Awards, the Lambda Literary Awards, and the Society of Midland Authors Award. It has been featured in Essence magazine, the Los Angeles Times and named among the "Best Poetry of the Last Year" by Ms. magazine. Courtney is the winner of the 92Y Discovery Prize and an Academy of American Poets Prize. Her visual art has been exhibited at the Charlotte Street Foundation and The Jule Collins Smith Museum of Fine Art online. Her writing can be found in Poetry magazine, The Nation, and elsewhere.
---
Four Quartets Finalists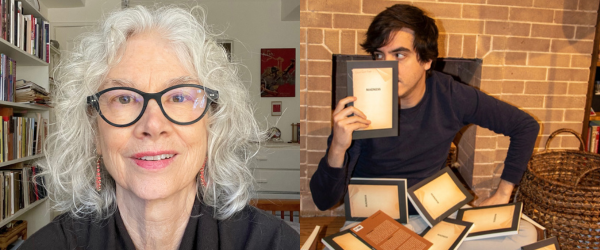 Brenda Hillman is the author of eleven collections of poetry from Wesleyan University Press, most recently Seasonal Works with Letters on Fire (2013), Extra Hidden Life, among the Days (2018), and In a Few Minutes Before Later (2022). A book of prose, Three Talks, from Hillman's Kapnick Writer-in-Residence Lectures, will be published by the University of Virginia Press. She has co-translated and edited over twenty collections of poetry, including The Grand Permission: New Writings on Poetics and Motherhood, edited with Patricia Dienstfrey, and Ana Cristina Cesar's At Your Feet, co-translated with her mother, Helen Hillman. A former Chancellor of the Academy of American Poets from 2016—2022, Hillman is Poetry Director for the Community of Writers and is Professor Emerita at Saint Mary's College of California.
Gabriel Ojeda-Sagué is a poet and writer living in Chicago. He is most recently the author of Madness (Nightboat Books, 2022) and Losing Miami (The Accomplices, 2019), which were finalists for the Publishing Triangle's Thom Gunn Award and the Lambda Literary Award in Gay Poetry, respectively. He is also co-editor of An Excess of Quiet: Selected Sketches by Gustavo Ojeda, 1979—1989. He is currently a PhD candidate in English at the University of Chicago, where he works in the study of sexuality.
---