Muriel Leung wins the 2022 Four Quartets Prize
The T. S. Eliot Foundation and the Poetry Society of America are pleased to announce that Muriel Leung is the winner of the 2022 Four Quartets Prize for her collection Imagine Us, The Swarm (Nightboat Books, 2021).

She was selected by judges Rae Armantrout, Victoria Chang, and Dante Micheaux.

The judges also named as finalists Desiree C. Bailey for her book What Noise Against the Cane (Yale University Press, 2021) and Forrest Gander for his poem "Twice Alive" from his book Twice Alive, (New Directions, 2021). Muriel Leung will receive an award of $21,000 and each finalist will receive an award of $1,000.
---
The Four Quartets Prize—which was launched in 2018 on the 75th anniversary of the publication of T. S. Eliot's Four Quartets in a single volume, in America, in 1943—is first and foremost a celebration of the multi-part poem, and is awarded to a unified and complete sequence of poems published in America in a print or online journal, chapbook, or book in 2021.

"The Four Quartets Prize honors the originality and ambition of contemporary poets, their formal, intellectual, and emotional courage," says Matt Brogan, Executive Director of the Poetry Society. "We congratulate Muriel Leung for winning the 2022 Prize, and Desiree Bailey and Forrest Gander for being selected as finalists."

"We warmly congratulate Muriel Leung for winning the 2022 Four Quartets Prize. This year not only marks the fifth anniversary of the prize but also the centenary of T. S. Eliot's other great long poem, The Waste Land. Long-form poetry, so often written off, continues to enthrall readers well into the 21st Century." Clare Reihill, Trustee, T. S. Eliot estate.
---
Muriel Leung is the author of Imagine Us, The Swarm (Nightboat Books), Bone Confetti (Noemi Press), and Images Seen to Images Felt (Antenna) in collaboration with artist Kristine Thompson. She is a recipient of fellowships to Kundiman, VONA/Voices Workshop and the Community of Writers. She is the Poetry Co-Editor of Apogee Journal. She also co-hosts The Blood-Jet Writing Hour Podcast with Rachelle Cruz and MT Vallarta. She is a member of Miresa Collective, a feminist speakers bureau. She received her PhD in Creative Writing and Literature from the University of Southern California where she was an Andrew W. Mellon Humanities in a Digital World fellow. She is from Queens, NY.

---
Judges' Citation:

Eliot wrote that, "The poet's mind is in fact a receptacle for seizing and storing up numberless feelings, phrases, images, which remain there until all the particles which can unite to form a new compound are present together." And all the particles did indeed unite in the poems and collections we considered for this year's Four Quartets Prize. The field was incredibly strong, so strong that in conversation, as we juried together, we wanted to be rebellious: should we create a long list; should we not choose a single winner and compel an equal split of the prize among three? In the end, our lively conversations produced a winner that we feel excited about, along with two finalists we feel equally excited about.

Muriel Leung's beautiful book, Imagine Us, The Swarm challenges both the speaker and the reader to ask hard questions surrounding Asian American identity, assimilation, labor, grief, and intergenerational trauma. This isn't just a book about a father's passing, but how a death propels new thinking and a detachment from conventional notions of work ethic, immigration, love, and identity. Leung's book is as much a speculative exploration of a personal and possible Asian American identity, as it is a reckoning with the past and grief. "I kiss the flooding and it kisses me back. Grief pours through me like a sieve. Its aftermath of sand and salt debris grows heavy at the banks. I kiss that too," writes Leung. Formally inventive yet nodding to history; disjunctive yet connected; cerebral yet full of heart; swarm-like yet individual; Leung's book is a marvel of innovative writing toward imagination, as she says in the final poem, "Suppose there is an end to our suffering....All the possibilities of the swarm ignite."

---
2022 Four Quartets Prize Finalists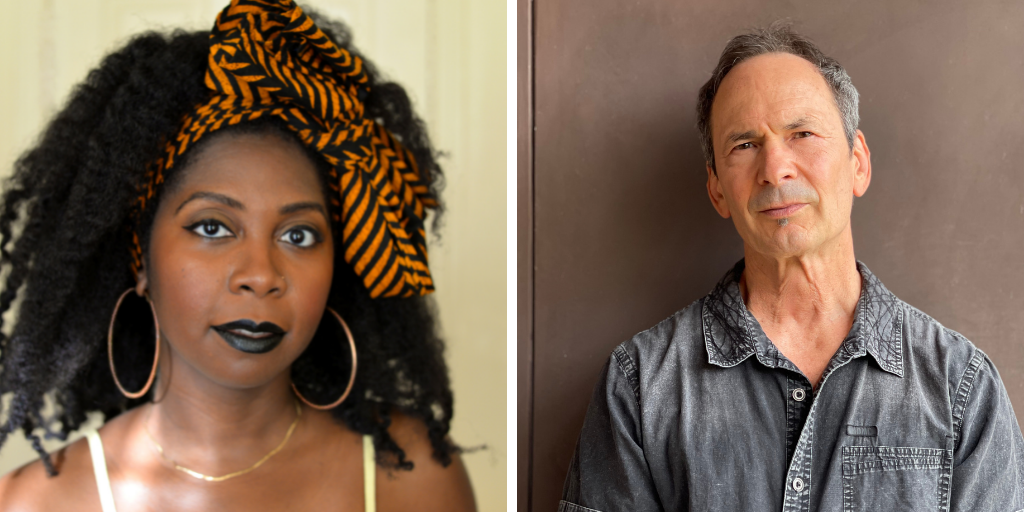 Desiree C. Bailey is the author of What Noise Against the Cane (Yale University Press), which won the Yale Series of Younger Poets Prize, and was a finalist for the National Book Award for Poetry and the Kate Tufts Discovery Award. It was longlisted for the International Dylan Thomas Prize and the OCM Bocas Prize for Caribbean Literature. She is also the author of the fiction chapbook In Dirt or Saltwater (O'clock Press) and a recipient of the New York State Council on the Arts/New York Foundation for the Arts award. Desiree is from Trinidad and Tobago, and Queens, New York. She will be the Writer-in-Residence at Clemson University starting in Fall 2022

Forrest Gander, born in the Mojave Desert, lives in California. His most recent books are Knot, a collaboration with photographer Jack Shear, and Twice Alive: An Ecology of Intimacies. It Must Be a Misunderstanding, his translation of Mexican poet Coral Bracho, was recently published by New Directions.

---
Judges' Citation: Desiree C. Bailey's What Noise Against the Cane

Though the Sea speaks constantly throughout What Noise Against the Cane, interrupting and yet encompassing the text therein, it is the poem "Chant for the Waters and Dirt and Blade" that rises to meet the ambition of the long poem. Its formal dexterity is open and sound, Womanist in its gaze at (through?) story and lyric—utterly, mistressful in its execution. Desiree C. Bailey offers readers a different protagonist in the play of New World history, an enslaved young woman who speaks directly to the moral deficiency of a subjugator that would "profit off [her] black [her] stewed puss on the plate". In the end, however, in a profound moment of grace, the protagonist reconciles the difficult inheritance of all Black bodies in the fabled West: "ocean O ocean / I forgive you for not sinking / the ship to a water-grave stripping / it clean to bone for not dragging / me down to your halls of coral / a hurt I kept in the fruit of my love / like a poisonous seed // sea-spirit goddess mermaid / shimmering star of saltwater / I praise you for breath / the gift of tomorrow". It is in that reconciliation, of the disparate atrocities and rank joy of human existence, that poetry lives.

---
Judges' Citation: Forrest Gander's poem "Twice Alive"

"Twice Alive," Forrest Gander's gorgeous long poem, written in independent five-line stanzas, is both unusual and traditional. It's unusual in that it is a long, botanically precise close-up on lichen and fungus, a celebration, really, of these species in league with decomposition. Here is a short example, "crustose lichen relish/Decay…spores spurting/ Out through walls split/At the invagination fronts." (Note the repeated "T's" and "S's.") Gander makes us feel the joy and dynamism of these life forms as they violate the self's boundaries. Lichens themselves are "twice alive" in that they are composed of potentially independent specie of algae and fungus joined in a contractual alliance, a "contested mutuality." However, beneath, no, in the midst of his homage to life's biological instability, Gander is writing an elegy for someone whose brown eyes are softened and "dissolved/into slime after a few days…". We tend to cringe back from decay, especially when it is made this personal. It is the achievement of this poem that it makes a truce (however temporary) with this horror, this inevitability. It is the beauty and strangeness of Gander's language that allows him to accomplish this. His lost love (perhaps) appears from time to time throughout the poem; they too form a kind of "contested mutuality." Her remembered voice warns him not to be "so rational," to accept her continued if altered presence. This poem is a vision of radical openness.

---
The T. S. Eliot Foundation is a charitable Trust that supports literacy and literary projects and promotes the work and legacy of T. S. Eliot.

The Poetry Society of America, the nation's oldest poetry organization, was founded in 1910. The PSA's mission is to place poetry at the crossroads of American life. The PSA transforms public spaces into sites for imaginative encounters with poems, engages diverse and often underserved communities, amplifies the voices of poets around issues of common concern, and honors their aesthetic contributions to our lives.

---