PSA Storefront Window: Redaction
The Poetry Society welcomes a new installation to its storefront window, featuring a poem by Reginald Dwayne Betts from his collaboration, Redaction, with artist Titus Kaphar.

Redaction is a literary and artistic collaboration that confronts the abuses of the criminal justice system. First exhibited at MoMA PS1, the fifty "Redaction" prints layer Kaphar's etched portraits of incarcerated individuals with Betts's poetry, which uses the legal strategy of redaction to craft verse out of legal documents. Three prints are broken apart into their distinct layers, illuminating how the pair manipulated traditional engraving, printing, poetic, and redaction processes to reveal what is often concealed. This beautifully designed volume also includes additional artwork, poetry, and an introduction by MoMA associate director Sarah Suzuki. The result is an astonishing, powerful exploration of history, incarceration, and race in America.
On the occasion of my 41st birthday:
For Michael K. Williams

This brother is dancing in the city,
His bald head the only sun some of us
Will see on this winter day, his body
Draped in the colors of heaven,
& each limb living in every borough
At once. How I've wanted to be free.
When I tell my son about this brother,
& how a scar from his forehead to his lip
Was not nearly the most interesting thing
About him, I think of his feet, & wonder
How to be that kind of honest: inventing,
Within the moment, everything that matters.
I want to be somebody's child again,
& young enough to stand before a mirror
Until my body memorizes moves I believe may
Save me. Maybe nothing saves us, save
Being witness to someone else moving so free.

Reginald Dwayne Betts
---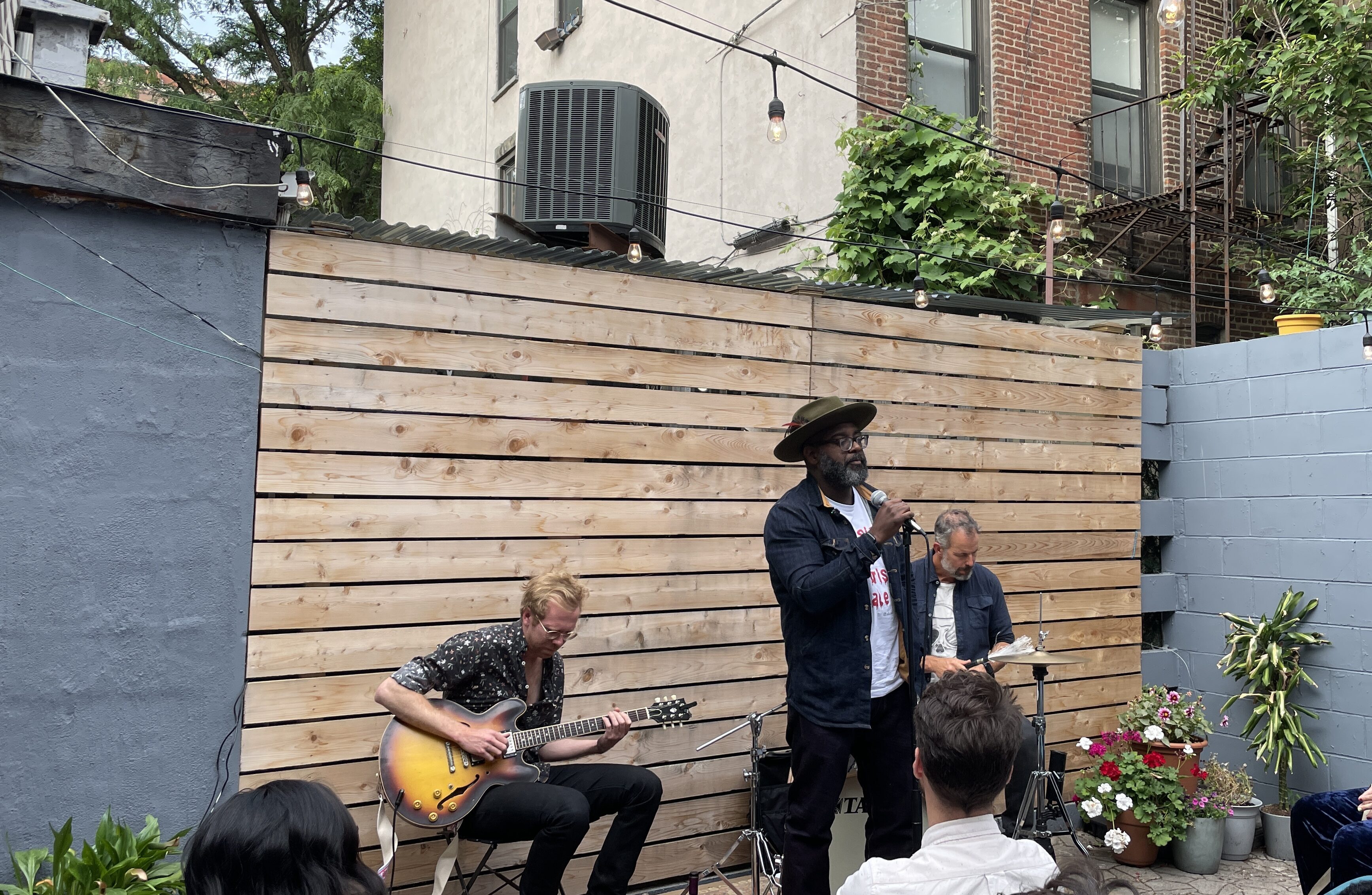 At the opening, Reginald Dwayne Betts and Reed Turchi performed work from their collaborative album, House of Unending.

---
Reginald Dwayne Betts is a poet and lawyer. A 2021 MacArthur Fellow, he is the Executive Director of Freedom Reads, a not-for-profit organization that is radically transforming access to literature in prisons through the installation of Freedom Libraries in prisons across this country. He is the author of a memoir and three books of poetry. His memoir, A Question of Freedom: A Memoir of Learning, Survival, and Coming of Age in Prison (Avery/Penguin, 2009), was awarded the 2010 NAACP Image Award for non-fiction. His books of poetry are Shahid Reads His Own Palm (Alice James, 2010), Bastards of the Reagan Era (Four Way Books, 2015), and Felon (W.W. Norton, 2019).

Titus Kaphar's paintings, sculptures, and installations have appeared in many institutions, including the Museum of Modern Art, the Whitney Museum, The Metropolitan Museum of Art, and the Art Institute of Chicago. He is the recipient of numerous prizes and awards, including a 2018 MacArthur Fellowship, a 2018 Art for Justice Fund grant, a 2016 Robert R. Rauschenberg Artist as Activist grant, and a 2015 Creative Capital grant. He is the founder and president of NXTHVN and lives in New Haven, Connecticut.
---