PSA Storefront Window: Trash Art
The Poetry Society welcomes a new installation to its storefront window, featuring a commissioned poem by Matthea Harvey and artworks by Harvey and Rowboat Watkins.

The streets of any metropolitan area are littered with the debris and castoffs of its inhabitants: a child's lost mitten, a bottle cap, a silver twisty tie. In October 2022 Matthea Harvey and Rowboat Watkins began a daily practice of collecting garbage and transforming their findings into assemblages. A matchbook might morph into an octopus. A plastic passport cover could transform into a tiny fridge. Harvey and Watkins would then photograph their creations and text that day's image to the other. The storefront window display at the Poetry Society of America presents a selection of these photographs along with a commissioned poem by Harvey.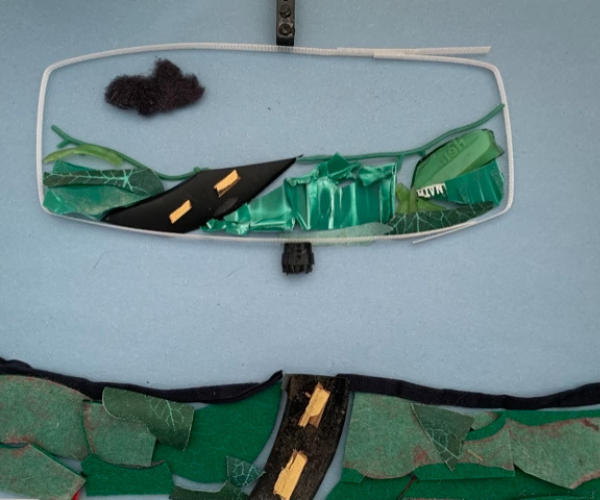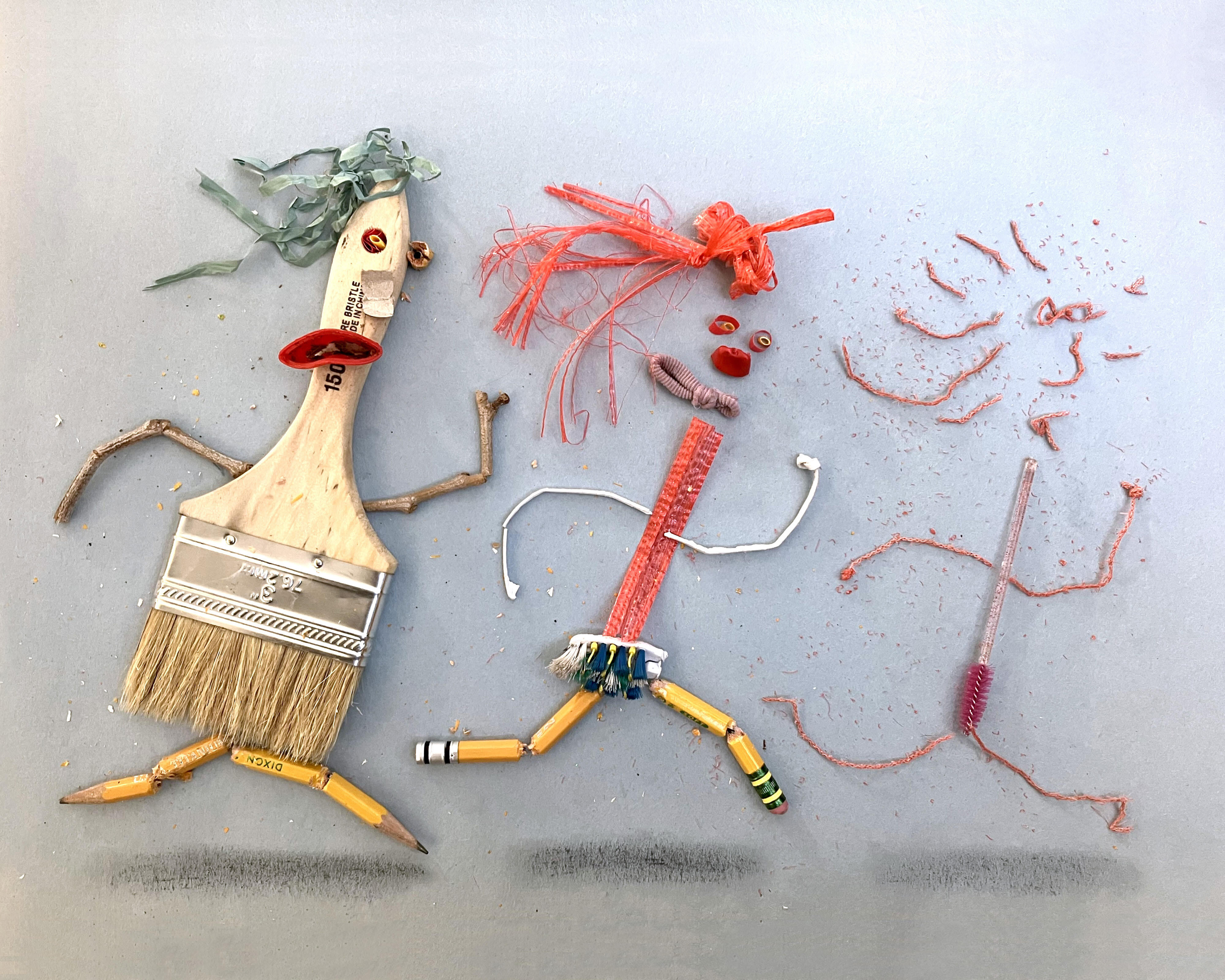 AS IF: ACQUIRE, SORT, INDEX, FILE.
Matthea Harvey

Though we feed The Archive of Abandoned Bits
its required diet of rubber bands, dented bottle caps
and half-licked lollipops, no one who works here ever
has more than one glove. We are always losing the key
to the archive into the archive itself. Locked out again, 
we Collectors huddle around a parking lot puddle, watching
an Advil melt into a rosy sunset. It will be long gone before
we try to scoop it up, but it tints tomorrow pink. Will we
finally settle on how to sort flotsam from jetsam when found
on the shore? After days of peering into leaf-drift and drain,
might one of us come across a rare purple insole, a perfect-
ly fractured plastic fork? Our parkas are packed with pockets.
To those who say only some things can be saved we say: as if.


---
Workshop: Trash Art Drop-in with Matthea Harvey and Rowboat Watkins
SATURDAY, APRIL 1, 3:00–5:00PM

Poetry Society of America
119 Smith Street
Brooklyn, NY 11201

No registration required
All ages welcome
The Poetry Society invites you to join Matthea Harvey and Rowboat Watkins for an informal afternoon of making art out of trash. We recommend that you walk around your neighborhood for half an hour prior to the workshop and gather tiny appealing pieces of trash in a Ziploc (we'll also have pre-gathered trash). At the PSA, you'll arrange your finds on construction paper and see what connections spring to your mind and fingers. There's no wrong way to do this and it's loads of fun.


---

A Brief Q & A with Matthea Harvey & Rowboat Watkins

How did the project start?

RW: Because of Matthea. It's all her fault. It's in the handbook. Or syllabus. Somewhere official. That's all I know.

MH: Not true! I was teaching a poetry workshop on collecting and collections and Rowboat and I were talking about how we'd both admired Yuji Agematsu's "zips"—tiny glued-together sculptures of street trash displayed in transparent cigarette vitrines—in a show called Keepers at the New Museum years ago. I asked my class to make some and the following week Rowboat (who claims he was unofficially auditing the class but was actually unofficially advising it) sent me a picture where the trash he collected was laid out on construction paper. So it's all his fault.

Why trash?

MH: Because there's always new and exciting trash (except the day after street sweeping). And because you end up learning a lot about your neighborhood. Someone on my street leaves avocado skins on the sidewalk. And there's apparently an invisible army of people using disposable floss picks and then tossing them. Making trash art turns every day into a treasure hunt and turns you into a detective.

RW: Because it's free? And everywhere? And once you start noticing it you can't stop. And because there is nothing at stake when you don't know what to do with it. Or when you mess up. Which inevitably happens. Sometimes. But it doesn't matter. Because it's already trash. So there is only upside.

What makes a good piece of trash? What makes a bad piece of trash?

RW: Whatever catches your eye at the moment you see it, for whatever reason, is a good piece of trash. As long as you are willing to pick it up once you've noticed it. Or can't help but pick it up. If it is glistening with something resembling pee, or wet with (or dangerously nestled against) anything that was once (possibly) inside of a living body, this is maybe not the best piece of trash. But desire has a weird way of making you want to touch things you never thought you would.

MH: A tiny toddler moccasin. A tangle of wire or ribbon. Rusty unrecognizable things…but also things that immediately look like something to you. Rowboat pointed out that basically we're collecting visual similes and metaphors, and like most poets, I adore similes and metaphors. I brought two "bad" pieces of trash into my home. One was a dirty work glove out of which flew an alarmingly large fly. I didn't feel great about that. The other was a package of Ritz peanut butter cracker sandwiches which I wanted to make into a wall of cracker clocks, but the ants had other ideas.

What is one of your faves that the other has made, and why?

RW: I love her rearview mirror! And her barcode piano! And her trio of shoes! And her trio of waste receptacles! And…and…and…. But I think I love her rearview mirror most. Because we sort of started to become friends when Matthea was giving me a ride in her car. To a place full of green hills. And like all of Matthea's trash pix, she has made something no one else in the entire world would have ever concocted. Never. Not only not from the trash she used to build her mirror. But from anything. This is the magic of playing with trash, and sharing what you've discovered with someone else.

MH: I love them all. How is it that he can make an elephant out of anything—a shoelace, lint, a tiny ladies driving glove…?! The latter, also known as Minnie Driver in my house, makes me gasp. Others make me laugh out loud every time I look at them—the stick chasing the pencil, the eyeglass bridge-rest creature pouncing on the mascara brush…they're so full of frisk and frolicking. I'm also amazed by the tiny trash sculptures he's made—especially the two leaves with their insouciant stem-legs. And of course, I love "Dancer," the first one he sent, because it was the start of this madness.

About the Artists

Matthea Harvey is the author of five books of poetry and two children's books. She collects (too) many things.

Rowboat Watkins writes and illustrates children's books. And has been collecting trash for as long as his dog and daughter can recall. His newest book, Go-Go Guys, comes out this fall.
---