Kristin Dykstra on "in Beckett's South-Eastern Railway Terminus," by Reina María Rodríguez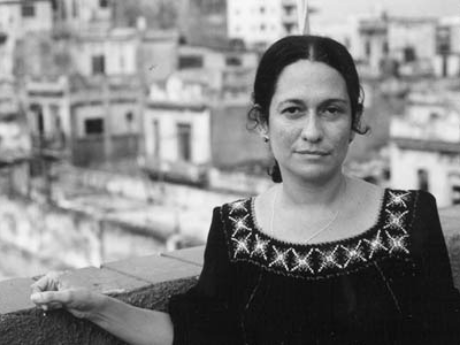 What is the south, el sur? Where does it truly lie? Who inhabits the south? What sort of encounters might you (an actual you, reader) have there?
  it will be in the south
  having followed long tracks
  where we'll meet.
  the people who accompany us
  don't know, don't want to know
  the price of those rose windows
  that filter light
  intermittently
  they drop their heads and walk
  around
  pretending they don't see the light.
        
     (from "in Beckett's South-Eastern Railway Terminus")
Which people are these, who don't want to know or see? Are they really in the same south?

Havana is south of Miami, now perpetually south of Miami, a southernness reinforced by the divides and family connections of the Cold War era and its aftermath.

But Havana's southernness is not inevitable or permanent. Havana is north of Managua and Panama City, north of Cartagena, north of Mérida in the Venezuelan Andes, north of Quito and Lima and La Paz and Santiago and Montevideo and Buenos Aires – definitively north of most of what gets called "Latin America."

Havana lies to the east of modern-day Mexico, which turned out to be a strategically useful location for conquest and trade. By the end of the sixteenth century it was considered "the key to the New World."

Havana lies on the western side of the Caribbean and on the western side of its own island. As such, it is commonly contrasted to "Oriente," or eastern Cuba.

Still Reina María Rodríguez's city is part of many souths, potent states of mind. Her Havana is a capital city of Latin America, historically imagined as a southern network of places existing in opposition to an Anglo north. Havana has sometimes affiliated with other souths too, and in the twenty-first century one can ask how its filaments of imagination thread through a "global" south.

Rodríguez won her second prestigious Casa de las Américas award for poetry with the 1998 collection in which this poem appears, La foto del invernadero (The Winter Garden Photograph). Based at her rooftop apartment overlooking a section of Havana, the writer flipped through pages of imagery from other places as she composed the poems. She found prompts principally in photographs and articles from the UNESCO magazine The Courier, as well as another habitual source that gives the Beckett poem its title: literary works by writers from many nations. Her intertextual vision of a south is likely to be unexpected for readers seeking signposts from the much more familiar (all too familiar) political rhetoric that frames Havana in the North American media.

Rodríguez wrote her south as a state of relation to other voices, sights, and places—a moving target. Beckett's own South-Eastern Railway Terminus presents a self and X, a "paradigm of human kind." By contrast to trains, however, Beckett proposes that human motion stalls, and as his narrator tries to locate his essential being in some place and time, he encounters himself always at some distance from anywhere. He declares himself missing.

Rodríguez too defers any exact finding of place or self. Yet she discovers a "we" somewhere out there too, and maybe you are part of it:
  we survive
  with words subject to another loss
  at the end of those tracks
  transporting a contemporary head
  as a paradigm for humankind.  

Respiration … a shared exhilaration?

  to be another thing, a style, some filiation
  without hearing, without voice, without self
  changing class
  (in my train car that has neglected
  time and place I think through
  the breath in you; I think through
  the blood in you) and I stroke your
  hand in the gloomy daylight of the platforms
  sheltering in Beckett's South-Eastern Railway Terminus
  at a time halfway to a greater time
  blurring near the window
  that frames the time of the real.

In The Winter Garden Photograph, Rodríguez showcases a south inside her head. It carries one of the key traits of her city's contemporary poetry scene: a sharp, insightful desire to converse with poetry from around the world.
  because the cities we've seen
  are not eternal at November's close
  (and an observer has a single purpose
  in the awareness of his own death:
  to view the present tense of things with
  intensity) and to move unperceived
  toward the place where
  one day we'll meet,
  there, where life persists
  where all life has disappeared
  along the tracks.




Translation of "in Beckett's South-Eastern Railway Terminus" copyright Kristin Dykstra, 2019, from The Winter Garden Photograph, by Reina María Rodríguez. Used with the permission of Ugly Duckling Presse.
Bill Carty on "Kiko is Missing"
As with many of the poems in Huge Cloudy, this poem began in transit, with a fragment of syntax that stuck. Something in the language of the original poster—KIKO IS MISSING handwritten all-caps beneath a photocopied image of a black cat, no contact info—offered an urgency much different from the standard "missing pet, answers to this, please call here." The message seemed to announce the loss of something familiar. You know, Kiko.
Read Article
Kathryn Cowles on "Boat Tour"
I like to write in unfamiliar places, to wrap myself in unfamiliarity, to fall for a place in the writing of it, to catch a tiny actual shred of it in language on the page if I can, like a verbal photo album, a pressed flower made out of words. For me, unfamiliarity is generative. It makes my eye pay new attention.

Read Article