An interview with Rachel Zucker on her Commonplace Podcast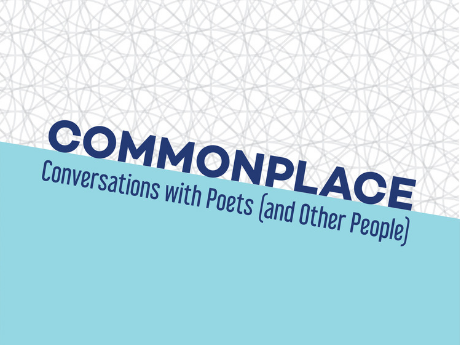 Tell me about the creation of Commonplace? When and how and why was it conceived?

Well, there was actually a moment. A particular a-ha moment when many disparate things came together. It was April, 2016, and I was on a New Jersey transit bus coming back to Manhattan from the home of my mentor who lives in New Jersey. I was listening to a podcast—I can't remember which one—enjoying the little private space that this person's voice, through my headphones, created for me on a crowded bus. I have been a fan of podcasts for several years and before that a major fan of public radio and before that the daughter of a storyteller who had spent much of my childhood listening to people tell stories in person and on recordings. My mother, Diane Wolkstein, had a show called "Stories from Many Lands" on WNYC for several years, and I used to go with her and sit in the sound booth while she recorded the show. When she traveled without me I would listen to her voice on a reel-to-reel machine. I later listened to these same stories with my kids on car or train rides. So I have a long history of liking to listen to human voices. But, back to the bus. I was participating in a 9 month program with three other women and our mentor—it's impossible to describe this program exactly but it involved, on that day, working in the mentor's garden and setting an intention. My job was to clear the weeds from around her lavender. My intention was to think about the question "which way should I go next?" I had recently finished a very intense round of travel in which I delivered lectures around the country as part of the Bagley Wright Lecture Series. It was a stressful but incredibly rewarding experience, and I particularly loved the question and answer sessions after the lectures and the dinners I had had with local poets in the cities I was visiting. These conversations were focused, personal, mundane and sustaining; I missed them very much when the lectures were over.

Also, I had recently conducted an interview with my friend, the poet David Trinidad, about his most recent book for Washington Square Journal. We had tried conducting the email over chat and then moved to the phone. Interview editor Andy Sanchez had the arduous task of transcribing the long interview and editing it -- something I wanted not part of! Even after talking with David for over an hour I felt there were things I still wanted to talk with him about, and I wished that the interview for WSJ had been our actually voices. I was flying to Chicago a few weeks later for one more lecture that season and was going to see David in person.

All of these thoughts and feelings were swirling around inside me and I suddenly thought "I can do this, just do it, just start a podcast" and maybe clearing all those weeds out of the lavender made me think I could.

Where do you record the episodes? And I wonder if you could talk a little about the difference between an interview and a conversation and how this plays out in an episode.

I have recorded these conversations in my kitchen, my living room, my study (if my kids are around), the creative writing department at NYU, a rooftop deck, various hotel rooms, a nook at the Marriott hotel (AWP), other people's living rooms and a crowded café.

I think of these conversations as conversations not as interviews. An interview is when one person wants something from the other, there is a clear power dynamic or hierarchy, and, often, an agenda. A conversation is a mutual endeavor of two people sharing with one another and perhaps trying to figure something out together or, more simply, spending time together in an attentive way.

What have you learned about making a podcast from your first episode to having recorded over a dozen now, from both the technical aspects to how to how generating a good conversation.

The learning curve has been steep, especially in terms of the technical aspects! I'm not sure how specific you want me to be or how interesting the technical stuff is to anyone who is not making a podcast. I care a lot about the sound quality a lot! I keep making technical mistakes but at least I'm not making the same mistake over and over again. I have an episode coming up that has a crackle all the way through that is impossible to correct. This was because the person I was speaking to opened up their computer after I was all set up and this created an electromagnetic disturbance that was recorded as crackling! What I've learned is: buy the decent equipment if you can afford it (you can get pretty good stuff for a reasonable amount) and learn how to use it as best you can. You can improve the sound at the editing stage, but only to a point.

In terms of content, well, I use the podcast as an excuse to read poets I didn't know or to re-read poets with whom I am already familiar. I try to have a sense of the first question I might ask. Sometimes I have 4-6 questions ready (I usually don't even look at these) and with someone like Bernadette Mayer or Alice Notley I make sure to ask myself "What question will I just kick myself later for forgetting or not having the nerve to ask?!" Actually, I ask myself that with every person.

The two most important things I have learned are: LISTEN and COLLABORATE. I think these are the lessons I'm learning not just about how to make a good podcast but about everything in life.

The most important thing during the actual conversation is to be present and listen to the other person. That's on me and me alone. But everything other part of the podcast is collaborative. I have three producers (which is hilarious to me to use that word "producer" since I just made up this whole Rachel Zucker as host of a podcast thing!): Nicholas Fuenzalida, Christine Larusso and Zach Tackett. Nicholas and Zach take turns sound editing each episode with me. Nicholas and Zach manage the social media. Christine does all the publicity and keeping track of invitations, communication with presses, writing and sending the newsletter. Most importantly, there is always seems to be some unexpected, pressing issue for each episode that requires collaborative thinking and decision making. Sometimes it's a technical matter, more often it's a content question. Also, my close friend and all-around genius Daniel Shiffman helps us with basically everything. I could not do this without this team; I would never even want to try.

Do you have a favorite interview so far, or most surprising?

That's like asking me to pick a favorite child! No way! I love them all, and I find them all frustrating. Truly, I have learned something new and been surprised by every single episode. Every episode teaches me something new about myself (what kind of personality types are most comfortable for me, what makes me anxious, what kinds of questions am I asking over and over obsessively, what are the particular dynamics between that person and myself, what scares me or blocks me, how can I improve my listening) and of course many new things about the person with whom I'm speaking. Sometimes what I learn is all of those things and also don't let your guest take out a computer after you're all set up without listening to the sound again!

Who do you have scheduled for future podcast? And do you have a dream guest?

We have episodes coming up with the Undocupoets (Christopher Soto, Javier Zamora, Marcelo Hernandez Castillo and Janine Joseph), Alice Notley, Julie Carr, Morgan Parker (we are recording that episode LIVE at the KGB Red Room on February 27!), Sarah Vap, Molly Peacock, Ross Gay, Sarah Manguso, and Daniel Handler. Those are already recorded or definitely confirmed. We have some AMAZING episodes planned and coming up soon but I'm a bit superstitious about sharing the names with you in case the artists need to back out for some reason or we can't get the schedule to work.

I have so many dream guests and several of them have already been on the podcast!

What are some of your favorite podcasts, literary or otherwise?

Podcasts I listen to regularly and love: Invisibilia, This American Life, Radiolab (and its spinoff More Perfect), Heavyweight, Dear Sugar, Note to Self, Only Human, Death Sex and Money, Freakonomics Radio, WTF, Homecoming, Kill Me Now, The Longest Shortest Time.

Awesome literary podcasts: Make (No) Bones, The Poetry Gods, PennSound Podcasts, The New Yorker.
Publishing Into That Mystery: An Interview with Eileen Myles
A conversation with Eileen Myles, eminent poet, novelist, performer, art journalist, and artist, about their exhibition poems, on view at Bridget Donahue through January 13, 2019, concurrent with the publication of their new collection of poems Evolution (Grove Press, 2018).
Read Article
American Lit: An Interview with Jacob Minasian
In the case of this collection, it was very much about trying to process the complexities of our decisions as a society during and after the 2016 election. My first attempts at writing after the election felt obvious, overt, like I was yelling what everyone else was yelling in almost the exact same way. I knew I had to approach the situation with a more subtle, more effective tone.
Read Article