Stopping by with Naomi Shihab Nye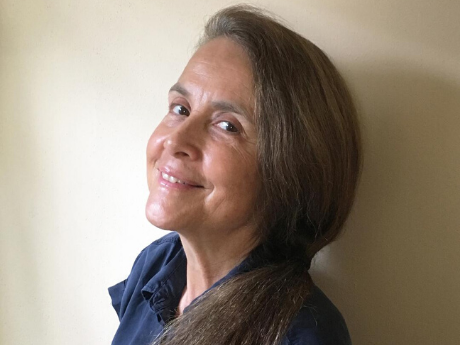 During this extraordinary moment—of both pause and activism—we asked writers, musicians, curators, and innovators to reflect on the power and memory of language, shared spaces, and this moment in time. Subscribe to the PSA newsletter for more Stopping By responses and to keep updated with the PSA.
---
Naomi Shihab Nye ​is the author or editor of more than 30 volumes. In 2019 she was named Young People's Poet Laureate by the Poetry Foundation and in 2020 she was awarded the Ivan Sandrof Award for Lifetime Achievement by the National Book Critics Circle. She is Professor of Creative Writing—Poetry at Texas State University.

---
What was the last thing that moved you?

Everything moves me. I seem to be easily moved. I read the little stories about cohabitation in a recent New York Times and was moved. I saw the daily green lizard sitting atop our black mailbox, as if waiting for his mail...watched a four-year-old build a "castle the corona virus can't get in" with magnetic tiles...listened to the new Bob Dylan album...and the splendid older Van Morrison album Common One and was deeply moved...and I listen to any single thing sung by Rhiannon Giddens and fall under a spell.

What is a poem or book that changed your life?

The first three poems by William Stafford I read in a high school textbook—one was the great poem about calling home from far away and no one answers—gave me a poet to read "for life." I urge everyone to look up his poems. See the digital library at Lewis & Clark College or any volume at all. His poems have been such close companions for all these decades, through every season. They always say something I need.

What is a book you think everyone should read or a piece of art everyone should encounter?

Everyone should read W.S. Merwin's final volume of poems, Garden Time (Copper Canyon Press). It's so slim but so rich with mysteries of time, unanswerable questions, pause, listening—many elements which have been part of our pandemic experience. It's an enormous comfort.

Stare at whatever art is on your wall right now and encounter it anew. I'm staring at photographer Alan Pogue's gorgeous image of a Palestinian boy wearing a shirt that says "We have a dream" in English and Arabic. He has been staring back at me smiling for years, but right now his hope seems most crucial.

What is your first memory of poetry?

My mother reading Emily Dickinson to me at bedtime when I was three is my first poetry memory. She got the book from the library. I rose from my bed to make one last trip to the bathroom and felt myself suspended, floating, in those lines. I thought, I want to live like that.

The pandemic has emptied many public spaces (libraries, concert halls, museums, parks, transit systems, etc.). What space--and community—do you miss the most?

I miss too many places and spaces! Simply feeling secure in them—I miss riding public buses, which our grandson loves. I miss the public library, its grand escalator up to the children's department. I miss the San Antonio Museum of Art and the DoSeum Children's Museum.

Public space is rife with words—signs, logos, advertisements. If you were to choose one poem or text to inscribe in a public place right now, what would that be? And where would you place it?

This is the hardest question. The last two lines by Tracy K. Smith on last year's National Poetry Poster made by student Julia Wang (Academy of American Poets—I was honored to co-select the winning poster) have meant so much to me throughout the pandemic—"We took new stock of one another/We wept to be reminded of such color" might be my pick. I'd place them on billboards along highways and in front of hospitals.

Have you thought differently about the role and power of language and art in the wake of murder of George Floyd, Breonna Taylor, and the wide-spread protests?

I have been obsessed with thinking about this all my life. It's just outrageous, what's been going on. As a half-Palestinian, who grew up first in Ferguson, MO, then moved to Palestine, how could I miss it? I think about all the stories untold. How much we need language to keep one another alive, to celebrate one another, to tell the true story of the tragedies that happen, to ask how we might remedy attitudes, behaviors...I'm very grateful for journalism, yet also always wondering about what doesn't get "covered"—what no one said or took time to listen to. Hello? Thank you PBS for taking time (6 minutes) to cover the travesties in Israel/Palestine going on undercover in American media, blessed by Jared Kushner, supported by the United States, what? My Palestinian refugee father was a newspaper journalist obsessed about these failings of communication all his life. Herein lies the necessity for poetry and art to keep revitalizing us with reality, beauty, pain, suffering, one another's presences.

Have you created something during the lockdown, or are you working on anything now?

I wrote a little sequel to my children's novel The Turtle of Oman—called The Turtle of Michigan—because beautiful kids in North Carolina had urged me to...it was helpful to have a longer project. I have been writing new poems. I have urged others to take even a few notes a day—that will be a record of this strangest experience.

An archive you might be glad for later—we have all had so many odd perceptions, night terrors, unexpected worries. When our son and his wife had the virus for seven horrible weeks I found it impossible to mention it in any poems I was working on because it felt so overwhelmingly scary, but now that they have recovered, the trauma has popped up in writing...sometimes you have to wait till you get through the intensity. And luckily there has been this constant tidal flow of reading—so many books which were sitting in our rooms just waiting for human beings to slow down, take the time...