Stopping by with Missy Mazzoli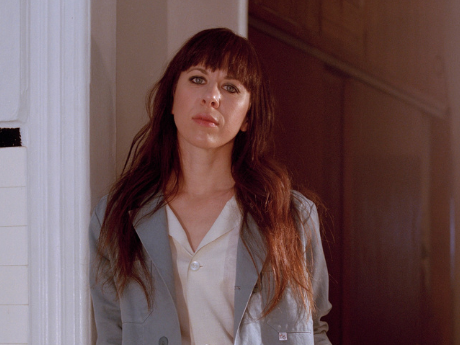 During this extraordinary moment in time, we asked writers, musicians, curators, and innovators to reflect on influence, memory, language, shared spaces, and the power of poetry to bring us together.
---
Recently deemed "one of the more consistently inventive, surprising composers now working in New York" (The New York Times) and "Brooklyn's post-millennial Mozart" (Time Out New York, and praised for her "apocalyptic imagination" (The New Yorker), Missy Mazzoli has had her music performed by the Kronos Quartet, LA Opera, eighth blackbird, the BBC Symphony, Scottish Opera, and many others. In 2018 she became one of the first two women, along with Jeanine Tesori, to receive a main stage commission from the Metropolitan Opera and was nominated for a Grammy Award. A deeply collaborative artist, Mazzoli has worked with writers George Saunders, Karen Russell, Matthew Zapruder, Jordan Tannahill, and librettist Royce Vavrek, among others. From 2018-2021 she was composer-in-residence at the Chicago Symphony Orchestra, and from 2012-2015 composer-in-residence with Opera Philadelphia. Upcoming commissions include works for the Norwegian National Opera, the National Ballet of Canada, the National Symphony, Cincinnati Symphony, Chicago Lyric Opera and Opera Philadelphia.
---
What is the last thing moved you?

About halfway through the pandemic I saw Afterwardsness, a socially distant dance piece by choreographer Bill T. Jones, performed in the Park Avenue Armory here in New York City. It was choreographed to, among other things, fragments of Olivier Messiaen's Quartet for the End of Time, and it was the first live music I'd experienced after eight months of lockdown. This event was a sublime confluence of big emotions: I felt alone in my little chair, six feet from every other audience member, watching friends across the room that I couldn't approach, as masked dancers moved to music that was composed in a concentration camp in 1941. I cried big fat ugly hot tears into my mask that day.

What is a book of piece of art that changed or greatly influenced your life?

The first piece that comes to mind is Meredith Monk's 1990 album/film Book of Days. I first heard this work in my early teens, and it greatly expanded my idea of what a composer could do and what an album could be. It deeply influenced my ideas about how art could reckon with obsessions, fears, and events without being heavy handed or reductive. A piece about time, war, conflict, and fear of nuclear annihilation, Book of Days is infused with moments of joy, ecstasy and humor, the majority of which is expressed without using actual text. When I first moved to New York in 2003, I emailed Meredith and asked if I could work for her. When she found out I was a composer she put me to work transcribing none other than Book of Days into notation. It was a project than began a decades-long friendship, mentorship, and definitely changed my life.

(Honorable Mentions: Maggie Nelson's Art of Cruelty, George Saunders's Tenth of December, Sam Pink's The Garbage Times / White Ibis, Matthew Zapruder's Come on All You Ghosts, all the Beethoven Symphonies, Luciano Berio's Sinfonia, Salvador Dalí's Christ of St. John of the Cross, David Lang's Little Match Girl Passion, Philip Glass's Satyagraha.)

What is your first memory of poetry?

When I was 11, I discovered my mother's second edition copy of Lawrence Ferlinghetti's A Coney Island of the Mind. This book was a portal into a different, bigger world. I memorized many of the short poems and they became mantras as I navigated middle school: "Cast up / the heart flops over / gasping 'Love' / a foolish fish…", "the world is a beautiful place / to be born into / if you don't mind happiness / not always being / so very much fun…". I was even sent to the principal's office for reciting Ferlinghetti's mildly scandalous poem "Underwear" during the annual poetry day open mic. I think my mother was annoyed—but to her credit, she didn't punish me further. After all, it was her book.

How has this last year changed you, and what is something that you will take with you into a post-pandemic world?

One positive development is that I've started training to be a certified death doula, someone who provides support to dying people and their families. I've always wanted to pursue this work and felt newly inspired post-pandemic.

Who or what is your greatest creative influence?

Human behavior and intimate relationships are the core of all of my work. I'm obsessed by the way humans communicate with each other—or fail to—the way we undermine each other and support each other, the way we try to connect and the ways that we sabotage ourselves. I'm particularly interested in the way which women navigate societies and situations which are not set up for their happiness, liberation, or success. My last opera, The Listeners (created in collaboration with librettist Royce Vavrek and playwright Jordan Tannahill) follows a suburban American woman who gets caught up in a cult led by a charismatic older man, and who eventually takes over the cult herself. I loved the process of creating their deeply messed-up dynamic, and I love watching this woman discover her true potential, albeit with a questionable result.

If you were to choose one poem or text to inscribe in a public place right now, what would that be? And where would you place it?

I would inscribe "I know I belong in this new dark age" (from Matthew Zapruder's poem "Korea") on the Brooklyn Bridge. Don't look for any deep meaning there, I just love that phrase and I love the Brooklyn Bridge.

What do you see as the role of art in public life at this moment in time?

Art of all kinds is a signal that we are alive. It's a symbol of hope and rebellion and inner life. It has as many roles as there are pieces of art in the world. Living in a late capitalist era of mass production, art is the cracks in the concrete, where people make an honest attempt to grow. The characters in my third opera Proving Up, based on a short story by Karen Russell about a family of doomed homesteaders, grapple with that struggle to be known, literally struggling to make something grow in a forbidding and hostile environment.

What do you want people to take away from your work?

I want people to hear my music and feel less alone. I want to illuminate something ineffable about human relationships, about love, about hate, about intimacy. I also want listeners to feel that I've helped, in some small way, to put the world in order for them, to make sense of things that feel chaotic and overwhelming. I know this sounds ambitious, but my favorite music does this for me, so that's the goal.

Are you working on anything right now that you can tell us about?

I'm working on an opera for the Metropolitan Opera House, an adaptation of George Saunders' novel Lincoln in the Bardo. It's been a joy to work with George and my librettist Royce Vavrek on this story. I've always felt that opera is a place for big ideas, and this book taps into fundamental questions about our inability to accept death, and what it means to leave behind a legacy, freedom, family and grief.


Photo credit: Caroline Tompkins