Stopping by with Teju Cole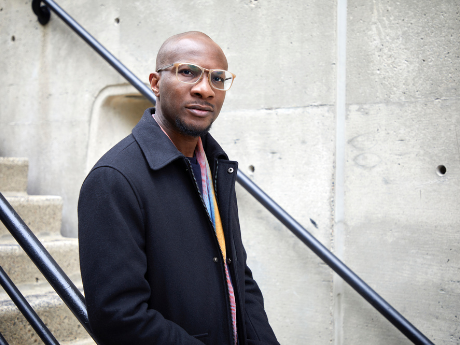 During this extraordinary moment—of both pause and activism—we asked writers, musicians, curators, and innovators to reflect on the power and memory of language, shared spaces, and this moment in time.
---
Teju Cole is a writer and photographer, and the author of several books, the most recent of which is Fernweh. He has received numerous recognitions for his work, including the PEN/Hemingway Award (for his novel Open City), the New York City Book Award, the Windham Campbell Prize, the Internationaler Literaturpreis, and a Guggenheim Fellowship. His collaborations include projects with pianist Vijay Iyer, the photographer Fazal Sheikh, and the early music ensemble Sonnambula. From 2015 to 2019, he served as Photography Critic of the New York Times Magazine. Currently, he is a professor in the English Department at Harvard University.

---
What is the last thing that moved you?

This has felt like a moment of great openness and sensitivity, maybe because it has come with so much alone time and so much opportunity for contemplation. By no means is this general for everyone: there are many people working outside the home, and many working in hectic situations. But for many of us, it has been a retreat from the noise of life. I've felt my receptivity has been functioning differently in these conditions. I find that I long more deeply for well-considered work than I did before, for work that reminds me not only that I am human, but that there are zones of human experience that I can only approach with the help of expert guides. In these past few days, I've been returning to Sharon Olds's poetry collection Stag's Leap. In the past few months, I've gone back again and again to Louise Glück's poems. Averno. The Wild Iris. Language that is not at all kidding you.

Music has been omnipresent in my ears, and most lately I've been exploring a number of masterful post-bop pianists: Geri Allen, Cecil Taylor, Andrew Hill, all of whom are now ancestors. Oh, and there's a new recording of Steve Reich's Music for 18 Musicians that's performed, through studio wizardry, by just one musician, Erik Hall. It really works, I can't get enough of it.

What is a poem, book, or piece of art that changed your life?

If you're living right, something's always changing your life, so this question has no chance of having a stable answer. The environment is always changing subtly and leaving a mark on you. But I'll give some answers anyway, as long as it's understood that I'd give different answers tomorrow.

I think I first read The Half-Finished Heaven, a volume of poems by Tomas Tranströmer (translated by Robert Bly), in the early 2000s. I didn't realize that I would end up returning to it hundreds of times. Something of its hush, its furious stillness, its utter loneliness altered my sense of how to be alone in the world.

An artist sometimes arrives at a work so complete that one returns to it at any opportunity. Whenever I hear that a museum or gallery has an installation of Janet Cardiff's Forty Part Motet, I try to go there and encounter it again. The Forty Part Motet is a recording of Thomas Tallis's Spem in Alium, a choral work of around twelve minutes, composed around 1570. It was acknowledged at the time as one of the most complex pieces of vocal writing ever set down. Each of the forty voices has a different score, straying and interweaving, soaring and falling silent, which creates an overwhelming effect in concert. But it is even more dazzling in Cardiff's version, where she has recorded each of the forty singers on a separate channel, and presented the work as a stark circle of forty high-end speakers on stands in a gallery space.

Another "must see each time" work for me is Arthur Jafa's Love is the Message, the Message is Death, a video collage under eight minutes, comprised mostly of found footage from YouTube, set to a rousing song by the politically misguided Kanye West. I've seen Love is the Message, the Message is Death on at least five different occasions, and I still can't quite account for its power. I think it has something to do not so much with Jafa's juxtaposition of high and low as with his total obliteration of the notion. It does what it says on the tin: it fully immerses you in love and in death.

What is a book you think everyone should read or a piece of art everyone should encounter?

Sometimes we want things that help us be more present, other times we want something that takes us out of reality. There's always a great risk when work that operates on the deepest privacy of the individual suddenly becomes a universal thing that's applied as an analgesic. My heretical idea is that art is a fine and even amazing consolation, for those who need it, but not everyone needs it in that way. And even among those who do, what they need varies from person to person. Which is why it's always a pleasure to find the people who like what you like, because not everyone will.

What is your first memory of poetry?

Being in school in Nigeria and having to memorize David Diop's "Africa My Africa." A line I remember now: "Your beautiful black blood that irrigates the fields."

The pandemic has emptied many public spaces (libraries, concert halls, museums, parks, transit systems, etc.). What space—and community—do you miss the most?

Well I do miss all of those things: the places where we travel, the places where we see professional artists doing their thing. I miss museums. I miss the clatter of restaurants, and the moment when your food arrives and the balance of spices temporarily sends you to heaven.

But I think the most intense loss for me is actually in my own home. The past couple of years, I frequently hosted small gatherings, of ten to fifteen people. I'm lucky to know some wonderful singers, guitarists, pianists, and players of the oud, the veena, the mridangam, the sarod. One of the most spectacular benefits of being a grown up is that such sounds can happen in my own house. People would just start improvising across musical cultures, and we'd be up till the middle of the night. Who knows when that will happen again? I miss it more than words can say.

Public space is rife with words—signs, logos, advertisements. If you were to choose one poem or text to inscribe in a public place right now, what would that be? And where would you place it?

I think the poetry that one usually sees in public places is just this side of too sweet. It lands too easily, and makes people think that poetry is somehow a dose of emotion that arrives through the avoidance of difficulty. But really good poems retain their difficulty, giving you something substantial on the first go, and promising that there will be more when you return. I'd like to put little postcards in unexpected places: mailboxes, ATM machines, bathroom stalls. Emily Dickinson might serve as well as any:

I fit for them—
I seek the Dark
Till I am thorough fit.
The labor is a sober one
With this sufficient sweet
That abstinence of mine produce
A purer food for them, if I succeed,
If not I had
The transport of the Aim—

Have you thought differently about the role and power of language and art in the wake of murder of George Floyd, Breonna Taylor, and the wide-spread protests?

Oh for sure. I work with words myself, and I think I've had to think more intensely about how to make those words count. This has to do both with giving things their right names, speaking truth to power, in a certain way, but also with defending the idea that the unit of humanity is the individual, and that while the freedom we are fighting for is certainly communal, and can only be achieved communally, it would be meaningless without our being individual persons, inviolate selves. I have been thinking a lot about what it might mean to speak ethically from that self. In addition to poets, at this moment, I'm also listening closely to people like Paul Gilroy, Ruth Wilson Gilmore, and Saidiya Hartman. And the young people on the streets too who, among other things, are doing some pretty serious language work as well.

Have you created something during the lockdown, or are you working on anything now?

Like everyone else, I have struggled to concentrate. I think I've just about managed to get one shortish piece of writing out each month, which is an unsustainably slow rate for a freelancer. But it's also true that one of the illuminations of this moment is that all habits are up for questioning. What is productivity? Why is productivity? The endless chase needn't be endless—less work, deeper work, and finding ways to be able to afford that.