Q & A: Chapbook Publishers
Shanna Compton on Bloof Books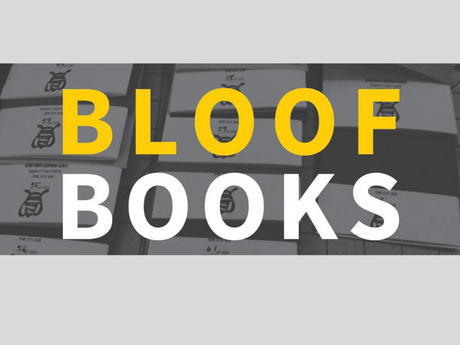 As part of the THE NYC/CUNY CHAPBOOK FESTIVAL on Thursday, April 2 from 10AM – 7PM at The Graduate Center, CUNY, we are presenting interviews with some of the chapbook publishers who will be taking part in the festival.

Shanna Compton is the author of the poetry collections Brink, For Girls & Others, Down Spooky, and several chapbooks. The Hazard Cycle, a book-length speculative poem, is forthcoming from Bloof Books in 2015. She is the founding member of the Bloof Books collective and works as a freelance book designer and editor.


* * *

What is your own personal history with chapbooks? How did they first catch your interest?

When I was in third grade, our Language Arts class made a chapbook of poems and drawings, called Poems from the Unicorn's Kingdom. Our teacher had them printed and stapled and we distributed them to our families and I think sold copies as some kind of fundraising for our school (but I'm fuzzy on that part). I wrote my first poem for this prestigious publication. I never stopped making books after that. I used my mom's government-issue IBM Selectric III typewriter (which despite her lugging it home on weekends was not meant to be portable) and other filched office supplies. In college, I published a zine. My boyfriend at the time worked at Kinko's so I had access to desktop publishing software and the repro equipment there. This was in Austin, so W. Joe Hoppe's Lucky Tiger Press was a big influence. The whole DIY thing has always seemed natural to me—I just thought everybody did it. I realized later how lucky that made me.

What made you first decide to start publishing chapbooks?

Other than these early forays and some randomly timed one-offs, I started again seriously in the early 2000s, post-grad school. I had a little press called Half Empty Half Full to make chapbooks and broadsides for and with friends, and in conjunction with a reading series I was cohosting in Brooklyn. At the same time, I was editing the lit journal at the New School and editing books for Soft Skull Press, so I was making books in various ways, and learning a lot more about production and design. When I moved on from Soft Skull, I took two poets I'd published there and started Bloof.

Could you talk a little bit about your own process of making and publishing chapbooks?

The chapbooks I tend to make fall somewhere between basic and fussy. Though I'm trained in letterpress printing, I don't have the space or a local studio out where I live, so I use office equipment mostly, plus some hand-applied printing methods like linocut, stamping, appliqué, etc. But also, I prefer these methods for the work we're putting out right now. I don't want the chapbooks to be more than $10. (Right now they're all $8, except one was intended to be more economical as part of its theme, and it was $5.) The accessibility and ephemeral feeling of chapbooks are two of the things I've always been attracted to, and I while I appreciate the other stuff too, it's just not what I'm most interested in making at this time.

The process goes basically like this: Bloof holds an open reading period to select several chapbooks. We're a collective, so all poets who've published with the press are invited to read submissions and help choose. Once we've chosen the series for the year, I work with each of the authors to come up with a design approach, and we talk about materials, etc. The goal is to find not just a unique expression for the work in the chapbook, but also the best one, within our constraints of budget, time, equipment, materials.

What is unique about the chapbook form, or why chapbooks and not book-books?

I think the shorter format is conducive to showcasing (or inspiring) work that doesn't necessarily fit (or get shown to best advantage) in other formats. For instance, Jennifer Tamayo's chapbook, Poems Are the Only Real Bodies, is a standalone work. (That's the link to the the free digital release.) An excerpt did appear in Poemeleon, but the work is not included in either of her longer books. It also has typographical elements and illustrations that would maybe be harder to accommodate in a magazine or integrate into a longer book with other work. Kirsten Kaschock's book is another example of this. Windowboxing: A Dance with Saints in Three Acts is something she wrote specifically as a chapbook-length standalone work. It's also illustrated, by one of her sons.

There are other ways in which chapbooks are great, and lots of ours turn out to be later included in longer books by the poets. In those cases, they function as a sort of midway point between (or alternative to) magazine publication, before the longer book comes out, or as a way to document its development in progress. An example of this would be Little Uglies by Dawn Sueoka (free digital version)—she's been publishing in magazines but doesn't have a longer book yet, so the chapbook was really fun to do with her, as a way to draw some attention what she's doing, in a focused way. The same was true of Natalie Eilbert, when we did Conversation with the Stone Wife (free digital version), and several of the others we've done.

Obviously I also really like the variety of approaches that come out of the DIY practice: constraints of budget and materials and distribution make us all creative by necessity. Every time I look at a collection of chapbooks or go to a bookfair, I see new ways of printing and image-making, materials pressed into new uses, experimental and ad-hoc binding techniques—many nontraditional and innovative ideas. And for the most part they're not slick, not primarily commercial objects, even though they're for sale or swap. I don't know—there's something magic in the way all these handmade objects feel simultaneously ephemeral and ultra-concrete. It's a wonder they exist when they don't have to.

Do you have recent favorite chapbook from another press?

Two of my recent favorites: Patricia Spears Jones's Living in the Love Economy from Overpass Books (I reviewed it, kind of, at Real Pants). And Danielle Pafunda's When You Left Me in the Rutted Terrain of Our Love at the Border, Which I Could Not Cross, Remaining a Citizen of This Corrupt Land, from Birds of Lace. I also just got a great batch from Nous-Zot, but haven't had a chance to read them yet.

What does it mean to the chapbook and experimental publishing community to come together and compare projects once a year at the CUNY Chapbook Festival?

Bloof's been to Chapfest twice now, though the first year I didn't get to attend myself because I had a schedule conflict. When I went last year, it instantly became one of my favorite bookfairs, among the few dozen I've attended as either vendor or visitor. It's the only one I know of that's exclusively focused on chapbooks, and just walking around looking at everything is inspiring. The panel discussion I participated in last year introduced me to Adam Robinson (who I knew of but hadn't actually met) and we're now collaborating, in the sense that we're sharing info and resources and I'm writing for Amy McDaniel's and his new lit site Real Pants.

So, you know, people as well as objects and techniques. I also bought or swapped for cool stuff I wouldn't otherwise have known about. I'm really looking forward to this year's, and plan to keep coming as long as they keep having it.
More Q & A: Chapbook Publishers