"Emmett Till Haunts the Library in Money, MS" by Cameron Barnett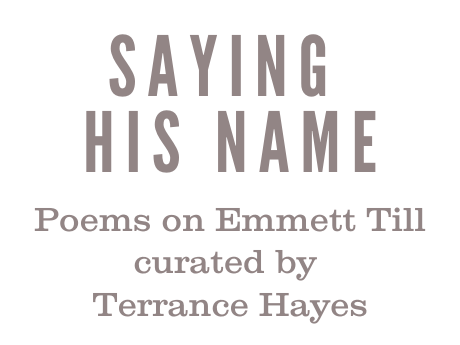 Emmett Till Haunts the Library in Money, MS
What I can't let you know is that death, too, is a snore,
a sooty shelf of unmoving paper with some gasbag
lady at the front desk. If you knew, there'd be too many
questions how I sneak past heaven's gates some days
to nap against the silent stacks, feel the blood in my head
drip into the young adult fiction. Mamie always preached

good posture, so I sit straight at least. When I was black
I grew used to the shuffle of visibility, to the Move boy! and
the thousand yard stare over my head. Being ghost
isn't all new or scary—no one to ask me what came out
of my lips sixty years ago. I might as well be ink
on closed pages, lost somewhere in the archives. You can't judge

a book by its facts or flaps or back cover, but a black boy
is the title and the illustration staring you in the face, asking
to be seen or sampled but not smothered between the other
black boys, forgotten, dog-eared and ditched. I don't love death
but I don't mind reading the periodicals for faces like mine,
putting names to the ones I'll welcome through the gates soon.





Cameron Barnett, "Emmett Till Haunts the Library in Money, MS" from The Drowning Boy's Guide to Water. Copyright © 2017 by Cameron Barnett. Used with the permission of The Permissions Company, LLC on behalf of Autumn House Press, autumnhouse.org.

Terrance Hayes explores how Emmett Till has become a haunting, powerful figure in Black poetry—and Black public grief—through the work of 10 important poets. Subscribe to the PSA newsletter for more in the Saying His Name series and to keep updated with the PSA.
---
"Emmett Till Haunts the Library in Money, MS" by Cameron Barnett
I may not have spent the last years collecting Emmett Till poems were it not for this shrewd persona poem by Cameron Barnett, author of Drowning Boy's Guide to Water (Autumn House, 2017) and former graduate student of mine at the University of Pittsburgh. When it was submitted to workshop I said so many Emmett Till poems had been written, there could be an anthology of them. "You're competing with a lot of great poets when you toss such a poem in the ring," I said something like. But when I tried recalling examples, I couldn't really. Brooks must have come to mind, but the other poems, I'd encountered in books, periodicals, Cave Canem workshops were a sort of amalgam of memorials, testaments, and sadnesses. What could the next Emmett Till poem add to what felt somehow like a genre, a default subject, a rite of passage for many black poets, myself included? Because, yes, the bar is high for such poems. Cameron's poem meets the challenge. The only poem of this series to speak in Till's voice, Barnett foregrounds the 14-year-old's boyish spirit. Though we now know Till did not "wolf whistle" at Carolyn Bryant Donham, this poem says, "So what if I did?" Barnett slips into the boy's skin and the boy slips into his and we receive an irreverent adolescent. Till, Trayvon Martin, Mike Brown—they can quickly become cautionary tales, "history lessons," and recurring headlines. They become almost instantly emblematic, a shorthand that threatens to erase each victim's very real and particular existence. (I don't know what to do about it. How to engage the incommunicable intimacies of grief, the slow immediacy of mourning while also engaging the communities of protest and immediate political action.) Barnett humanizes and restores Till. Will the day come when the Emmett Till poem isn't necessary? I asked. Then and now the answer is no.