"Emmett Till's Glass Top Casket" by Cornelius Eady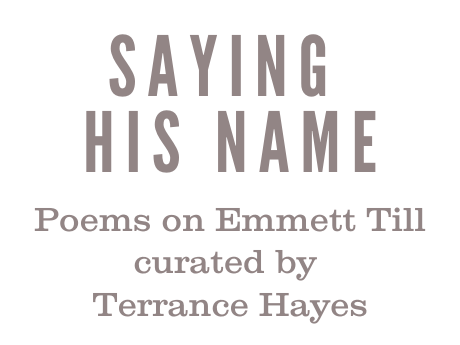 Emmett Till's Glass Top Casket
          By the time they cracked me open again, topside, abandoned in a
toolshed, I had become another kind of nest. Not many people connect
possums with Chicago,

          but this is where the city ends, after all, and I float still, after the
footfalls fade and the roots bloom around us. The fact was, everything
that worked for my young man

          worked for my new tenants. The fact was, he had been gone for
years. They lifted him from my embrace, and I was empty, ready.
That's how the possums found me, friend,

          dry-docked, a tattered mercy hull. Once I held a boy who didn't
look like a boy. When they finally remembered, they peeked through
my clear top. Then their wild surprise.




"Emmett Till's Glass Top Casket" by Cornelius Eady. Originally published in The New Yorker. All rights reserved. Reprinted with the permission of the author.
Terrance Hayes explores how Emmett Till has become a haunting, powerful figure in Black poetry—and Black public grief—through the work of 10 important poets. Subscribe to the PSA newsletter for more in the Saying His Name series and to keep updated with the PSA.
---
Terrance Hayes on "Emmett Till's Glass-Top Casket" by Cornelius Eady

Who recalls the controversy when "Open Casket," Dana Shultz's painting of Emmett Till in his casket, appeared in the 2017 Whitney Biennial? I went to see the Biennial early the first morning it opened. I remember there was work by Henry Taylor, Deana Lawson, Jon Kessler. As I approached a piece tucked in the corner of the space, there was a young brother standing in front of it shooing people away. "The Shultz's painting based on Jet Magazine's 1955 photograph of Emmett Till's mutilated body was an abomination," he said something like that as I stepped around him to view the painting. I think he only stepped aside because he thought after viewing it, I might join him in protest. "No white woman has the right to paint this," he said something like that, and within a few weeks there were indeed many other people, many of them black, who felt the same way. That morning when I looked at the image, I saw a mess of impasto and color. I was not impressed by the painting. "It just looks like a Francis Bacon rip-off to me," I said to the brother. He seemed baffled/perplexed. "It's not all that original," I said before moving on. I'm sure I would not have remembered the painting without news of the protests. (I believe artists are free to make whatever they wish so long as they do it "well." I would never offer a general definition of "well," though for me it leans in the direction of enlightenment and shapely surprise. The question of artistic quality/merit is always debatable. Debate is useful, even desirable, when it comes to art.) I can only recall a vague Francis Bacon impression when I think of "Open Casket." Maybe I blocked what I saw out that day. Or maybe anyone who looks at such an image goes blind. I first read "Emmett Till's Glass-Top Casket" in a 2010 issue of the New Yorker. I never forgot the straightforward voice of the casket. The diction is conversational, unadorned, and seemingly oblivious to the occasion until the line, "Once I held a boy who didn't look like a boy." Eady does not poeticize/imagine what Till looked like. Instead he lets us imagine the "wild surprise" of the beholders. We don't need much more elaboration than that.