Michelle Tudor on wildness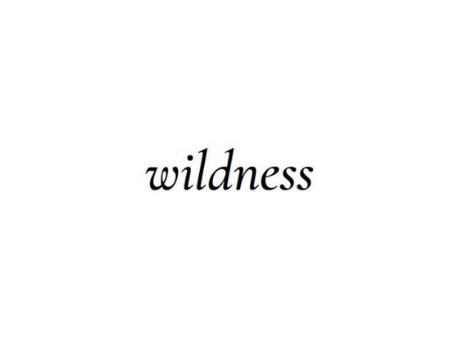 Tell me about the creation of wildness. When and how and why was it conceived?

When we were starting Platypus Press we realized we also had a desire to build something more accessible, something that a broader audience would be able to experience. This was around August 2015 and we released our first issue in the December.

I think we've mentioned this elsewhere, but we took the name wildness from a song title. We were looking for a word that could capture the feeling we wanted to express, something that would elicit our desire for words that evoked either nature or the body. Things we felt drawn to in writing, the study of the self in isolation as well as within a broader environment, be it societally or in the landscape itself. wildness is that to us—and we like how Thoreau put it, "In wildness is the preservation of the world."

What makes wildness different from other places to read poetry (and literature) on the internet?

In reality there is little to differentiate us from the journals we admire; the places that advocate inclusivity and expression of identity. We are content (and honored) with being considered alongside them as a place that is welcoming to any writer.

We are, of course, extremely proud of what we've achieved in a relatively short period of time, and hope our aesthetic enables our readers a pleasing environment to experience the work in.

What is something that you have recently published that really excited you, and why?

We are extremely proud of all the work we have published, but for nonfiction we love Brianna Albers' recent piece and Brandon Taylor's "Grief as Mythos"—as both were particularly affecting.

For poetry, we would say Tariq Luthun's poem in Issue No. 6, "Hårb (Or on Waging War in Spite of God)."

What should someone submitting work to wildness know about the site?

That we're open for submissions year-round.

The only real thing we'd say—aside from looking over our submissions page—is read through our archive. What we're seeking is there to be gleaned; we want your bodies, your nature.

What other literary sites and journals, online or print, are your go-to?

I think it'd be right of me to mention a few newer journals that deserve to be read, places like Luther Hughes' the Shade Journal, Eloisa Amezcua's The Shallow Ends and Elizabeth Onusko's Foundry.

Of the more established journals, some of our favorites are Birdfeast and Muzzle.

Also, Eloisa from The Shallow Ends has mentioned it in her interview, but it can never be praised enough, and that's Kaveh Akbar's Divedapper interview project; a truly wonderful effort and a must-read.



***
Michelle Tudor is a writer, editor and average barista. She is an English Literature and Creative Writing graduate whose work has been published both online and in print. Her short story collection, Miyoko & Other Stories, was released in 2015. She currently serves as the editor of Platypus Press and wildness.