Stopping by with Adrian Matejka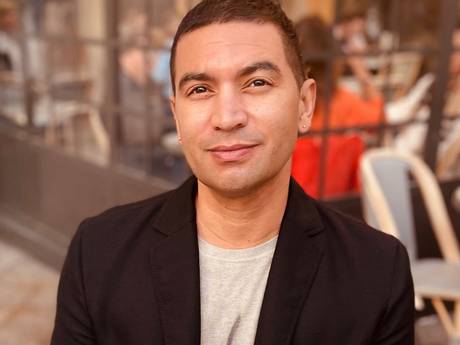 Adrian Matejka is the author of six books, most recently a mixed media collection inspired by Funkadelic, Standing on the Verge & Maggot Brain, and a collection of poems Somebody Else Sold the World which was a finalist for the 2022 Rilke Prize. His collection The Big Smoke was awarded the Anisfield-Wolf Book Award and was a finalist for the National Book Award and Pulitzer Prize in poetry. His first graphic novel, Last On His Feet, is forthcoming from Liveright in 2023. Among Matejka's honors are fellowships from the Guggenheim Foundation, the Lannan Foundation, the National Endowment for the Arts, the Rockefeller Foundation, and a Simon Fellowship from United States Artists. He lives in Chicago and is the Editor of Poetry magazine.
---
What is the last thing that moved you?

I'm not an anxious person, but like many of us, I've been dealing with a whole lot of anxiety lately. It's not connected to any one thing necessarily but connected to everything, like somebody just plugged me into the anxiety mainframe. Because of that I've been listening to a lot of ambient and lo-fi music. Which is kind of the opposite of physically moving, but it moves me spiritually if that makes any kind of sense. William Basinski's The Disintegration Loops is one. Alessandro Cortini's Avanti is another album that settles even as it inspires.

What is a piece of art that changed or greatly influenced your life?

There have been so many works that have transformed or otherwise redirected me over the years. I feel like I've been lucky to find—or maybe lucky to be found by—particularly transformative pieces of art when I needed them most. The first time I saw Basquiat's work for example, or the morning I heard Nina Simone's version of "Strange Fruit." I couldn't see the world the same way after that.

But if I was going to choose one, it would be Miles Davis's Kind of Blue. It's a staple in coffee shops and lounges now, but it transformed the way I heard music when I listened to it as a teenager. It was the first time something on the record player reflected the textures and tempos in my head. I'd been walking around thinking modally and had no idea what that meant until Miles showed me.

What is your first memory of poetry?

I can't remember when I first encountered poetry, but I know it didn't happen in school. Our 9th grade English teacher who was in charge of the only poetry lesson in the curriculum didn't think we could comprehend poetry, so she gave us song lyrics to examine instead. 15-year-old me thought that was amazing to read Public Enemy of course, but I wish we'd have talked about Gwendolyn Brooks or Frank O'Hara. That would have been a different kind of revelation.

I do remember the first time I saw what poetry can do, though. Spring 1993 at a coffee shop in Bloomington, Indiana called Runcible Spoon. Yusef Komunyakaa gave a fundraising reading there and about 100 people crammed into the two-roomed shop. More people stood out front of the place where they'd set up a speaker for anybody who couldn't get in. It was more like a concert than any poetry reading I've been to since. Yusef read "You and I are Disappearing," "Blackberries," and "Slam, Dunk, & Hook" and it was over for me.

How has this last year changed you, and what is something that you will take with you into a post-pandemic world?

The last couple of years have been so difficult for all of us. The pandemic is one of the only events in my lifetime where nearly everyone regardless of age, culture, economics, or social situation suffered in approximate ways. Somehow that shared experience and the way we handled it collectively made me more anxious and less trusting of the idea of citizenship. It was an opportunity to reimagine what we want our lives to be—how we work, how we protest, how we care for those around us—but not everybody took advantage of it and many people actively worked against their neighbors' best interests.

So I just kind of closed down and tried to write my way through everything with Somebody Else Sold the World and Standing on the Verge & Maggot Brain. Writing was the only thing I could do to catalogue the days. I came away from it all with a deep desire for more compassion for myself and for others. Like many people, I'm my worst critic and the past couple of years have convinced me it's time to relinquish some of those critical habits.

Who or what is your greatest creative influence?

Music is the most influential type of art in my life, but since I keep talking about it in my responses here, I'll switch it up to say my greatest creative influence has been my mother. She loves books and when we were in Section 8, she would scrimp enough money for gas to drive us to the library. Those trips to the library were the beginning of everything.

If you were to choose one poem or text to inscribe in a public place right now, what would that be? And where would you place it?

Lucille Clifton's "won't you celebrate with me?" is such a gorgeous example of the way that poetry can insist even as it inspires. Rather than inscribing it in a physical space, I would make it part of the call to order in the House and Senate.

What do you see as the role of art in public life at this moment in time?

Art can make our inner universes more tangible to people who aren't us. Art can help us to communicate in more direct and emotionally fluent ways. Which is so important right now as we're moving through this new half-masked version of things. We need better strategies for communication to manage it all. We also need art for resistance against our government's shenanigans: a rigged Supreme Court, recalcitrant local representatives, and senators whose careers are subsidized by gun money. Art can't stop the NRA, but it can help us to cope with a world made more dangerous by guns and the people who point them at us.

What do you want people to take away from your work?

I think poetry is a shared thing, a gift for both the writer and the reader. If we caretake that gift to the best of our abilities, we create an experience that is simultaneously personal and collective. Fulfilling, too, if poetry does what it is capable of. Even if readers don't agree with my politics or with my perspectives, I hope something in the music or the wordplay or allusions surprises them.

Are you working on anything right now that you can tell us about?

Right now I'm finishing up the edits for my first graphic novel, Last On His Feet. The book is illustrated by Youssef Daoudi and finishes the Jack Johnson project I started with The Big Smoke. I began researching Mr. Johnson in 2005, so by the time the graphic is published in spring 2023, I will have been working on this story for 18 years. It's been an honor to explicate his story and I cannot wait for everyone to see Youssef's illustrations. His art is staggering.

What are you hopeful for this year?

I was hopeful that the pandemic might have resulted in more introspection and compassion, more outward-facing generosity from our citizenry. The opposite has mostly been true so far. There's still six months left, though. Hopefully we can use the rest of 2022 to get this thing moving in the right direction.