Stopping by with Ekene Ijeoma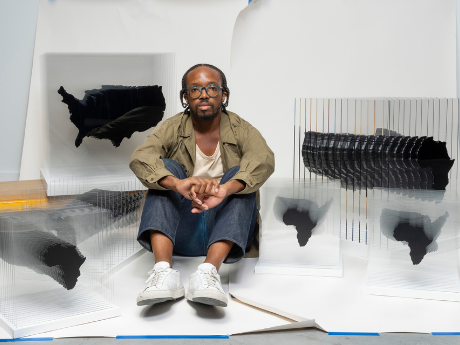 During this extraordinary moment—of both pause and activism—we asked writers, musicians, curators, and innovators to reflect on the power and memory of language, shared spaces, and this moment in time.
---
Ekene Ijeoma is an artist, Assistant Professor of Media Arts and Sciences at Massachusetts Institute of Technology (MIT), and Director of the Poetic Justice group at MIT Media Lab. Through his lab and studio art practices, Ijeoma researches social inequality across multiple fields to develop communal empathy through sound, video, sculpture, and installation art. Ijeoma's multimedia practices critique themes such as language, identity, and displacement, and propose values such as belonging and healing. His work has been presented through exhibitions and initiatives at the Museum of Contemporary Art Denver, Contemporary Art Museum of Houston, Contemporary Art Museum of St. Louis, Annenberg Space for Photography and The Kennedy Center.

---
What is the last thing that moved you?

From reading Emergent Strategy by adrienne marie brown to watching Compensation by Zeinabu Irene Davis, Vision Portraits by Rodney Evans and Sound of Metal by Darius Marder, I've been searching for different ways of navigating societal and personal love, loss, and grief and expressing these ideas through my lab and studio art practices.

What is a poem that changed your life?

"won't you celebrate with me" by Lucille Clifton. I found this poem last fall, and having lived through an increasing number of Black Americans killed by COVID and murdered by police, the ending really spoke to me: "come celebrate / with me that everyday / something has tried to kill me / and has failed." It made me feel as if I should be celebrating more, that I'm still here, being, withstanding all the things that are trying to kill me.

If you could recommend one poem or piece of art to everyone, what would it be?

The album "The Way I Feel" by Nikki Giovanni especially the tracks "Just a NY Poem," "Winter Poem" and "Seduction/Kidnap Poem." She speaks about love, revolution, and language in ways that felt grounding, especially as I was reading Pleasure Activism by adrienne marie brown and developing a project around language justice.

What is your first memory of poetry?

The first poetry I can remember from someone who wasn't a rapper, was from Ursala Rucker. In high school in Fort Worth, Texas, I listened to her perform on various artists' songs including 4Hero, Jazzanova, and The Roots. After college, when I moved to New York, I'd experience this more in person with poets like Aja Monet at the Nuyorican Poets Cafe.

I love spoken word poetry and listening to people speak over jazz, hip hop or electronic music. This last year I've been working on a series of participatory spoken word projects and thinking about different ways of computationally rearranging phrases from different people to an imaginary rhythm and beat to collaboratively create poetry. Watching films like Poetry in Motion by Ron Mann especially the scenes with The Last Poets have guided me through this.

The pandemic continues to keep many public spaces (libraries, concert halls, museums, etc.) closed. What space—and community—do you miss the most?

Many of my favorite New York City public spaces are outdoors—parks, plazas, and piers—have stayed open; but my favorite indoor spaces, including bars and restaurants with counter seating and small theatres, have been closed and I've missed them, especially in the winter!

When it's safe to travel again, where are you most looking forward to going and what are you most looking to doing there?

Mexico City. Just being.

If you were to choose one poem or text to inscribe in a public place right now, what would that be? And where would you place it?

"won't you celebrate with me" by Lucille Clifton, although Brooklyn Hi-Art! Machine already did that beautifully in their public artwork titled Inspired By "What Is Left" that's installed in Prospect Park until May.

What do you see as the role of art in public life at this moment in time?

What Toni Cade Bambara said: "The role of the artist is to make revolution irresistible."

Are you working on anything right now that you can tell us about?


In June I'll have two new artworks, Deconstructed Anthems: Nebraska 12 and A Counting: Omaha, in an exhibition titled All Together, Amongst Many: Reflections on Empathy at Bemis Center for Contemporary Art. Deconstructed Anthems: Nebraska 12 is a new edition in an ongoing series of music performances and installations sonifying the increasing number of incarcerated people in the US. Each edition features a software-generated score of the Star Spangled Banner repeated variable times removing notes at the rate of national incarceration and ending in silence. It'll be shown as an installation with a grand piano and drawings of the score which will be performed by solo pianists a few times throughout the exhibition.
A Counting: Omaha is a new edition in an ongoing series of remotely-accessible participatory public artworks portraying the ethnic and linguistic diversity of the US. Each edition features people from different regions counting to 100 in various spoken and signed languages. In the last year we've launched 4 editions: New York City with the Museum of the City of New York, Houston with Contemporary Art Museum of Houston, St. Louis with the Contemporary Art Museum of St. Louis and US Signed with Deaf and Hard of Hearing communities across the US. Anyone in the US can participate here. 
Later this Summer I'll be launching another remotely-accessible public participatory artwork titled Freedom Radio with my group Poetic Justice at MIT Media Lab and the Nelson Mandela Family Foundation. It's a multimedia portrait of global freedom and anyone around the world can participate here.



Photo by Kris Graves.