Stopping by with Mira Jacob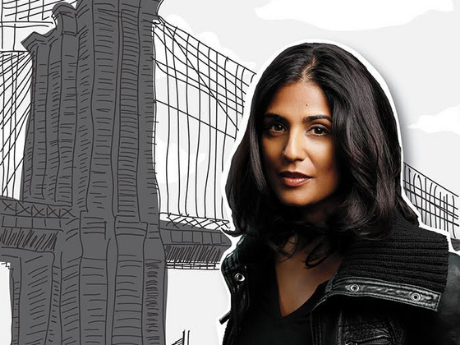 During this extraordinary moment in time, we asked writers, musicians, curators, and innovators to reflect on influence, memory, language, shared spaces, and the power of poetry to bring us together.

---
Mira Jacob is a novelist, memoirist, illustrator, and cultural critic. Her graphic memoir Good Talk: A Memoir in Conversations was shortlisted for the National Book Critics Circle Award, longlisted for the PEN Open Book Award, named a New York Times Notable Book, and is currently in development as a television series. Her novel The Sleepwalker's Guide to Dancing was a Barnes & Noble Discover New Writers pick, shortlisted for India's Tata First Literature Award, longlisted for the Brooklyn Literary Eagles Prize and named one of the best books of 2014 by Kirkus Reviews, the Boston Globe, Goodreads, Bustle, and The Millions. Her work has appeared in The New York Times Book Review, Electric Literature, Tin House, Literary Hub, Guernica, Vogue, and the Telegraph. She is an Assistant Professor at the Writing Program at The New School, and a founding faculty member of the MFA Program at Randolph College. She is the co-founder of Pete's Reading Series in Brooklyn, where she spent 13 years bringing literary fiction, non-fiction, and poetry to Williamsburg.
---
What is the last thing that moved you?

My partner Jed Rothstein is making a documentary/musical about Rudy Giuliani. He showed me the outtakes of one of the staged numbers yesterday and it is horrific, hilarious, beautiful, and terrifying.

What is a book that changed or greatly influenced your life?

I teach Lynda Barry's What It Is once a year, and every year I read it differently. It is full of very dense pages of images and text that do not offer a linear path for reading, so you just kind of wade into them and see what appears to you. It's like those word search games but with soul-changing ramifications.

What are you reading right now?

My friend Isaac Fitzgerald handed me his memoir, Dirtbag, Massachusetts: A Confessional, two days ago. It is blunt and funny and very moving, much like Isaac.

What do you see as the role of art in public life at this moment in time?

We are a world in trauma—politically, environmentally, socially—and one of the things I most value about art is its ability to illuminate trauma fully, and show us the edges of who we might become on the other side of it.

If you were to choose one poem or text to inscribe in a public place right now, what would that be? And where would you place it?

When the lights commemorating 9/11 go down, I would like to see Fatimah Asghar's "If They Come For Us" projected across every bridge leading into Manhattan.

How have the last two years changed you and what is something you learned that you will take with you into a post-pandemic world?

A long time ago, in my twenties, I realized that if I took a picture of a place that mattered deeply to me, I ruined it for myself. My memory inevitably became the photograph, not the place. In the same way, these last few years have made me understand the keen difference between a life lived and a life projected, between being in a moment and narrating it for consumption. I'm bringing the strange, simple joy of living in a body and keeping my thoughts to myself into the post-pandemic world.

What motivates or inspires you?

Oof, so much. I love listening to other people's conversations, to witness how earnestly we try to be known to each other, despite failing so often. The human assumption that one day we might truly understand one another is so misguided and lovable.

Are you working on anything right now that you can tell us about?

I'm working on a novel about the murder of a white-passing Indian American actress.

What are you hopeful for in 2022?

Hugs.