Stopping by with Omar Berrada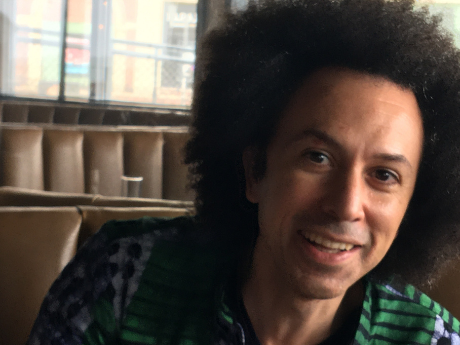 During this extraordinary moment in time, we asked writers, musicians, curators, and innovators to reflect on influence, memory, language, shared spaces, and the power of poetry to bring us together

---
Omar Berrada is a writer, translator, and curator whose work focuses on the politics of translation and intergenerational transmission. He is the author of Clonal Hum, a book of poems on "invasive species" (2020), and the editor or co-editor of several books, including Album: Cinémathèque de Tanger, a multilingual volume about film in Tangier and Tangier on film (2012), The Africans, a book on racial dynamics in Morocco (2016), and La Septième Porte, Ahmed Bouanani's posthumous history of Moroccan cinema (2020). His writing has been published in numerous essay collections and exhibition catalogs, as well as in anthologies including The University of California Book of North African Literature (2013) and Poetic Justice: An Anthology of Contemporary Moroccan Poetry (2020). Currently living in New York, he teaches at The Cooper Union, where he co-organizes the IDS Lecture Series.


---
What is the last thing that moved you?

A photograph has haunted me ever since I first saw it on July 19th. That day, in Casablanca, Omar Radi was sentenced to six years in prison on what many consider to be fabricated charges. Radi is a young investigative journalist who was instrumental in exposing large-scale corruption in Morocco. The sentence came after a year-long pre-trial administrative detention during which his parents, Driss Radi and Fatiha Cherribi, emerged as models of courage, integrity, and persistence—low-key icons, ignored by the media but revered by activists and anyone with a concern for freedom. They led marches, organized sit-ins, and shared, via Facebook, the letters they were and still are writing to their son every single day. In her letters and posts, Cherribi is tender and defiant in equal measure. She tells Omar about the growing support for his cause, while telling Omar's supporters about his high spirits in the face of hardship, as though she was a mother not just to her son, but to an entire generation held together by what little remains of the so-called Arab Spring. As frail as she looks, she is a figure of indomitable hope.

This picture was all the more heartbreaking. A mother in distress. A citizen bereft of justice. A rare instance of desperation piercing through. The next day, she was back on track, lifting our spirits.

What is a book that changed or greatly influenced your life?

Encountering Ahmed Bouanani's novella L'Hôpital [The Hospital] in 2010 was a shock. I was blown away by the complex prose and the powerful social critique, and I was angry that it had taken me so long to find my way to this book and its author. Though published as late as 1990, L'Hôpital had long been out of print. Though still alive when I read him, Bouanani (1938-2011) had long retreated from the scene. Since then, I joined his daughter Touda and a growing number of devotees in the long-term project of reviving and recirculating his books, his films, and the rest of his massive archive. In particular, I initiated a second edition of L'Hôpital, of which I also commissioned and published an Arabic translation, and worked on editing unpublished manuscripts. In addition, I curated exhibitions around his work in order to explore the ways it speaks so directly to my generation, with his humor, his unerring moral sense, his interest in a vernacular aesthetic, and his decolonial approach avant la lettre. For me, Bouanani's work has become a door into an intimate understanding of and engagement with the territory in which I grew up and which continues, across diasporic distance, to shape my ways of being in the world.

What is your first memory of poetry?

Despite having been exposed to a lot of poetry in Arabic and French during my early schooling, I associate my first conscious memories of poetry, as an experience of words-as-magic, with the English language. At 14, I had an opportunity to spend three weeks with a family in the south of England as part of an organized language-learning program. We had formal classes every morning. One of the instructors used poetry as a pedagogical tool. One day he brought in some poems by William Butler Yeats. I was not entirely sure what I was reading but I was mesmerized. "The Song of Wandering Aengus," in particular, stuck with me. I haven't read any Yeats in years, but I still know it by heart. Later that summer, back in Morocco, I spent a week with my parents and siblings in a beach house that belonged to family friends. In it was a large anthology of American poetry. Our home had very few books at the time, and I had no idea where to find English literature in Casablanca. So I forsook the beach and spent the week frantically copying the anthology into a notebook.

How has this last year changed you and what will you take with you into a post-pandemic world?

There is no "post." From now on, we will take the pandemic with us wherever we go. I hope we can heal from the worst of it, and keep the best: the mutual aid networks, the attention and care for others, the demand for a more just society that respects all life and all workers.

Who or what is your greatest creative influence?

This is a hard one. We are not always aware of what most influences us. The late Emmanuel Hocquard made a distinction between influence and what he called "impression." He said he had many influences but that he was impressed, or rather impressioned, like a photographic plate, by Michael Palmer's Sun. As for me, if I were to single out one name, it would be Etel Adnan. I have known her and her work since my early twenties, yet I still find something new every time I open a book of hers or look closely at one of her paintings or leporellos. I am stunned by her work's expansiveness, shape-shiftiness, and healthy disregard for the boundaries that organize mainstream verbal and visual worlds. Each of her books seems to invent a new genre for itself, and yet her tone is unmistakable. Etel has lived many lives in one and is still able, in her 90s, to find joy in simple things—a shared meal, a sunset over the ocean, an impassioned conversation. Her example is a reminder that you can be a serious artist without taking yourself seriously; that, regardless of recognition or lack thereof, perseverance is key; and that ultimately, to the extent that such distinctions make any sense, life is more precious than art. [1]

If you were to choose one poem or text to inscribe in a public place right now, what would that be? And where would you place it?

It would be "Zong #15" from NourbeSe Philip'sZong! Its opening line, "defend the dead," is an imperative to live by. I would want to "inscribe" it in every port city on both sides of the Atlantic. I am putting "inscribe" between quotes because in order to honor Zong!'s reparative potential, we need to imagine modes of inscription that eschew the stale monumentality of plaques and statues. NourbeSe's guidance would be key in this regard. Zong! presents itself "as told to the author by Setaey Adamu Boateng." It is a collaboration with the ancestors. It tells "a story that cannot be told yet must be told." One must be prepared to receive such a text. The ceremony must be found, as Sylvia Wynter might say. Rather than permanent physical inscription, what Zong! and the Zong catastrophe call for is ever-renewed oral and communal re-inscription–through remembrance and witnessing, performance and ritual.

What do you see as the role of art in public life at this moment in time?

I prefer not to be prescriptive. Art can be so many things. We tend to expect a lot from art and artists, but art works otherwise. I do like to think of artmaking as a way to engage both sensorially and intellectually with the stakes of the present. However, the work of art, i.e., the work that art accomplishes, unfolds according to a temporality that is not bounded by imperatives of direct intervention into public life.

What do you want people to take away from your work?

Again, no prescription here. What happens to my work is beyond my control. But if it can encourage readers/listeners/viewers to make room for overlooked perspectives, for voices from other human and nonhuman geographies, that would make me happy. I often go back to a phrase I encountered long ago in a text by Antoine Berman. He uses it in passing, as an ideal definition of translation, but I believe it applies to all artistic endeavors. Borrowing his words, I would like my work to be "a self-conscious act of creative decentering," and to incite the same in those who engage with it.

Are you working on anything right now that you can tell us about?

For many years, I have been working on the question of race and anti-blackness in North Africa. This has taken the form of essays, exhibitions, historical research, performed lectures, and so on. Most recently, I put together a very personal sound piece for the Cape Town-based podcast Archive of Forgetfulness, on the afterlives of the trans-Saharan trade routes. I feel that all these scattered threads want to come together into a book, if I ever find the time and energy to see it through. I should add that moving to the US helped me considerably in this endeavor; it made me understand that this is an existential project more than it is a book in progress. New York offered me the gift of a large African diaspora. In it I recognized myself in ways that I had not predicted and that are helping me envision a more expansive view of what Moroccan identity could be.
[1] This interview was conducted before Etel Adnan passed on November 14, 2021.