Stopping by with P. Scott Cunningham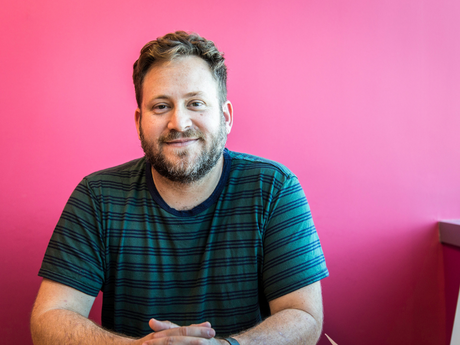 P. Scott Cunningham is the author of Ya Te Veo (Arkansas UP, 2018), selected as part of the Miller Williams Poetry Series. His poems, essays, and translations have appeared in The Nation, American Poetry Review, Gulf Coast, POETRY, A Public Space, Harvard Review, Monocle, 68to05, and The Guardian, among others. He lives in Miami, FL, where serves as the Executive Director of O, Miami.

O, Miami celebrates National Poetry Month with a festival that aims to have every person in Miami-Dade County encounter a poem during the month of April. Mixing site-specific events, community gatherings, and poetry-in-public-places projects, the festival is a celebration of Miami and its people.

---
What is the last thing you read that moved you?

The Florida Room by Alexandra T. Vazquez. It's an absolutely beautiful book about Miami and what makes this city so unique.

What is a poem that changed or greatly influenced your life?

The first one that comes to mind is the poem "Lenox Hill" by Agha Shahid Ali. It only came into my life a few years ago, but I've been obsessed with it since it found me. I've read it many, many times. I understand how it's constructed, but I have no idea how it was made. It's pure magic, and although it's an incredibly sad poem, and written toward the end of Ali's too-short life, it always makes me feel hopeful.

What is your first memory of poetry?

In English class my sophomore year of high school, my teacher Mr. Lofton assigned each of us a poem to memorize. He gave us a list to choose from, and I picked Matthew Arnold's "Dover Beach" because the title reminded me of surfing. (Spoiler alert: "Dover Beach" is not about surfing.) I was born and raised in Florida, and growing up, I wanted to be a surfer but wasn't brave enough to do it. Instead, I memorized that poem, and here I am.

How has this last year changed you, and what is something that happened/you experienced/you learned, that you will take with you into a post-pandemic world?

The time I was able to spend with my family was so invaluable. I have three little ones, and I know they won't stay little for long, so getting to be with them so much during the pandemic was incredible. I know most people hate Zoom meetings, but I'm grateful that it's an accepted practice now because it means I can spend more time with my partner and my kids.

Who or what is your greatest creative influence?

I'm going to answer both the "who" and the "what." The latter is Miami. I have a tattoo on my left forearm from the Miami-born poet Donald Justice that reads, "I will die in Miami in the sun." This city is endlessly fascinating to me, especially in how its people resist and subvert the constant attempts to destroy their communities. Miamians are the most imaginative and resilient people I've ever met, and they inspire me to be tougher, more creative, and more loving. The "who" is my wife Christina. She wrote a wonderful middle-grade novel during the pandemic when we had zero childcare, and then got an agent and it will be out on submission soon. I still don't totally understand how she pulled that off, but I'm so inspired by her drive and commitment.

If you were to choose one poem or text to inscribe in a public place right now, what would that be? And where would you place it?

On the court of the Miami Heat's arena, right in the center circle, I would put "I was raised / by the rain, " which is a line from a poem written by Jeysin Nuñez, a Miami elementary school student who O, Miami worked with in 2021.

What do you see as the role of art in public life at this moment in time?

Personally, I don't think there can be such a thing as a "public life" without art. How would we understand or define ourselves as a public without it? And maybe it's because of my job at O, Miami, but I think that giving everyone – and I mean everyone – a voice through publicly accessible art can be a powerful force. It can't solve anything on its own, but I think it's an important piece within a constellation of actions that make change.

What do you want people to take away from your work?

I guess I have two types of work. One is my poems, and with them, I don't think I have specific things I want people to take away, just a hope that people will read them with an open heart, because that's the way I tried to write them. And then there's my work with O, Miami, and what's joyful about that work is that it's done in collaboration: with the staff, with other organizations, with artists, and most of all, with Miamians. In those projects, I want people to see themselves.

Are you working on anything right now that you can tell us about?

I've been writing (and failing to finish) a collection of essays about Miami for several years, and while I've been doing that, I also unwittingly began to write a collection of poems about Miami. Some of the short essays in the collection morphed into prose poems, while others asked to be lineated. I was resistant to this phenomenon at first because, you know, word count!, but eventually I stopped fighting it and let it happen. Ultimately, I think writing the poems has helped the essays to be essays, and vice versa. Or at least, that's the practical lie I'll keep telling myself.

What are you hopeful for?

My family, my city, my friends.