Stopping by with Rachel Eliza Griffiths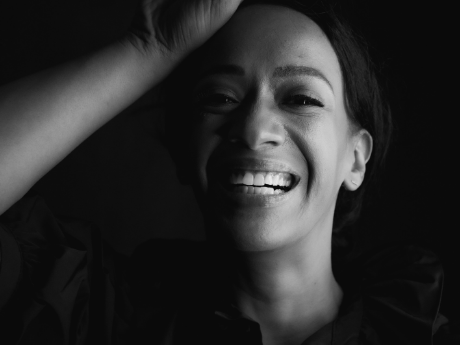 During this extraordinary moment—of both pause and activism—we asked writers, musicians, curators, and innovators to reflect on the power and memory of language, shared spaces, and this moment in time.
---
Rachel Eliza Griffiths is a poet, novelist, and visual artist. She is the recipient of fellowships, including Cave Canem, Kimbilio, Robert Rauschenberg Foundation, and Yaddo. Griffiths' literary and visual work has appeared widely, including The New York Times, The New Yorker, Los Angeles Review of Books, The Paris Review, Best American Poetry (2020), and The L Word; Generation Q. Seeing the Body (W.W. Norton), a hybrid collection of poetry and photographs, was published in 2020. Her debut novel Promise is forthcoming from Random House. Griffiths lives in New York City.

---
What is the last thing that moved you?

Lately, I've been listening to a lot of John Coltrane and FKA Twigs. I've also been spending time at The Morgan Library, swooning over the Betye Saar show, Call and Response, which is extraordinary.

On Election Day I visited the Paula Cooper Gallery to see Cecily Brown's show because I knew there wouldn't be many people there so it would be safe. The city was mostly shut down with an intense expectation that there would be violence. Windows were boarded up everywhere and it felt extreme. I loved that so many of the galleries kept their windows open. On a day drenched in tension and anxiety, it felt safer to be in a gallery. Who knew that it would last the entire week! On any given day, I'm moved by all kinds of things but what I'm thinking of right now is how a wave of people screaming and ringing bells erupted in New York City on November 7th.

At the moment, I'm reading quite a few things, mostly stories. Right now, I'm immersed in Danielle Evan's astonishing The Office of Historical Corrections and Tsitsi Dangarembga's This Mournable Body.

What is a book that changed your life?

In Toni Morrison's Sula, there are those powerful moments of discovery when Nel and Sula each choose their respective "me-ness." As women, they must then endure their choices, their ambivalences, and their alliances. They struggle with the consequences of the lives and the love(s) they will share and betray. Their awareness of themselves feels painful and revelatory to me. When I recognized myself in both of Morrison's characters I was freed from having to choose an experience of binaries as a reader and a writer. That changed me.

What is a book you think everyone should read?

This question makes me feel like I'm back in high school and somebody cool (much cooler than me) has asked to listen to my mixtape or to look at my playlists to decide which of us is the best nerd.

I have a love-hate relationship with the concept of "should" but an essay I might suggest would be "The Uses of Anger: Women Responding to Racism" by Audre Lorde, which is reprinted in Sister Outsider: Essays and Speeches.

What is your first memory of poetry?

My mother's voice.

The pandemic has emptied many public spaces (libraries, concert halls, museums, parks, transit systems, etc.). What space—and community—do you miss the most?

I miss museums/galleries, and public parks right now. I miss them all the same and the most. I miss whatever special restaurants and journeys that were lovely ways for me to have time with my friends and family. I miss not having to think so immediately about what is safe or not when I want to visit my Dad and can't even hug him. My Uncle Ronald died from Covid-19 in July and our family also lost another uncle and a beloved aunt. It wasn't safe to attend their funerals so I'm in this strange state of unrest and grief about that.

"Space" is such a difficult idea for us all because we're facing unrelenting challenges as to how we occupy our homes, our relationships, and our own bodies in new (and often limited) ways. And these negotiations of space are occurring psychically/mentally, too.

Public space is rife with words—signs, logos, advertisements. If you were to choose one poem or text to inscribe in a public place right now, what would that be?

The immediate lines I think of belong to Lucille Clifton, which are the closing lines of her poem "won't you celebrate with me" and I also really like this single line in W.S. Merwin's poem "Rain Light" – "whether or not you know you will know."

Have you thought differently about the role and power of language and art in the wake of murder of George Floyd, Breonna Taylor, and the wide-spread protests?

No.

My thoughts orbit my lack of patience and my exhaustion. What remains positive for me is my thinking and my hope for our younger generations and their lack of patience too.

I want to continue protesting what we are giving to younger generations and calling it fair, calling it a life. Thank goodness they are rejecting the past and demanding better lives for all of us.

Bless them.

Have you created something during the lockdown, or are you working on anything now?

I create things every day but it's not about everything having to be a product or for somebody else's experience. I would like to believe that my inner life is a spectrum of progressive transformations and experiments, rather than overly transactional. For me, creating and sustaining a private space where I allow myself to rest, to read, to cook, to play music, and to risk new turns of language and imagery where I have no idea how to be wrong or right, is part of the calling.