Stopping by with Shantell Martin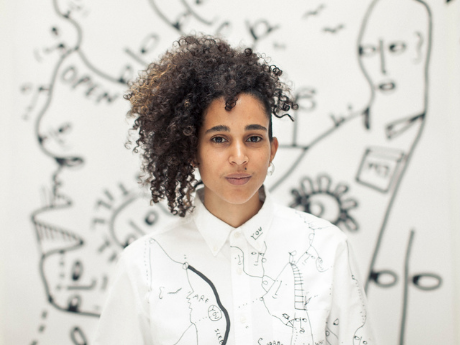 During this extraordinary moment in time, we asked writers, musicians, curators, and innovators to reflect on influence, memory, language, shared spaces, and the power of poetry to bring us together.

---
Shantell Martin is one of today's most groundbreaking multimedia artists. Known for her ongoing exploration of the vast potential of the drawn line, below the surface of her signature black and white drawing is an exploration of the reciprocal relationship between artist and viewer, in which a work of art is more than an object of admiration. Exploring themes such as intersectionality, identity, and play, Shantell is a cultural facilitator, forging new connections between fine art, education, design, philosophy, and technology.

---
What is the last thing that moved you?

I've recently been spending time in Los Angeles and have enjoyed all the plants that are a part of everyday life here. I continuously ask people who live here about different plants, and they have no idea usually, so I downloaded an app that identifies plants and have been learning about them that way.

What is a piece of art that changed or greatly influenced your life?

The first time I saw the painting Tiger in a Tropical Storm by Henri Rousseau, as a child was really impactful. Later on, when I learned more about the painting as an adult, it really resonated with me how Rousseau used his imagination to create it. He'd never been to the jungle, in fact he never left France. But he used what he had access to, botanical gardens in Paris and children's books, and his imagination. His work completely transports you to these places and I think that is something we all can learn from.

How has this last year changed you?

I've been so inspired by the past year in many ways. We've seen a lot of conversations and voices celebrated…voices that had that have been for decades, if not centuries, silenced, and I think in large part it was due to the world quieting and "shutting down."

Personally, I've spent so many years in a state of go-go-go and just moving at a pace that is actually unsustainable and I'm so grateful to have been able to get this reality check and to see how things can be done differently.

If you were to choose one poem or text to inscribe in a public place right now, what would that be? And where would you place it?

Who Are You

I would inscribe it in the back of everyone's door so before they left their house, office, etc. they could take a moment to think about that, thus…maybe bringing themselves more wholly INTO the public.
What do you see as the role of art in public life at this moment in time?

Art and creativity, in any medium, are a tools for empathy. Now more than ever, I feel like we have to champion a more empathetic approach to everything we do as individuals, communities, institutions, companies, governments, etc.

What do you want people to take away from your work?

I hope that it makes them smile and maybe question something about themselves or the world, in a curious, tender and meaningful way.

Are you working on anything right now that you can tell us about?

I'm choreographing my first ballet for the Boston Ballet and that has been really inspiring, challenging, a bit scary, but ultimately creatively empowering.

I'm so honored that the Boston Ballet has given me this opportunity to really bring myself and my work to this craft and space that some might not see or believe that I can have a place within. I hope this is just the beginning of the ways in which different industries can come together and expand.

Watch Ricardo Alberto Maldonado reading "Os doy mi corazón / I Give You My Heart" in The May Room.
Watch Raquel Salas Rivera reading "dejaqueveas / waitilyousee" in The May Room.


Author photo credit: Catalina Kulczar