Stopping by with Thelma Golden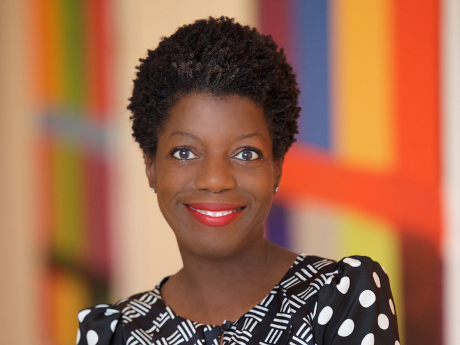 During this extraordinary moment in time, we asked writers, musicians, curators, and innovators to reflect on influence, memory, language, shared spaces, and the power of poetry to bring us together.
---
Thelma Golden is Director and Chief Curator of The Studio Museum in Harlem, the world's leading institution devoted to visual art by artists of African descent. Golden began her career as a Studio Museum intern in 1985. In 1988 she joined the Whitney Museum of American Art where she launched her influential curatorial practice. She spent over a decade at the Whitney where she organized numerous groundbreaking exhibitions, including Black Male: Representations of Masculinity in American Art in 1994. She was also a member of the curatorial team for the 1993 Biennial. In 2000, Golden returned to the Studio Museum as Deputy Director for Exhibitions and Programs, working closely with Director Lowery Stokes Sims. She succeeded Dr. Sims as Director in 2005. Under her leadership, the Studio Museum has gained increased renown as a global leader in the exhibition of contemporary art, a center for innovative education, and a cultural anchor in the Harlem community.

---
What is the last thing that moved you?

Tina Campt's A Black Gaze: Artists Changing How We See provided such a nuanced and deeply thorough inquiry of what blackness brings to making and viewing art today. This body of critical theory incredibly maps the transformative potential of Black artistry and marks how society's gaze is shifting from passive viewership to the act of complex engagement with the work of some of our most exciting and transformative contemporary artists.

What is a book that changed or greatly influenced your life?

Sula by the incomparable Toni Morrison is a treasured read. I first read Sula as a young woman and the novel opened my mind to the ways in which race, gender, and social codes dictated the lives of individuals, especially Black women. It's layered with all the things I know about the world, and for that reason, it's truly one of my favorite books.

What is your first memory of poetry? 

My first memory of poetry was being taught to recite poems in church. I grew up in the African-American Presbyterian Church, where our Sunday School teachers inspired us to love literature by engaging us in recitation. There would be programs after church and, quite often, after we mastered our group poems, we'd be called on to recite poems individually. It was quite an honor. I will always remember the first lines of Countee Cullen's "Heritage," a poem that I proudly recited as a child.

How has this last year changed you, and what is something you learned that you will take with you into a post-pandemic world?

The importance of community, in both my work and the work of the Studio Museum, became undeniable after the onset of the Covid-19 pandemic. The distance that so many of us were forced to take from one another made me understand people's desire to come together that much more, as well as the desire to do so in new and exciting ways. At the Museum, our local Harlem community is vital to the work we do so the value of our digital networks became increasingly visible through online public programs, exhibitions, and social media initiatives. Even when isolated by the pandemic, our deep commitment to one another connected us through time, space, and crisis.

Who or what is your greatest creative influence?

My greatest creative influences are artists. It is what made me a curator. But perhaps my most formative creative influence was my mother, who brought creativity, beauty, and joy into every aspect of our lives, every day. I continued to be in awe of the ways in which she, without calling what she did 'art,' was deeply artistic—in the way that she made spaces and places reflect a vision of not just beauty, but dignity and power.

If you were to choose one poem or text to inscribe in a public place right now, what would that be? And where would you place it?

"The Lesson of the Falling Leaves" by Lucille Clifton is a poem full of hope and strength. Harlem is full of beautiful public parks that the Studio Museum programs through our inHarlem initiative, which aims to make contemporary artwork accessible to a wider community. I can envision a similar project throughout the city's parks using poetry as a means of connection.

What do you see as the role of art in public life at this moment in time?

At this moment, when we're reconciling so much that's happening in the world, I see the role of art as being both a mirror that allows us the space of reflection and meditation and a window that allows us a way to move through these moments in order to imagine new futures and possibilities beyond our present situation.

What do you want people to take away from your work?

I want people to take away the importance of creating space for the voices of Black artists. Art is essential to navigating life and to better understanding our relationships with one another. My work is about creating opportunities for artists to not only show their work but also share their vision of the world, which ultimately inspires a deeper understanding of and advancement in culture.

Are you working on anything right now that you can tell us about?

The Studio Museum has just launched the next phase of construction for our new home on Harlem's West 125th Street, designed by Sir David Adjaye. Infused with the lives of artists for over half a century as well as the neighborhood's incredible community, which is the home of the Harlem Renaissance, the legacy of this space is that of a living, breathing physical space that puts forward the words and images of Black makers. Even though the building will eventually rise to new heights and be filled with visitors from near and far, I see the Studio Museum as a space that one can work within forever. It is where Black art lives, and will continue to live for a long time.