Yet Do I Marvel: LaTasha N. Nevada Diggs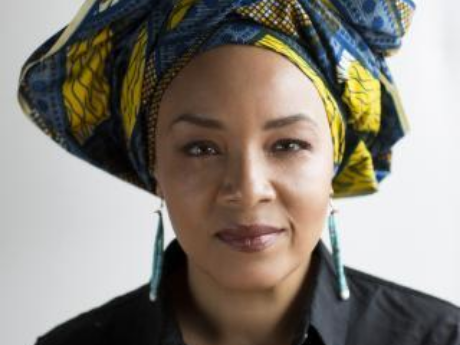 Savage Mutants: Cannot be your phenomenal manhole but been knew I was your phantom, your omen for a phoneme, your phonic chorus of pigs feet.
I am somewhere between Ghana and Colorado, gushing over the last volume of Scalped, a crime noir set on a fictional Indian reservation. I discover several Ga, Asante, and Twi phrase books in a shop at Elmina Castle. I find the 1964 Pocket Poets edition of Negro Verse edited by Anselm Hollo who in his introduction makes an argument that between the American Negro (as in Af-Am), West Indian, and African poets, "the concept of 'Negro poetry' is bound to be a rather abstract one." (Hollo 7) A friend and I have just finished translating to Spanish a poem written by Sekou Sundiata in 1977. In a rehearsal studio, a South Asian opera singer has taught me a tabla rhythm. In Boulder, I challenge a Nepalese writer to translate my poem written in a Jamaican patois. I recently learn how to say "White people" and "Black people" in Diné because aside from curse words, ain't nothing cooler than knowing the difference between "Haole" and " Mek'wishho" either of which ain't Diné. In my eyes, you can't get any blacker than that. You can't get blacker than the works of African American poets who would find themselves on a Zuni reservation, at a massage parlor in Japan, or recording whale calls in Antarctica for a dub track.

We all harbor some genetic mutation that at times (and often) opposes what's assumed the black standard for Af-Am poetry. I'm thinking here Norman H. Pritchard and Clarence Major. I'm thinking here poets many would not categorize as African American because they're Canadian, Latino, and Black Brit. This mutation–birthed from this landmass, in bodies of water where there can be no exhumation (to quote M. NourbeSe Philip); here, land locked to a history that we belong to and do not – is our black affect. You ask yourself here: what the pluck is this glitch talking about? Long ago, when watching the documentary Take This Hammer (1964), a young man declared, "We don't have a country…we have no flag…" It struck me not as disturbing but liberating. I have no flag? Well, I can create my own damn flag.

I declare my presence as an Af-Am poet to be an abstraction because I can. I am a faux pas. What is my name? Storm. Monica Rambeau aka Photon. Misty Knight. What are my shared powers and abilities? Something that critiques Western civilization as Fred Moten would put it. I want to love my literary Forge –who I find sexier than Iron Man – and Wolverine, who has a nice brown tint underneath all that PTSD. But it seems normative forces want me relegated to just Blade or Spawn. Seriously. A day walker and a hellspawn? Plus I can envision some terribly heated cultural debates between Black Panther and myself. Yet do I Marvel™ my iconic blackness but honestly, you're really expecting me to lay down with Captain America every time he comes flying into my inbox right? Show mercy on Jean Grey? She's a phoenix. She can pick herself up. Back to this question: What is it about Af-Am poetry? Truthfully, I want to know what the Ojibwe poet thinks is Af-Am about Af-Am poetry.
* * *
Works Cited

Mek'wishho = Negro person (Zuni-Cibola)
Haole = White person or forienger (Hawaiian)

Hollo, Anselm, Negro Verse. London: The Pocket Poets/Vista Books, 1964

Take This Hammer. Dir Moore Richard O. KQED/WNET, 1964. Documentary


Published 2014.