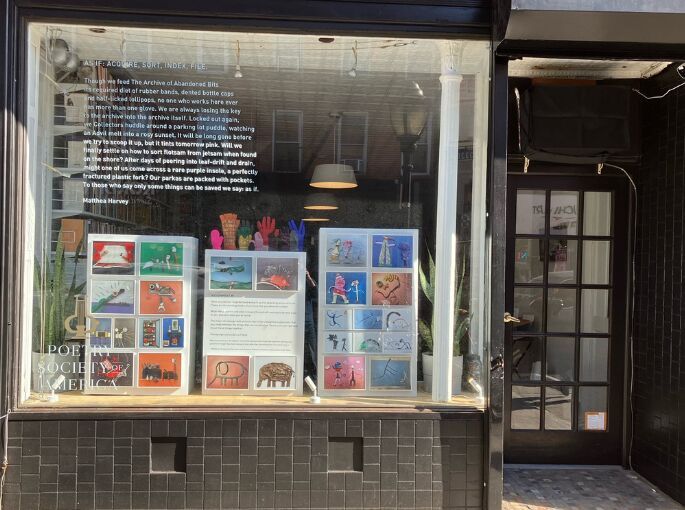 A rotating series of poetry-based public art projects installed in the Poetry Society of America's storefront window.
March 2023-May 2023
The installation features Matthea Harvey's poem "As If: Acquire, Sort, Index, File" and photographs by both Harvey and Rowboat Watkins made from trash collected in their wanderings around the city. Additional artworks will be on display on the walls of the space.

Matthea Harvey is the author of five books of poetry and two children's books. She collects (too) many things.

Rowboat Watkins writes and illustrates children's books. And has been collecting trash for as long as his dog and daughter can recall. His newest book, Go-Go Guys, comes out this fall.
---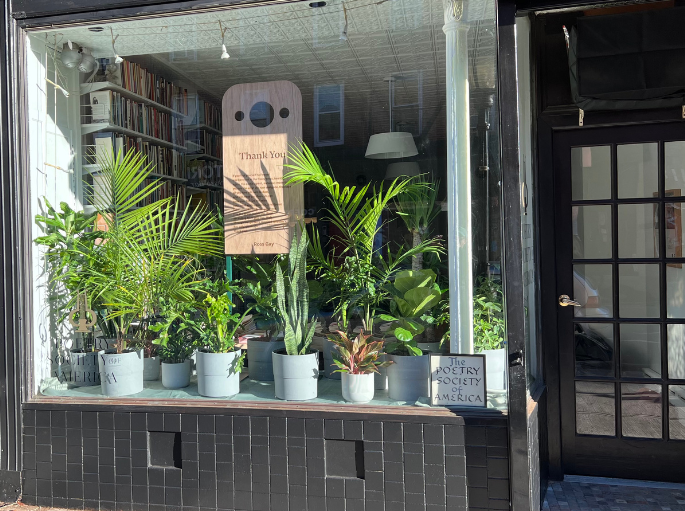 November 2022-March 2023

A coda to the New York Botanical Garden's installation The Bond of Live Things Everywhere, curated by poet and scholar Joshua Bennett. The PSA window presented Ross Gay's poem "Thank You" surrounded by plants.

Joshua Bennett is a Professor of English and Creative Writing at Dartmouth College. He is the author of The Sobbing School (Penguin, 2016)—which was a National Poetry Series winner and a finalist for an NAACP Image Award—as well as Being Property Once Myself: Blackness and the End of Man (Harvard University Press, 2020), Owed (Penguin, 2020), and The Study of Human Life (Penguin, 2022).

Ross Gay is the author of four books of poetry: Against Which; Bringing the Shovel Down; Be Holding, winner of the PEN American Literary Jean Stein Award; and Catalog of Unabashed Gratitude, winner of the 2015 National Book Critics Circle Award and the 2016 Kingsley Tufts Poetry Award. His is the author of two collections of essays The Book of Delights and Inciting Joy.

Morcos Key is a Brooklyn-based design studio collaborating with arts and cultural institutions, nonprofits, and commercial enterprises in North America and the Middle East. They translate their clients' stories into visual systems that demonstrate how thoughtful conversation and formal expression make for impactful design.