A Remembrance for David Wong Louie
A Remembrance for David Wong Louie
Blessed are thy children Jules and Sogna, possessors of the past, heralds of the future!
Blessed thy true Love, thy soulmate Jackie, and her eternal beauty, fragrant black hair of compassion, red lips
    of merciful sacrifice, Blessed our cozy home, our dream palace of light.
Blessed are thy sister and brothers;
   Blessed Father's Long Island laundromat and Mother's Chinatown Confucius Plaza of moribund rectitude.

Blessed are Zsa Zsa and Genius, piebald creatures, bold and hirsute, rabidly democratic and ridiculous!

Blessed be thy art, thy lushness, thy silences, grueling walls that terrorized the mind.
     Blessed that we shall finally write the Great American epic to shame Homer and Proust, humiliate Aristophanes, troll Roth and tickle Hemingway. We shall frolic with the fearless Queequeg and conquer the elusive Great White Whale in the afterlife!

Blessed are the UCLA food trucks steaming with greasy street tacos, frowzy tamales and halo halo!

Blessed is J.R. Seafood, waxing and waning between boiled sacred beef and tepid spirit lobster,
     godless Geoduck, salty smelly fish on reluctant pork paddies from the ancients!

Blessed are capons stuffed with frankincense and myrrh and transmigrating black bean sauce uber-mensch souls.

Blessed, the Narrow Roads of Venice—fake, redacted canals of quiet desperation, of curated miniature jungles, manicured curs and mastiffs, Gondola Teslas, tiny houses that shout transient opulence.

Blessed are the unfinished bamboo floors, decomposing kitchens, malignant architects, carpenter ants who praise the Lord whilst tunneling corridors toward purgatory.

Blessed, the tall tales of the University, their hierarchical splendor and interior squalor.
Blessed, thy students, blossoming with cumulonimbus purple adjectives.

Blessed thy friends, black, brown, pink, yellow, whitish, with eternal tans, furred, balding, fitfully unencumbered, narcissistic, and mad.

Blessed are the hypocrites, liars, sour-faced poets, littering along the River Neranjara.
Blessed are the solipsistic fat chefs, that means you, Guy Fieri, why are you so famous!

Blessed the haters; to whom we send a thousand cuts of good fortune, a thousand drums of cheap Beaujolais! Bottoms up, fools and ignoramooses!
     For David has slayeth Goliath and has finally achieved transcendence.

Blessed are thy past loves, apologies and a gut laugh.

Blessed are the voice boxes that cannot speak, tongues that cannot taste, loins that cannot
blossom, limbs that cannot embrace!

Blessed be our body ravaged by disambiguated joy!
Blessed that interstitial loneliness, our ultimate surrender.


南無普光佛
NA MO PU GUANG FO
Bless be the Universal Light Buddha

南無普淨佛
NA MO PU JING FO
Bless Be the Universal Purity Buddha

南無多摩羅跋栴檀香佛
NA MO DUO MO LUO BA ZHAN TAN XIANG FO
Bless be the Aromatic Cassia Sandalwood Buddha

南無大悲光佛
NA MO DA BEI GUANG FO
Bless Be the Great Compassionate Buddha of light


My dear friend the great writer David Wong Louie died on September, 19, 2018 after a long battle with throat cancer. His first book of brilliant stories called Pangs of Love, will be reissued by the University of Washington Press in 2019. I believe that it is one of the best story collections published in the late 20th century and is an Asian American classic.

I scribbled this prayer for David, some of which was read at his memorial on October, 26, 2018.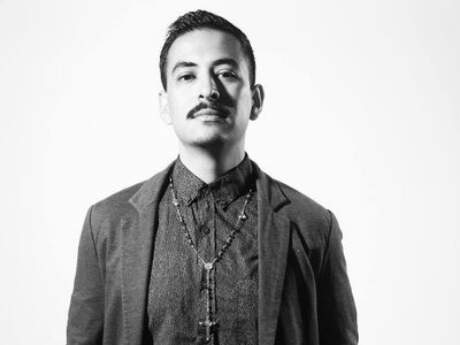 In Defense of Predictability
I read a picture book to my son about a father crossing the border with his own son titled "La Frontera." My son just turned one and is too young to know what a border is, or that frontera means border in Spanish, or that there are two languages I am speaking to him, or that they are words that point to something outside of this small world made up of only us two, as he nestles himself next to me in his skinny pajamas before brushing his teeth and going to bed.
Read Article