Ben Fama's "Conscripts of Modernity"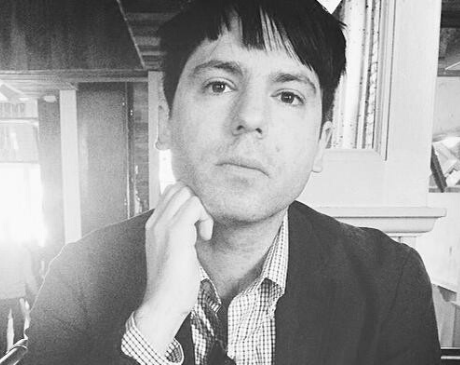 persona. brand. empire. andré balazs (b. 1957) purchased the chateau marmont in 1990, at the start of a decade known as the longest period of peacetime economic expansion. personal in - comes doubled from what they were during the recession in 1990. after the 1996 welfare reform act the united states experiences a reduction of poverty. the wall street stock exchange stayed over the 10,500 mark from 1999 to 2001. during this time, balazs expanded his hotel collection when he purchased and restored the mercer hotel in downtown new york, establishing "the benchmark by which other fashionable design hotels would come to be judged." the andré balazs luxury group's holdings now include chateau marmont in hollywood and sunset beach on shelter island. the standard hotel locations include hollywood, downtown la, miami beach, high line, meatpacking district and the newest addition, the standard, east village. in 2011, balazs launched a sea plane service to the hamptons, StndAIR, an 8 seat plane operating scheduled flights and charters from manhattan. this summer, andré balazs is pleased to release two new labels of his andré balazs collection of rosé's. an international blend in collaboration with chateau minuty, located in the provence region of france, and a second, sunset beach rosé, being produced in partnership with the local winery on long island's east end. more a resort than cosmopolitan hotel, the sunset beach location includes a lively french beach-side restaurant and bar with sunset views and a luxury beach boutique. international hotel staff are on hand to assist in arranging all the local activities. do you like drinking wine?

if you can't afford it, affect it. known for its romantic small homes characterized by a low, broad frame building with end gables with a large central chimney, the cape cod house is synonymous with new england romance, designed to withstand the stormy, stark weather of the massachusetts coast, that thin curve of land in an infinite black sea. during winter, darkness so wholly encapsulates the cape, residents say it qualifies to have it's own time zone to account for the premature sunsets over the cape's drastically eastward bound longitude. its famous icy clear skies rendered into devastating sunsets. the cape and islands regional suicide prevention coalition was formed in 2009 after statistics proved suspicions in cape cod were true: short days and long quiet dark nights correlated with high suicide rates. spring also appears notoriously delayed each year despite cape cod's high average of 200+ sunny days per year.

andrew sends me a warhol quote: warhol's asked "do you believe in emotions?" and responds "yes, unfortunately I have them." andrew has an extra ticket to paul mccarthy's ws show at the armory so i attend with him. it is july of 2013. 100 degrees. 21st century. later in the evening i cool off reading reviews of the show and wonder if a white man can can ethically portray female exploitation and alterity, (meaning could i?) in the times review they relate the thematic content partly as determining nostalgia as a fool's faith. the times, in a separate but much longer article on frank ocean's rise to international fame, agree that maybe it is best for artists to give less when speaking publicly about their work. frank ocean's debut mixtape nostalgia, ultra was released free despite being signed to island / def jam who delayed movement on a release during the first few years he was under contract. nostalgia, ultra apprehends the past as source material on which to graft emotions. the cover to nostalgia, ultra, designed by ocean himself, features an early '90s model bmw m3 in neon orange, parked at the forest hedge. channel orange, his follow up album, for which he was paid a million dollars in advance, exhibits a pure swatch of the same orange tone.

these pure, 'natural' colors express instinctual life and threaten inwardness. look around inside a bed bath and beyond some time: gray, garnet, mauve, beige. reassuring certitudes for the anxious subject. in this regard bright color becomes apprehended on products as a sign of emancipation—often compensating in the home for the absence of more fundamental qualities (particularly a lack of space). the preserve® bpa-free pasta strainer in "ripe tomato" or "apple green." cuisineart® dutch ovens in "provencal blue" "island spice red" or "pumpkin." having once represented something approaching a liberation, both have now become signs that are merely traps, raising the banner of freedom but delivering none to direct experience.

bpa, a man-made synthetic compound found in certain plastics, introduced into the mainstream by bayer and general electric in the 1950s, found now in products such as 99¢ disposable water bottles and other temporary food storage containers, has been reported to affect neurological functions and behavior. to avoid bpa, you'll want to avoid number 7 plastics, which as containers leach bpa as they break down over time, heat up in in the microwave, or are subject to hot water during cleaning. one way to avoid bpa is to use a stainless steel water bottle (like the klean kanteens carried right here at bed bath and beyond). and now on shelves are klean kanteen's new advanced design sport cap 2.0, which has a loop, dust cover and sport top. very convenient, very klean and very cute (see?).

kate moss saint tropez no tan lines. the huffington post reported that individuals engaging in bdsm sex suffer less anxiety and greater well being than others. july emotional heat index. diamonds fur coat champagne. totally gorgeous sunsets. netflix under the drone of box fans. air conditioners reportedly in peak use on weekdays at 6pm. watching television online and wondering if my fashion has become normative and cinematic. when you start by imagining what it might be like, you step back, you think. how it makes someone feel. the experience of the product. this is what matters. this is it.

it's the year of the snake, and an elegant dress, bag, or shoe is one of the easiest ways to incorporate it into your wardrobe. an alluring pit of python sheath dresses and clutches is on the market right now. wearing just one serpentine element makes for a memorable look. click through for examples of this stunning trend, picks for pre-fall, the latest in berlin street style, beauty, people, parties, culture. spears first performed "i'm a slave 4 u" publicly at the 2001 mtv video music awards at the metropolitan opera house in new york city on september 6, 2001. along with dancing in a very revealing outfit, the performance is probably most remembered for featuring a number of exotic animals, including a white tiger and a live albino burmese python on her shoulders, the latter of which has become one of spears' most iconic images. the inclusion of the animals in the performance brought a great deal of criticism from animal rights organization people for the ethical treatment of animals (peta). in august 2008, mtv network named the performance the most memorable moment in vma history.

i wake up at 4:30 a.m. i never really sleep much and often start my day at this time. when i am very lucky and sleep through the night, i might get up at 7:00, but that is rare. the first thing i do when i get out of bed is weigh myself. i do this every morning, and if i have gained more than two or three pounds, i try to eat fruit and vegetables exclusively for a couple of days until my weight is back to my ideal. i make myself a tall glass of iced espresso (i don't like warm drinks), get into a hot bath, and slowly sip my drink as i come to life.

if you can't live off your wage, consider living at work. more than 20 percent of new yorkers may be living in poverty, the country may be on the verge of another war in the middle east, but this year's fashion week is turning out to be a weeklong party for the ages, with so many events, hardly anyone can keep them straight. remember the chris dorner manhunt? remember shape-ups? remember jay z at pace gallery? remember the beginning of the recession of the american economy? people asked would new york city be affected? no, they'd say, it's too much of an international city.

i was about to start a job at that time. the night before the first day in the office—well my mind just goes constantly—i took a sleeping pill, and had a dream that was really vivid. i was walking into my office for the first time. it seemed no one was there, it was possibly a saturday and my desk was near the very back of the floor. it was quiet, the floors were vacuumed, everything was untouched. the halls continued for quite some time. the serenity of it had a pristine purity. i thought you know, i feel like i've been here before. far back there was the glow of a desk lamp, in an office that look liked it might be mine. i turned and followed the path. within an hour i came into the office and there was an individual slumped back in the desk chair—myself—like i had been there thousands of years.

i thought about chelsea manning for a long time again yesterday, and then again as i was drifting asleep last night. today i decide she's become allegorical of nearly 100 years of failed western culture, and in fact, likely the most important story and person of the postmodern era. born the second child of a squarely nuclear family, her father traveled while her british mother, who didn't drive, spent her days drinking. after their divorce, manning relocated to wales, where she became the target of bullying for being american and, living as a boy, for being viewed as effeminate. her mother's decaying mental health lead chelsea back to the united states to live with her father in oklahoma city, where she had violent confrontations with her stepmother over her troubled employment status. manning left for tulsa in a truck given to her by her father, sleeping in it at first, then moving in with a high school friend, whom she briefly worked with in a themed all-you-can-eat pizza buffet called incredible pizza. chelsea soon after settled in with an aunt in potomac, maryland, for a 15 month period of stability while working, leisurely attending school, and dating. manning enlisted in the military in 2007 with plans to attend college through the g.i. bill. she told her army supervisor later that she had also hoped joining a masculine environment would resolve her gender identity. trapped beneath the totalizing censorship of don't-ask-don't tell, and opposed to the kind of war in which she found herself involved, in january 2010 she began posting on facebook that she felt hopeless and alone. subjected to solitary confinement after arrest, denied pardon after conviction, chelsea manning had the perfectly uncomplicated goal of "revealing the true nature of 21st century asymmetric warfare." coming out as transgender tazed the nation's media, unable to mature themselves to the contemporary politics of identification, most media outlets continuing to use the "he" despite the perfectly clear "i am chelsea manning, i am female" declaration. never on her own terms. sweet child from oklahoma.

court ordered chemical castration became legalized in 2033. cyproterone acetate was combined with an anti-psychotic medication; sex offenders had wrist sleeves procedurally implanted which deposited the hormone inhibiting serum directly into the bloodstream via reverse iontophoresis processes. lack of funding for prisons lead to shorter sentencing, but the convicted wore sleeves for life. everything was tracked. airlines merged into a symbolic oligarchy of parent companies. borders locked in cold wars fought over the last remaining fossil fuels. civilian travel applications lolled around bureaucratic networks. the rich traveled through a privately administered network of jets. the poor went unmonitored. international markets governed the wealthy. in 2043 the death penalty became nationalized under the flag. those sentenced were hauled to one of four national zones on the 1st of each month. contractors streamed the executions. after scotus passed the 'treason act,' journalists became extinct. encrypted news traveled through torrents, a moving target for the administration. in a macabre act of political theatre, suri cruise, operating out of a digital commune of leftists, dropouts, artists and hackers, founded the 'funeral party.' in families, suicides among siblings or kin were encouraged by a series of income tax waivers. families of euthanized elders collected payouts and substantial debt relief. amounts were determined on an age gradient. in time, cruise's gesture quietly became right wing legislature under the staid auspice of the "family care and protection act." the middle class rose from the grave.

you look good, boo. like the ads. continuously reconstituted through the things i desire. because i want things and need to be desired. when they say 'we're being authentic,' they mean 'we're extremely on message.' a content warning. a user history. i understand and wish to continue. i'm going in late to work today. and i'll probably be coming home late. love you, so sorry, dear. a tax form. a loan application. the eighteenth brumaire of louis bonaparte. may be monitored. viva la vida. a whitening treatment. become a friend and save 30% today. shop the entire store.
On "Conscripts of Modernity"
Poetry is a losing context.

The shooting at my college was in 2007. I tried to write about it for years after in a subjective, direct way, and failed. In 2011 my workplace held a workshop—Active Shooting Training. Making notes, reminding myself how to survive, on a campus in a lecture room at a much different place and time, hearing the sort of matter of fact instruction that confronted a new gruesome reality was the only slant, cold, way I could approach the topic, so I just transcribed it. That language indicates more about the experience than any more direct attempts I had been making.

In October 2013, I was solicited to write a piece on the current situation of surveillance for an anthology, and generated a work in story blocks after thinking about how narratives are drawn from meta-data. I attempted here a journalistic system of self-reporting and understanding of my psycho-geography. This work, "Conscripts of Modernity," and its sibling poem "Sunset," collect and comment on the cultures that constitute blocks of affect I was navigating and thinking about (obsessing over, truly) in daily life. A poet can demand their privacy but not hold their secrets, because good work shows a mind laid bare.

It was also, perhaps foremost, a meditation on David Scott's book Conscripts of Modernity, and an homage to the person who introduced me to it, Karl Precoda, a professor who had denounced his career as a musician in the early 1980's in the Los Angeles band Dream Syndicate (a period of his biography he was impossibly coy about) and had escaped into the cozy (though un-tenured) embrace of a state technical school in the relative seclusion of the Blue Ridge Mountains. It was in large part through his mentorship I received my aesthetic education, and when reports of the shootings began coming in the morning of April 16 it was the image of his classroom that came to mind: the bad lighting, desks haplessly re-arranged into a circle, students in college hoodies fumbling over another Nietzschean aphorism.

The details of the shooting are documented online in horrifying detail: doors blocked with tables, students playing dead to survive. I don't want to think about them now. The subject of David Scott's book is Toussaint L'ouverture, and I often think about the Virginia Tech shooter as a conscript of modernity. Studies on public shooters are endless. During the week after the shooting there was a memorial on campus, 33 stones were set out with large candles and illuminated by candles placed in front of each stone. The 33'rd rock was for the shooter, who had suicided. The first night the memorial was up, one rock was anonymously removed, then added back by someone else, then removed, an on-going tug-of-war that symbolized our inability to conceptualize a correct place in the public mind for the shooter himself.