Eve L. Ewing on "what I mean when I say I'm sharpening my oyster knife"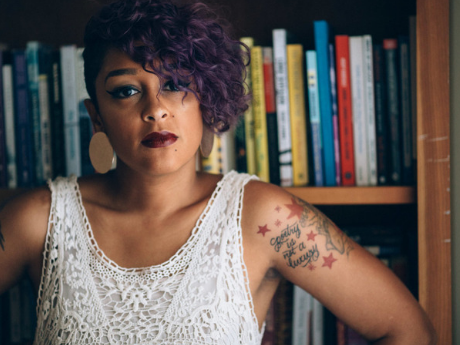 what I mean when I say I'm sharpening my oyster knife
I mean I'm here
to eat up all the ocean you thought was yours.
I mean I brought my own quarter of a lemon,
tart and full of seeds. I mean I'm a tart.
I'm a bad seed. I'm a red-handled thing
and if you move your eyes from me
I'll cut the tender place where your fingers meet.

I mean I never met a dish of horseradish I didn't like.
I mean you're a twisted and ugly root
and I'm the pungent, stinging firmness inside.
I mean I look so good in this hat
with a feather
and I'm a feather
and I'm the heaviest featherweight you know.
I mean you can't spell anything I talk about
with that sorry alphabet you have left over from yesterday.

I mean
when I see something dull and uneven,
barnacled and ruined,
I know how to get to its iridescent everything.
I mean I eat them alive.
what I mean is I'll eat you alive,
slipping the blade in sideways, cutting
nothing because the space was always there.


---
"No, I do not weep at the world—I am too busy sharpening my oyster knife." –Zora Neale Hurston





From Electric Arches (Haymarket Books, 2017). All rights reserved. Reprinted with the permission of the publisher.

On "what I mean when I say I'm sharpening my oyster knife"
Zora Neale Hurston is such a fascinating and wondrous character to me. Although she is most well known for her work as a fiction writer, she was also a trained anthropologist, and I think that the capacity for intense observation, cultural analysis, and keen questioning that are so important to that kind of work are traits that inform her work in other genres. As a multi-disciplinary writer, I am eager for role models like Hurston and Du Bois whose work moves between the social sciences, fiction, and poetry.

I've also long been interested in portraiture of black women writers and luminaries. There's something so enthralling about the sense of intimacy coupled with distance when you look into someone's portrait from long ago, especially someone who was not widely photographed. This poem is partially inspired by the faces I've seen Hurston make in photographs, where she looks equal parts joyous and cryptic.

The content of the poem itself is very much inspired by battle rap tropes from hip-hop; I wanted to expand the subtle threat in the phrase "sharpening my oyster knife"—which at once implies luxury, opulence, eroticism, and the potential for violence– to think about how it could serve as a challenge to some imagined nemesis. The nemesis in question is, to some degree, a traditional white literary establishment or canon. Hurston died in a welfare home and was buried in an unmarked grave. Her work lay in obscurity for generations until Alice Walker worked to bring her legacy back to the forefront of our attention. Although this serves as a sort of comeuppance, it also occurred long after a lonesome and tragic end to her life. The poem is sneering and defiant, serving as a looming threat to a poetic tradition that would rather see the speaker keep to the sidelines rather than occupy center stage in the arena of American letters.