Selections from the Murty Classical Library of India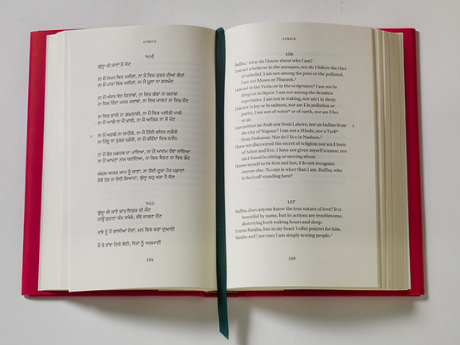 The Murty Classical Library of India aims to make available the great literary works of India from the past two millennia. The series provides modern translations of classical works, many for the first time, across an array of Indian languages, including Bangla, Hindi, Kannada, Marathi, Pali, Panjabi, Persian, Sanskrit, Sindhi, Tamil, Telugu, and Urdu.

What we know as "Indian literature" today is constituted by multiple languages, each of them drawing from a large pool of literary practices. The great sources of this pool are the Sanskrit tradition, beginning in the last centuries of the first millennium B. C. E., and the Persian, form the early centuries of the second millennium; added to these are the Dravidian, from the mid-centuries of the first millennium. The languages that make up Indian literature are found in an area vaster than Europe, stretching from today's Afghanistan in the west to Myanmar in the east, and north to south from Nepal to Sri Lanka. Taken all together, they give India the single most complex and continuous multilingual tradition of literature in the world.
— Sheldon Pollock, general editor

* * *

The following selection of poems are from the Murty Classical Library, as are the brief introductions. They present a glimpse of the range of work, particularly poetry, from their first beautifully designed volumes.

Therigatha: Poems of the First Buddhist Women
translated by Charles Hallisey 
The Therigatha, composed more than two millenia ago, is an anthology of poems in the Pali language by and about the first Buddhist woman. These women were theris, the senior ones, among ordained Buddhist women, and they bore that epithet because of their religious achievements. The poems they left behind are arguably among the most ancient examples of women's writing in the world and they are unmatched for their quality of personal expression and the extraordinary insight they offer into the lives of women in ancient Indian.

Vira
Addressing herself, repeating what was spoken by the Buddha to her

The name you are called by means hero, Vira,

it's a good name for you because of your heroic qualities,
you are a nun who knows how to know well.
Take care of the body, it's your last,
just make sure it doesn't become a vehicle for death after this.


Mutta

The name I am called by means freed

and I am quite free, well-free from three crooked things,
mortar, pestle, and husband with his own crooked thing.
I am freed from birth and death,
what leads to rebirth has been rooted out.


Anopama

I was born in a good family with great wealth and many
possessions:
good looking, I was Megha's very own daughter.

I lived up to my name which means "without compare."

I was sought after by princes, coveted by sons of millionaires,
until one sent my father a message: "Give me Anopama.

"I will give eight times what your daughter Anopama
weighs in gold and silver as bride price."

I saw the Buddha, supreme in the world, unsurpassed,
I worshiped his feet, then I cam near on one side.

Gotama taught me the dhamma our of kindness toward me,
and sitting there, I became one who would not return again.

I cut my hair and went forth to homelessness,
today is the seventh night since craving was destroyed for me.
Sur's Ocean: Poems from the Early Tradition
translated by John Stratton Hawley 
Surdas—a 15th century poet typically described as blind— has been regarded as the epitome of artistry in Old Hindi religious poetry from the end of the sixteenth century, when he lived, to the present day. His fame rest upon his remarkable refashioning of the widely known narrative of the cowherd deity Krishna and his lover Radha into lyrics that are at once elegant and approachable.


#177

Today I am going to behold those feet—
feet that are cooling, charming, joy-imparting,
that take away the devastating forest fire of sin,
that bear the royal imprint of goad and thunderbolt
and lotus and banner, and are colored lotus red.
I'll find their marks through the forest, where he herds
the cows with his little cowherd friends.
Poets and scholars train their minds on those feet,
as do Shiva and Brahma and Indra,
but I will actually touch them—
with these hands and with this head.
Seeing them, Ill be compelled to leave my carriage:
I'll throw my body to the ground,
then Surdas's Lord will reach out with both arms
and laugh, embrace me, raise me.
#217

With love there's never a thought that one might die.
With love the moth can be drawn into the flame
and never flinch from the heat.
With love the turtledove mounts the skies
until it falls to earth, with not a care for its life.
With love the deer lusts for sound, and draws so near
that it's doomed to the huntsman's arrow.
The thirsty cuckoo, in the rainy month of Shravan,
coos love, coos love—she shouts it out.
Surdas says, What has such a one to fear?
A lonely woman sets herself on fire.