Tina Chang on Eileen Myles' "Notebook, 1981"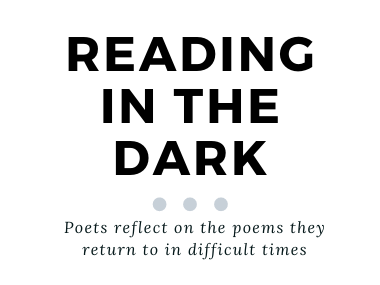 I was so willing to pull a page out of my notebook, a day, several bright days and live them as if I was only alive, thirsty, timeless, young enough, to do this one more time, to dare to have nothing so much to lose and to feel that potential dying of the self in the light as the only thing I thought that was spiritual, possible and because I had no other way to call that mind, I called it poetry, but it was flesh and time and bread and friends frightened and free enough to want to have another day that way, tear another page.



Excerpted from Evolution. Copyright © 2018 by Eileen Myles. Reprinted with the permission of the author.
In response to the Coronavirus pandemic, we asked poets to write about the poems they return to in difficult times—to find solace, perspective, or even a moment of delight. Subscribe to the PSA newsletter for more Reading In The Dark responses and to keep updated with the PSA.
---
​When I first encountered "Notebook, 1981," by Eileen Myles, I placed the poem lovingly on my desktop and I returned to it each day. The most long-lasting poems, the ones that reach me during my dark hours are the poems that never stop speaking to me. They take hold of me, shake me awake, and loop over and over in my imagination. During the pandemic I've dealt with the reality of illness at home. I'm living in New York City, in what feels like the epicenter of loss. What is this time teaching me? What is the lesson? "That potential dying of the self in the light as the only thing I thought that was spiritual, possible…" reaches out to me like a hand gliding across my arm. The poem allows me to feel an almost welcome, eternal sorrow as I hang on the words "potential" and "possible." Everything I thought was lost is not lost. There is another day. I am alive. Within this poem, I blaze with the light of that recognition.

—Tina Chang

---
Tina Chang is the Brooklyn Poet Laureate. She is the author of Half-Lit Houses, Of Gods & Strangers, and Hybrida. She is also co-editor of the Norton anthology Language for a New Century: Contemporary Poetry from the Middle East, Asia, and Beyond.