Rebecca Morgan Frank on Memorious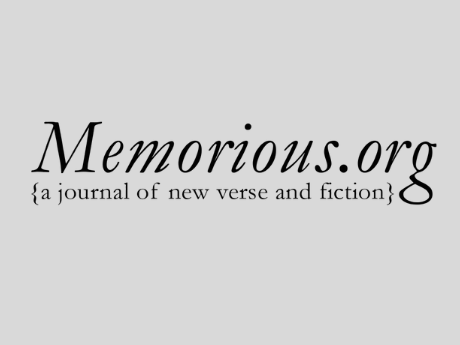 Tell me about the creation of Memorious. When and how and why was it conceived?

Memorious was co-founded in 2004 by Rob Arnold, Brian Green, and me. We hoped Memorious would bridge the worlds of the longstanding print magazines we had learned to love from literary Boston, such as Ploughshares and Agni, and the magazines of our own generation, like The Believer and the new online magazines that were leading the way on the web, such as Blackbird. By 2008, Brian and Rob had both moved on to other projects, and I continued on with the help of some wonderful new staff members.

What makes Memorious different from other places to encounter poetry on the internet?

In the beginning, people really noticed us for our design: we wanted to carve out a new place for ourselves with a unique and clean design that was easy to navigate and that would appeal to those who preferred the page.

Now we are possibly the only literary magazine producing and publishing art song, although I believe the Cincinnati Review is following in our footsteps a bit on this. We just completed our fourth Art Song contest, for which we bring in a guest composer who selects a winning poem or set of poems to set as art song. The work is then performed and recorded for the issue. Our last concert was at the Poetry Foundation in Chicago, and this year's concert will be in the U.K., in Nottingham, thanks to our newest guest composer, Elizabeth A. Kelly. Bringing poets and composers together has been a magical process, and our archives now hold a rich collection of art song based on the work of our previous winners.

We also have an enthusiastic commitment to emerging writers; a good percentage of our contributors are often people on the brink of a first or second book. Investing in writers early on in their careers is a bit like betting on horses, except it is a bet that keeps paying off: there's a lot of celebration of the victories that come, even years out. Every year I compile a list of some of the contributors' forthcoming books for our blog's Anticipated Books lists of the New Year, and throughout the year I try to document contributor successes on social media, and I'm always floored by their work, and how it's nearly impossible to keep up with it all! Because of this investment, I think, contributors often tell me that Memorious feels like a community of its own.

What is something that you have recently published that really excited you, and why?

Our slush pile selection is so outstanding that I am lucky to get to publish a lot of poetry that I am genuinely excited about– it feels impossible to pick any poet from the last two issues. But I do love Carly Joy Miller's poem "Why You Tried to Drown" from Issue 24–reading it makes me eager to see what her first book will be like. I am also grateful to have had the chance to publish some poems from Gail Mazur's newest collection, Forbidden City. And Kent Shaw's poems in the newest issue, Issue 25, delighted me when they came into my inbox–his work is so refreshingly surprising and original to me. And I'm always really excited about Kiki Petrosino's work. I could go on and on!

What should someone submitting work to Memorious know about the site?

Our poetry submissions are generally all read by two poetry readers and our assistant poetry editor, and then a percentage of that work gets passed on to me for the final decisions. The poetry staff is so thoughtful in their reading: I would want contributors to know that while we take a long time with submissions, it really is because we are really spending time with the work and because I am building each issue as a whole. The majority of the poems and stories we publish come from open submissions.

What other literary sites, journals, or broadcasts, online or print, are your go-to?

Guernica is one of my enduring favorites online. As for print, Southern Indiana Review and 32 Poems are two places that are publishing terrific poetry these days. I spend a lot of time on Harvard's Woodberry Poetry Room site, from their Listening Booth to the Vocarium– I could spend days on there, listening. And the Poetry Foundation site has become an essential part of my life as a professor. I love seeing what my students discover when browsing through that massive and diverse collection of poems.




* * *
Rebecca Morgan Frank is co-founder and editor-in-chief of Memorious: A Journal of New Verse & Fiction. She is the author of two collections of poetry, The Spokes of Venus (Carnegie Mellon UP 2016) and Little Murders Everywhere (Salmon Poetry 2012).