The Editors of 7x7 on 7x7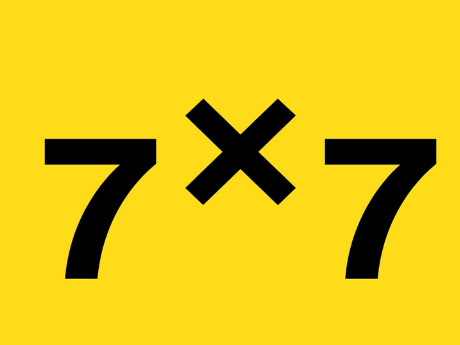 Tell me about the creation of 7x7. When and how and why was it conceived?

Axel Wilhite: The idea for 7x7 came out of a lunch date in Los Angeles between myself and the writer Amy Bonnaffons.

The two of us had befriended each other at NYU's MFA program where we bonded over our shared interests in collaboration and art. Over the course of our studies there, our conversations developed into a few collaborative projects—though the only one that saw completion was a zine called "Monsters," a kind of "picture book for adults" that featured watercolor paintings of various fantastical creatures by me and a bunch of three-line biographies of those beasts by Amy.

In the years after receiving my MFA, while all my former colleagues were finishing their novels and publishing books, I was coming to terms with the realization that I didn't have a talent for sitting down and doing the work of writing, and that perhaps I was more naturally suited for my father's profession of art-making. Amy and I had kept in touch and revisited the idea of collaborating often, and when she told me she'd be in Los Angeles for a few weeks, we resolved to seize the opportunity and create something together.

As I recall, we came up with the idea for 7x7 rather quickly. We talked a bit about the surrealist game "Exquisite Corpse", and it occurred to me that you could use the format to combine art and writing in a novel and exciting way. Amy took out several sheets of paper from her notebook and we "playtested" the idea a couple times right there over lunch, and it worked!

What excited us about the format was that it was incredibly flexible, inclusive, and non-hierarchical. We wanted to share the game with our friends to see how they would respond to it. In this light, we realized that the format could be used to forge friendships and foster community between artists and writers.

We let the idea percolate for a year until finally I approached a trio of designers (Ben Schwartz, Austin Redman, and Phil Enzler) at Art Center in Pasadena, who helped refine and build what we envisioned for the website. We launched mid-October, 2015, and our dear friend and NYU colleague Lisa Locascio joined us as Editor-at-Large.

What makes 7x7 different from other places to read poetry (and literature) on the internet?

Amy Bonnaffons: The collaborative, improvised nature of our published pieces is what really sets them apart. Each 7x7 is the result of a really specific interaction between two particular people working in different media. While the finished results are often polished and gorgeous and cohesive, none of that is ultimately the point; the excitement of reading a 7x7 comes from the feeling of getting a glimpse into a process, an experiment, a relationship. You sense the risk and idiosyncrasy inherent to each creative conversation, and marvel at how it somehow turned out just like that. The pieces are even more impressive when you consider that most of them were made following our guidelines to not spend more than 2 hours on any particular installment.

We see ourselves as a unique space for art and literature that's collaborative, process-oriented, and focused on experimentation and play. As writers and artists, we can get isolated; we can fall into the traps of perfectionism and competitiveness, neither of which serves our work. At 7x7, we believe that even the most serious art is a kind of deep play. We provide a space for people to engage in that play, to take risks and step outside of themselves and be vulnerable. We hope that those who read the finished pieces will be inspired to a similar openness in their own creative work.

Axel Wilhite: To my mind, there aren't any other magazines anywhere that put art and literature on equal creative footing. The default position of visual art in literature is supportive and secondary—if you see art in a literary book or in a literary magazine, it's typically there to illustrate and illuminate the text, or for marketing. Likewise, if you open an art magazine, writing becomes descriptive and secondary to the primacy of the image—whatever text you come across will take the form of a caption, a review, or perhaps, rarely, some kind of ekphrastic experimentation.

With 7x7, we ask what happens when art and writing are given equal editorial and creative emphasis. When neither text nor image is given primacy, a great many different kinds of relationships and gestures become available to both artist and writer. For example, in our scenario, substantial room is made for misunderstanding and willful misreading. These are considered "literary sins", but, on the contrary, in the realm of collaboration at least, these can be incredibly freeing and generative methods that ultimately, paradoxically, contribute to a larger and more inclusive kind of understanding.

What is so surprising and delightful about following 7x7, in my opinion (speaking now as a reader, not a publisher), is bearing witness to each week's contributors' endlessly imaginative interpretations of the game and its essential question. The only way to answer the question is to play, and every answer is unique and organic to the participants.

Lisa Locascio: Too often the boundaries between artistic modalities create airtight compartments whose contents become arid and stale. By opening up-—and even being skeptical of—the distinctions that separate so-called genres and styles, 7x7 offers an opportunity to question the very nature of creativity, inviting back in the elements of play, experimentation, and joy.

What is something that you have recently published that really excited you, and why?

Amy Bonnaffons: We recently invited our collaborative community to respond artistically to the election results, and we got an amazing response: photographs and calligraphy and poetry and essays and unclassifiable expressions of rage and grief and hope. Our regular collaborations involve two people; this one involved an entire community. You can read that special issue here.

Moving forward, we plan to have more special issues like this, where artists and writers respond to current issues and events. We feel that in today's confusing and scary political climate, artistic expression and collaboration are more important than ever.

Lisa Locascio: The work 7x7 showcases has only gotten wilder and more diverse over time. All the collaborations surprise and delight me, but in thinking about this question I find myself drawn to those that riff on the conventions of mystery and adventure stories, such as Ryan Spencer and Kirin Khan's "د Sundowners جګړه," as well as those that draw in language and expertise from pursuits outside the arts and humanities, such as Val Britton and Robert S. Pesich's "Red-Eye." Jerry Byrd and Bryan Hurt's "Doom Mood," which uses GIFs, is also really fun.

What should someone submitting work to 7x7 know about the site?

Amy Bonnaffons: We don't accept work that's already created. If you're accepted as a collaborator, we'll pair you with someone and you'll generate entirely new work for the magazine. You have to be okay with the idea that your spontaneous work will be published for the world to see. (We permit light edits, but not wholesale revisions.) You'll also have to work fast! Letting go of control in this way can be hard for people, but we think it's part of the fun. People report that the experience is not only exhilarating in itself but also generative for their artistic practice in general.

Lisa Locascio: I'll just repeat that it's very important that both collaborators come in with an open mind and the willingness to really engage and give yourself over to the process, which is hard to do for creators so used to tightly controlling every element of the generation of their work. I have come to treasure the solitary nature of my work as a writer, which functions as a wonderful corollary to the social and performative elements of teaching; one of my favorite things about being an author and editor is that I alone call the shots. My sister is a theatre director; in order for her to make her art, she has to find, manage and cooperate with several dozen people, which seemed insane and impossible to me before I came onboard with 7x7. Watching these artful conversations unfold has completely revolutionized my understanding of the creative process, and retaught me how to make. The purpose of 7x7 is to shake this singleness up and feed the fruits of the disruption back into each collaborator's personal practice.



***
Amy Bonnaffons is a fiction writer, a founding editor of 7x7.LA. She is working on a novel about the afterlife and a book of magical-realist short stories. Born in New York City, she now lives in Athens, Georgia.

Lisa Locascio is Visiting Assistant Professor of Creative Writing at Wesleyan University, co-publisher of Joyland, and editor-at-large at 7x7. Her novel Jutland Gothic was published by Grove Atlantic in 2018.

Axel Wilhite is an Los Angeles-based visual artist. He has shown his artwork in the United States, Europe, and Taiwan. He is a co-founder of 7x7.LA.