Stopping by with Anthony McGill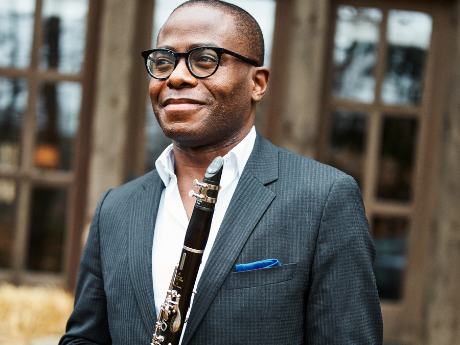 During this extraordinary moment—of both pause and activism—we asked writers, musicians, curators, and innovators to reflect on the power and memory of language, shared spaces, and this moment in time.
---
Hailed for his "trademark brilliance, penetrating sound, and rich character" (New York Times), clarinetist Anthony McGill enjoys a dynamic international solo and chamber music career and is principal clarinet of the New York Philharmonic—the first African-American principal player in the organization's history. He is the recipient of the 2020 Avery Fisher Prize, one of classical music's most significant awards. McGill appears as a soloist with top orchestras. He performed alongside Itzhak Perlman, Yo-Yo Ma, and Gabriela Montero at the inauguration of President Barack Obama. He serves on the faculty of The Juilliard School, Curtis Institute of Music, and Bard College Conservatory of Music. He is the Artistic Director for the Music Advancement Program at The Juilliard School. In 2020, McGill's #TakeTwoKnees campaign protesting the death of George Floyd and historic racial injustice went viral. 
---
What is your first memory of poetry?

Hearing my mother read the poetry she wrote, as a child, and throughout my life.

Is there a piece of art that changed your life or was influential to you in becoming a musician?

There wasn't just one piece, but my parents' artwork was the most influential to me as a young musician. We had an art room in our house, and it was where we learned that art was vital. Creativity and expression were at the center of our lives as children, and this value directly influenced the place that music found in my life.

What is the last thing that moved you?

A video of the Guarneri String Quartet playing the Cavatina from Beethoven's String Quartet no. 13, op. 130.

The pandemic continues to keep many public spaces (libraries, concert halls, museums, etc.) closed. What space—and community—do you miss the most?

I really miss being able to go to a play on Broadway. Being in a crowded theater watching other humans become other humans is something that I dream of being able to do comfortably and safely at some point in the future.

If you were to choose one poem or text to inscribe in a public place right now, what would that be? And where would you place it?

I would place Amanda Gorman's poem The Hill We Climb. I would place it at the entrance to the US Capitol building.

If you could recommend one piece of music to everyone, what would it be?

I would recommend Marvin Gaye's "What's Going On?" It was a song that described the struggles of the present, past, and hope for the future in 1971. What I find moving is that it could have been written and performed in 2020 or 2021 to accurately describe the same feelings and concerns of today.

What do you see as the role of art in public life at this moment in time?

I see the role of art as a reminder of our shared humanity and capacity for love and kindness. Art shows us that we can progress together and unite around values of dignity and respect for our differences. It is a medium through which ideas that change the world are delivered. Humanity slowly evolves through self-critique, examination, and expression delivered by artist messengers. Art has the power to describe our present situation, examine the mistakes of our past, and imagine a better future.

This spring you shared a powerful video of yourself playing "America the Beautiful." Can you speak about creating this work during lockdown and what you're working on now?

I woke up one morning after the murder of George Floyd thinking about protest. I thought about what that meant to me as a musician, both in the literal and innocuous sense of the word. I wrote a statement about how we should all be able to support the value of Black lives and that it isn't radical to support everyone's right to exist. I called this movement and challenge #TakeTwoKnees. The video of "America the Beautiful" was a companion piece to the statement and was meant to express, through music, the same ideas. The "America the Beautiful" anthem is something we know and believe is true, and yet the words don't ring true for all in our country yet. My musical rendition demonstrated this by going into a minor key at the end and not resolving the final note until this country is actually beautiful for everyone from sea to shining sea. The video ends with me taking two knees for justice.

Currently, I'm working on a few chamber music and solo projects. I recently performed a world premiere at the Metropolitan Museum of Art of a piece written for me by Richard Danielpour called Four Angels for clarinet and string quartet. I have a world premiere coming up of the Clarinet Quintet by James Lee III and a new Trio for Clarinet Soprano and Piano, also by James Lee III. I'm also planning a recording featuring music by African-American composers.

Who is a living artist you most admire? And who do you most admire who is no longer living?

I greatly admire Wynton Marsalis. He is one of the greatest living musicians of our time, and I looked up to him as a young person. His existence gave me the sense that maybe I, too, could someday become a great musician. Maya Angelou is the artist I admire most who is not living. Her art shaped the world, and her words move me to tears, as is the case with so many of time's great creators.

When it's safe to travel again, where are you most looking forward to going and what are you most looking forward to doing there?

I look forward to going on a vacation somewhere warm (preferably beautiful) and not looking at my computer for at least seven days.