Stopping by with Tommy Orange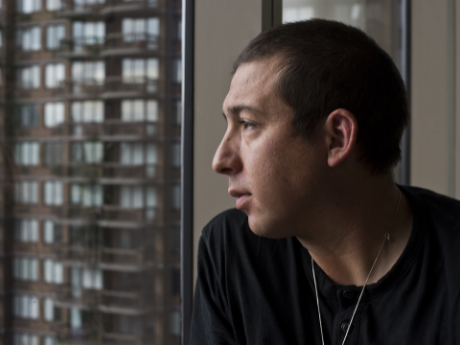 During this extraordinary moment—of both pause and activism—we asked writers, musicians, curators, and innovators to reflect on the power and memory of language, shared spaces, and this moment in time.
---
Tommy Orange's debut novel, There There, was a New York Times bestseller, won the 2018 PEN America Hemingway Award, and was a finalist for the Pulitzer Prize in fiction. Orange is an enrolled member of the Cheyenne and Arapaho Tribes of Oklahoma. He was born and raised in Oakland, California.
---
What is the last thing that moved you?

Rutherford Falls—the whole season. It's an incredible, important, hilarious show, and it's taken way too long for us to have a Native sitcom, but it has arrived.

Is there a poem or book that changed your life?

I like to remain open to being changed by art. It happens all the time. Right now, I feel changed as a writer by reading Toni Morrison. I'm working through all of her novels. I think I feel angry by having had her presented to me by the dominant culture as someone who was writing about Black experience, as if all the white canon was writing in some higher transcendent form for all humans and not about white lives. Toni Morrison is doing the most that writing can do, with what language can do, to talk about human experience, with power and glory and pain, and just damn good storytelling all at the same time.

If you could recommend one book to everyone, what would it be?

I'm just finishing a beautiful, powerful book I think everyone should read. It's called The Properties of Perpetual Light and is written by Julian Aguon, an Indigenous human rights lawyer and writer from Guam.

What is your first memory of poetry?

I wasn't a reader early on. I feel that I'm still coming to understand and appreciate poetry. Ocean Vuong and Kaveh Akbar really were crucial openings for me. Kaveh Akbar's forthcoming collection is beyond stunning, it's called Pilgrim Bell.

The pandemic has kept many public spaces closed. What space—and community—do you miss the most?

I miss the IAIA (Institute of American Indian Arts) community where I've been teaching since 2017, and where I graduated from in 2016.

When it's safe to travel again, where are you most looking forward to going and what are you most looking forward to doing there?

I'd like to go see my family in New Mexico and in Oklahoma. I miss the Ocean. I miss seeing friends and community in the bay area. I miss going to the movies.

Who is a living artist you most admire? And who do you most admire who is no longer living?

The living artist I admire most is Clark. He's an electronic music producer and his recently released album: Playground is what I consider a masterpiece. I've been listening to his music since 2003 when I was going to school for sound engineering, and he was going by the name Chris Clark. The way he combines electronic and acoustic instruments in all of his work, noise and beauty, distortion and harmony with a distinct ear for melody in electronic music, I consider him to be one of the best composers of music alive today.

The non-living artist I most admire is Clarice Lispector. No other writer made me want to write in the way Clarice Lispector did when I first read Hour of the Star. What she does with language, with consciousness, with that book, are miraculous.

What do you see as the role of art in public life at this moment in time?

I think a lot of people are thinking that art should be political and about social change, and about the times, which I think is true. But I think personally that is always art's role—to help those who suffer from systemic corruption, to cut and sing through it, to speak to inequity.

Are you working on anything right now that you can tell us about?

I'm finishing (hopefully) the next draft of my next novel this summer. Wandering Stars, a sequel to There There, will be published by Knopf and does not currently have a publishing date, but will more than likely come out some time later in 2022. The book is a kind of prequel and sequel, having historical aspects as well as following up on the aftermath(s) of the culminating event in There There.s