Bridget Lowe on "Lady Randall"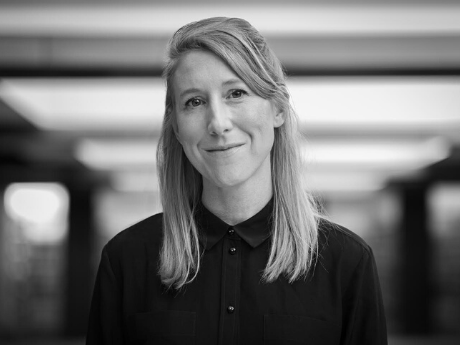 June of indignities. The mordant cores of
ovoid flowers track my
sadness like cameras. I am a thousand blue-
eyed sons back from the
perimeter, a
head and a trunk

partial to the singing voice of my night nurse.
Exeunt Childe Hood. Exeunt King
Tut, his formidable
eyebrows of lapis lazuli meant to offset the inner
runt. A photograph from a

medical book, the eyes
imponderable behind the
solid black block. The body's
hovel stark and white. The
last lioness on
earth trying to form her terminal cub, in vain.
Real estate. The very first wall. That's what I saw.



From My Second Work (Carnegie Mellon University Press, 2020). All rights reserved. Reprinted with the permission of the author.
Lady Randall is my version of the 17th century ballad Lord Randall, in which a young man leaves home and returns from his journey with reportage of what he has seen in the world. It was also the inspiration for Bob Dylan's famous interpretation "A Hard Rain's A-Gonna Fall" (and the reason for the "blue-eyed sons" in my poem). I wanted to have a turn as the meandering lord, telling everyone what I saw, so I wrote myself this poem.
Lord Randall is set up as a dialogue between the young man and his mother, who is concerned over how sick her son appears to be ("Mother, mak my bed soon, for I'm weary wi' hunting, and fain wad lie doun"), and while he has supposedly been poisoned by his lover, I always read it as more of a world-sickness rather than a literal poisoning.
In Goya's Disasters of War series, plate 44 is of a woman gathering her terrified child in her arms, an infant slung over her shoulder, as they begin to flee. It is titled Yo lo vi. ("I saw it."). The question the mother asks of her son in Lord Randall – "What did you see?" – allows the story to unfold in a way that is unadorned and immediate. It's this flat reportage that breaks your heart in the ballad and in a much, much deeper way, in Goya's statement on war.
Some of the references in the poem include the 1939 anti-war novel Johnny Got His Gun, Jean Jacques Rousseau's Discourse on Inequality in which he writes "the idea of property depends on many prior ideas" and identifies land ownership as the origin of inequality and a precursor to war. Lady Randall is my response to Trump (an avatar for the real estate industry) becoming president.