Iain Haley Pollock's "Violets for Your Furs"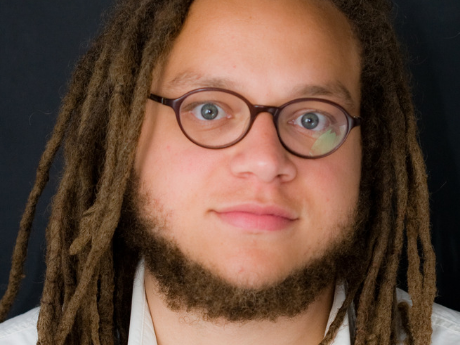 Garbage men in this city
don't see fit to put the garbage
in the garbage truck, and in the streets
the dented bottles and cans spin

and roll like the gait of a man
clutching a brown-sacked beer
in his hand. The discount grocer
on Girard sells week-old cuts of pork

and tins of black beans a day
from expiry. And the antique dealer
by the bus stop hawks one-eyed
dolls and green vases. I haven't once,

in three years, seen the store open
for business. In Dancing Girl with Castanets,
the model for the figure's head, Gabrielle
Renard, is posed with rouge on her cheeks,

a garland of indulgent red flowers
in her hair. She looks bored.
And I know this boredom
from Rhea Humphries' eyes in school

when I told her I love you. I can't figure now
why she never protested in the hall
when I'd stare so brazenly at her tits.
As for the girl's body, for his gaze

Renoir never paid Georgette Pigeot,
arms bared by a diaphanous traje
de flamenca more Hellenic than Iberian.
Will I always want something

other than what I have? Which is to wonder:
who knows if I ever loved Rhea? Probably not,
as maybe the young can never love,
or not the young as unbroken as I was.

Let's just agree Gabrielle, let's just agree
Georgette, I went about it all wrong.

The garbage men are back, darlings:
Bottles and cans cries the heart,

bottles and cans. Bottles and cans
cries the heart, bottles and cans.




All rights reserved. Reprinted with the permission of the author.
On "Violets for Your Furs"
I'm disappointed when writers, in discussing their work, interpret it for their readership. This seems a violation of the literary contract between author and reader. That in mind, here I'll lay bare the ideas that undergird "Violet for Your Furs" without doing you the disservice of deciphering individual images. Cataloging these ideas will require some name-dropping. Bear with and forgive me.

Jazz and Blues inspired many poems in my first collection, Spit Back a Boy, but in writing my next batch of poems, my preoccupation has turned to visual art. This stems from hearing, at the 2009 Cave Canem Retreat, Natasha Trethewey speak about her poems drawn from Mexican Casta paintings and from attending a Bryn Mawr College panel—featuring Jorie Graham, Rachel Hadas, and Susan Wheeler—on women's ekphrastic poetry. These talks put writing ekphrastically in mind, and the town I call home willingly provided fodder: Philadelphia is chockablock with public art, graffiti (street art if you're feeling gentrified), museums, galleries, and art schools. But the crown jewel of the city's art scene is the Philadelphia Museum of Art, imposingly classical on a bluff overlooking the Schuylkill River and a short walk from my front door.

While "Violets for Your Furs" takes its title from an Adair and Dennis song recorded variously by Billie Holiday and John Coltrane, I began writing the poem after seeing a Renoir exhibit at the PMA. The show taught me that I dislike Renoir's work, or at least "Late Renoir." When I shared this opinion with a colleague, she agreed, calling his work "postcards"—precious, trite, sentimental. Despite this distaste, I was interested in the painting "Dancing Girl with Castanets" (1909), especially once I learned that its eponymous girl had a different model for the head (Gabrielle Renard) and body (Georgette Pigeot). To boot, it seems Pigeot wasn't directly paid for her involvement. These circumstances reminded me of critiques leveled by the Guerrilla Girls and started me thinking about the overwhelmingly male gaze of fine art and Western culture in addition to, as a Western man, my own learned complicity in this gaze. Also, speaking of disdain for the art establishment, my setting foot in a museum summons Ishmael Reed's Mumbo Jumbo and its satire of the Met as a "Center of Art Detention."

Occupied with this knowledge and these ideas, I sat down to write about "Dancing Girl with Castanets." While I find ekphrasis in poetry interesting because of its amplification of a received image, I wanted to write a poem about art that took the piece out of the rarefied air of the museum and placed it in the quotidian muck and mire. To accomplish this, I decided, whatever its original context and emotional cues, to reframe the piece with my environment, emotional spectrum, and political consciousness. Accordingly, I braided images based on Girard Avenue, a main thoroughfare in my neighborhood, and images from versions of my remembered experience with the central figure of Gabrielle/Georgette dancing with castanets.