How Allen Ginsberg Made Revolutionary Poetry from Madness: An Interview with Stevan Weine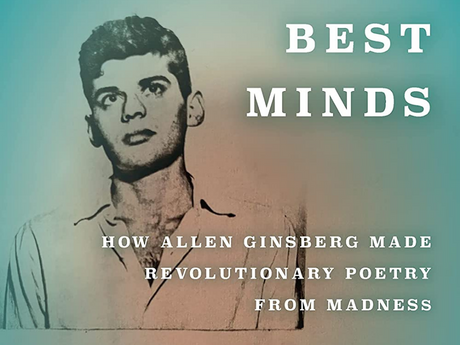 Allen Ginsberg's 1956 poem "Howl" opens with one of the most resonant phrases in modern poetry: "I saw the best minds of my generation destroyed by madness." Thirty years later, Ginsberg entrusted a Columbia University medical student with materials not shared with anyone else, including psychiatric records which documented how he and his mother, Naomi Ginsberg, struggled with mental illness. In Best Minds, psychiatrist , researcher, and scholar Stevan M. Weine, M.D., who was that medical student, examines how Allen Ginsberg took his visions and psychiatric hospitalization, his mother's devastating illness, confinement, and lobotomy, and the social upheavals of the post-war world and imaginatively transformed them.

Dr. Stevan M. Weine is Professor of Psychiatry at the University of Illinois College of Medicine, where he is also Director of Global Medicine and Director of the Center for Global Health. He is the author of two books: When History is a Nightmare: Lives and Memories of Ethnic Cleansing in Bosnia-Herzegovina and Testimony and Catastrophe: Narrating the Traumas of Political Violence.

---
How did Best Minds: How Allen Ginsberg Made Revolutionary Poetry from Madness come about?

In 1986, I was a 24-year-old Columbia medical student and aspiring writer when I wrote a letter to Allen, cold, asking him how he reconciled literary and psychiatric perspectives on his experiences and poetry concerning madness. A few days later, I was thrilled when he left a friendly message on my answering machine. We met shortly after, and Allen asked if I was writing a book on him and my makeshift answer was "Umm, yes." Over subsequent years he encouraged me to pursue the project, gave me access to his archives, his psychiatric records, and the psychiatric records of his mother.

I knew this was a remarkable opportunity to learn more about how life and art interacted with Allen. I did not know it would take me so long to complete this book. Yet, Allen's poems and journey enriched my life and I kept making new discoveries, about him, and me as a reader, which made the text much stronger.

Your relationship with Ginsberg seems intense. You were a graduate student interested in both psychiatry and literature, a fan of his writing, and you were sitting with him in his apartment or on his stoop, face to face, asking very personal questions. What were those conversations like?

It was intense and incredible to spend hours talking with my hero. We talked about really difficult issues, like his mother's illness, lobotomy and death, and his own hospitalization. Allen's emotional pain was raw. I surely wondered to myself at times what gave me the right to drag Allen into looking at such difficult memories. Yet he invited me to delve into his story and that of his mother. Still it was hard for me to work up the courage to show Allen the lobotomy consent letter, when that was not public knowledge.

His generosity was very obvious. Allen was excited to mentor a young psychiatrist who was committed to looking through both artistic and scientific eyes. He told me he wanted to make me into his kind of psychiatrist. That, of course, is a large and somewhat illusory notion – yet it has been an ever present motivation in my day job working on global mental health. He surely helped me to become a different and better physician and person.

I think many readers and students of Ginsberg's writing are familiar with the so-called "Blake Visions" that Ginsberg experienced while he was a student at Columbia University. Could you talk a little bit about them, how they influenced his writing, and what your research has discovered about them?

In 1948, while reading William Blake, Allen had visions where he connected with an eternal spirit. To try to bring back these visions, he wrote visionary lyrics, but over time, with no return of the visions, his poems began to evoke a desperate madness.

Ginsberg's biographers and critics all recognized the importance of the visions. Yet I realized their accounts of the visions depended entirely upon Allen's recollections of the 1948 moment, which didn't occur until 1962, which I came to learn were not entirely accurate. It turns out Allen never actually mentioned hearing a voice until many years after 1948.

I tried to understand what led to him mentioning Blake's voice years later. Allen believed he had made contact with another dimension, but it took many years of work as an artist to represent and communicate that experience. This was challenging work which was aided by what Allen took away from other artworks, including the "Annunciation" by Fra Angelico, and by Allen's new role as a countercultural leader. Wonderfully, and important to his career, Allen became able to fully convince others that he walked with Blake.

Anything else you think fans of Ginsberg's writing would be surprised to learn from your book, or something that surprised you in working on the book?

I set out to understand how Allen turned madness into poetry. How poetry is written remains a mystery, but I believe this book gives a close-up view of that mystery as it pertains to Allen. I also offer new readings of "Howl" and "Kaddish", Allen's greatest poems, based on findings from my research. I show how through these and other poems, Allen put forth a new concept of madness, leading others toward new ways of being human and easing pain.

Through working on the book I came to learn about several life experiences that significantly change the widely understood narrative of Allen Ginsberg. I came to see just how much our understanding of his life and poetry have been shaped by the myths Allen presented.

And yet this did not diminish my regard for Allen's poetry. To the contrary, what I learned actually deepened my appreciation, because I saw more clearly how far Allen traveled from the adversity and traumas he experienced, and how hard he worked artistically.