Sonnet Crown for NYC: An Interview with Cindy Tran
Cindy Tran's film Sonnet Crown for NYC, currently on view at The Shed, celebrates small business owners of establishments—such as a barbershop, a pharmacy, and an immigration service—throughout the five boroughs. After interviewing these New Yorkers, Tran wrote sonnets that they read to the camera, capturing their feelings and thoughts about the pandemic that has taken a disproportionate toll on many of their lives and livelihoods. Tran drew inspiration for this film from artistic Yelp reviews she began writing in the form of poems in Minneapolis in 2012, a practice she continued when she moved to New York City in 2015. When one of her poem-reviews responding to a racist review of a Vietnamese restaurant she frequented was chosen as a Review of the Day, she felt inspired to shift her focus from consumer judgments to sincere reflections about the ways our values and beliefs shape our daily lives. The poems that compose the film's sonnet redoublé, or series of 15 interlaced sonnets, challenge readers to see the people who are often overlooked in the city's communities—those who feel they have no choice but to keep working in the pandemic to sustain themselves and those that they care for, despite the threat to their own health.

Cindy Tran is a 2020 NYSCA/NYFA Artist Fellow in Poetry. A recipient of fellowships from the Poetry Project, the Loft Literary Center and Brooklyn Poets, her work appears in SLICE, The Margins, and Copper Nickel, which awarded her an Editor's Prize. She lives in New York City.

---
How did the Crown of Sonnets project develop?

At the beginning of the pandemic, I looked out my window and saw a small business owner set up a metal folding chair at the front of his clothing store. He did this everyday and I never once saw a single customer go in or out. This made me want to interview small business owners all over the city. I wanted to learn about them, their businesses, and their neighborhoods. And I thought, I could write them sonnets. I thought, it would be beautiful to hear their voices. I thought, it would be beautiful to see their faces and hear them read the poems. That was the beginning of the project.

How did you select the business owners to highlight and write about?

It started with a wishlist and a spreadsheet. I wanted to talk to a florist because I love flowers. I wanted to talk to a barber because I knew people missed getting haircuts. I wanted to talk to healthcare workers because I knew they were giving so much to others, and I wondered who was caring for them. The spreadsheet helped me sort out and ensure I covered different neighborhoods in all the boroughs, met business owners who spoke different languages and ran different kinds of businesses. I didn't know what the exact mix would be, but I knew I wanted the project to feel as diverse as New York City.

What were some of their reactions to your sonnets?

I felt nervous sending the poems to each business owner, but their reactions were overwhelmingly positive. A few commented that they were surprised at how much the sonnets reflected their feelings about the pandemic, running a business, and/or their attitudes about life and taking risks.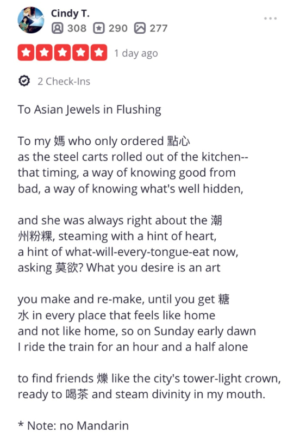 How did the business owners feel about reading the sonnets?

Many of them were excited and surprised because we brought a large cinema camera for filming. But I think their readings brought the poems to life. The sonnets were based on the stories they shared with me and included words/phrases from their native languages, so there was a surprising intimacy I sensed when I heard them read.

What's your favorite line/lines you wrote for the project?

I often think and write about time, so it felt natural to include a lot of references to hours or to time. For me, picking a favorite always feels difficult, but I will say that one of my favorite phrases is in the sonnet for Bulletproof Comics:

But last year, even Time laid down its arrows,
Knelt down, and collapsed our universe, ashy
With pain.

During the pandemic, I was listening to physics lectures about the arrow of time, so I felt delighted playing with that metaphor on my long walks.