Heart Poems: An Interview with Ben Estes
A conversation with Ben Estes, visual artist, poet, and Founding Editor and Co-Publisher, with Alan Felsenthal, of The Song Cave. Estes's paintings are on view through May 12, 2018 at Paula Cooper Gallery, in the exhibition Ben Estes, Alan Shields, curated by Laura Hunt.

You are a poet, visual artist, editor, and publisher.

My background is primarily in visual art. I'd taken drawing and painting classes since I was in elementary school, and I have masters degrees in both painting and art history. I forget that people often don't know that about me. About 9 years ago I went to the University of Massachusetts MFA in Poetry Program. I put visual art on the back burner as soon as I started there, so that I could put all of my focus into learning about writing while I was studying. To keep my hands busy I started The Song Cave, which in the beginning only published chapbooks. Alan joined me at the press soon afterwards, and it's become what it is now. After finishing the UMass program, I really wanted to focus on putting together a book of the poems that I had written while in school, which is Illustrated Games of Patience. Since then, I've slowly been spending more time with painting and drawing.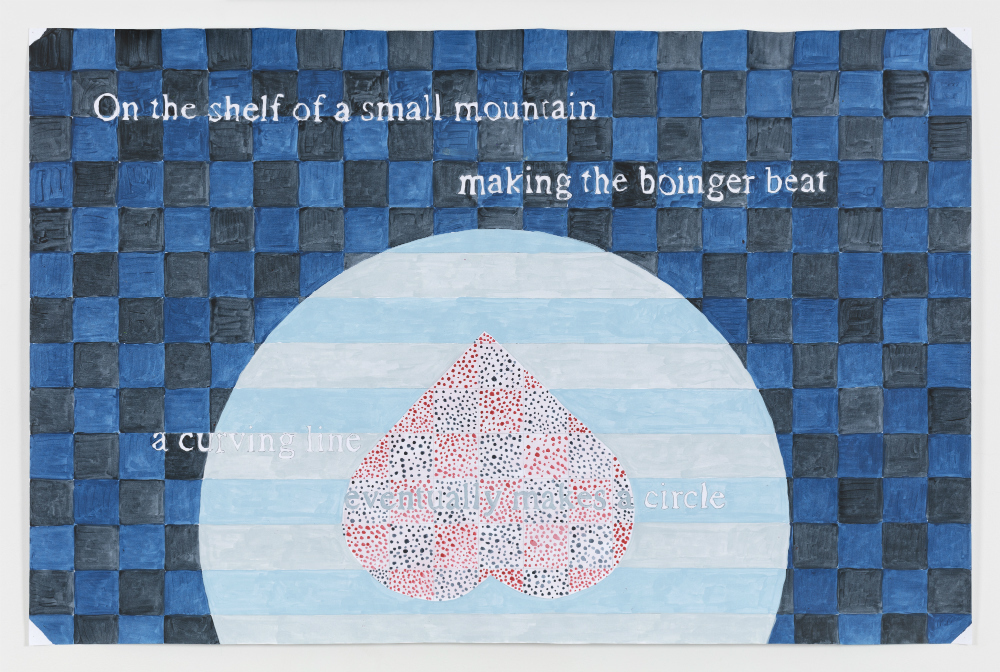 Several of your paintings are currently on view at Paula Cooper Gallery in the exhibition Ben Estes, Alan Shields, curated by Laura Hunt. Has seeing your paintings in this context, alongside Shields' work, generated any new thoughts about either your visual art or writing – reflections on work you've made, ideas or intentions for future work?

Yeah, so much! Shields has been a big art-figure for me for a long time. And it feels like a sign from the universe that we got paired up for this show. He really embodies a kind of grace I admire. There seems to be a constant spontaneity and present-ness in his world that allows a kind of trust maybe, that I really love. It's not about being colorful or grand, which I feel can actually be misleading in his work. But instead, that living is the lesson.

The press release for this show notes a connection between the hearts in the paintings and the hearts used on Instagram to "like" a post. Can you elaborate on this?

Sure. So, last fall I found myself essentially homeless. At the same time, some of the things in my life that I had thought of as being stable and true turned out not to be. I was having a pretty tough time, and I had to let go of some really heavy ideas both about myself and the kind of life that I thought I was going to have. Some very kind friends of mine, the painters Mariah Dekkenga and Michael Perrone, had recently bought an old church in Vermont that they were in the process of renovating, and they invited me up to stay with them until I was able to get back on my feet.

Being a bit emotionally raw, and away from my normal daily routines and many of my friends at this difficult time, I found myself often looking into my phone to fill in this loss and connect with others. The symbology of the heart that I kept tapping wasn't lost on me. Sending these hearts out to people became my main way of communicating for a while there, at a time when I needed to realign my patterns and habits. The things I was feeling and the things I wanted to say were replaced by this symbol, and I found myself doodling it in the books I was reading, and in the notebooks I was writing in.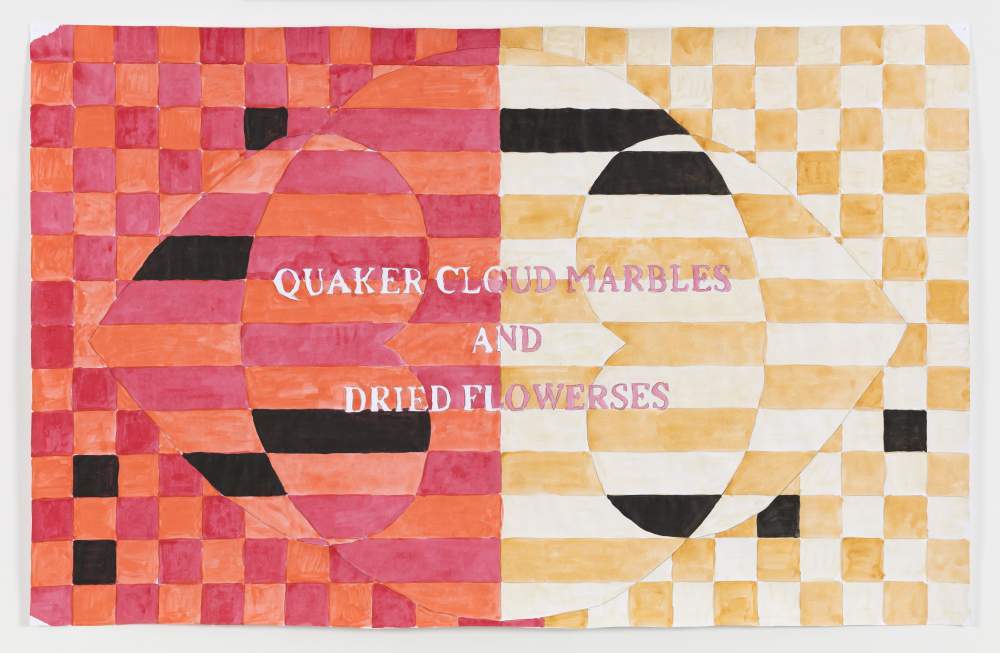 Knowing that I was going to be up there for a few months, I'd planned on trying to really dive into writing a new collection of poetry, using the hundreds of notes that I had accumulated over the past few years to be used for new poems. Instead, I bought a large roll of paper at the local art supply store, taped sheets down to a work table supplied by my hosts, and I started mingling the hearts with lines from my notebook on a larger scale.

The previous summer during a studio visit with Bridget Donahue, she had urged me to begin thinking of all my practices much more holistically: the writing, the visual work, The Song Cave... It was as if someone had told me I should live as lamp for a while. It felt impossible. It was something that had often been suggested, but I always resisted it. I just couldn't figure out a way that made sense, and that didn't feel ridiculous. This time it hit home though, and I just couldn't shake it.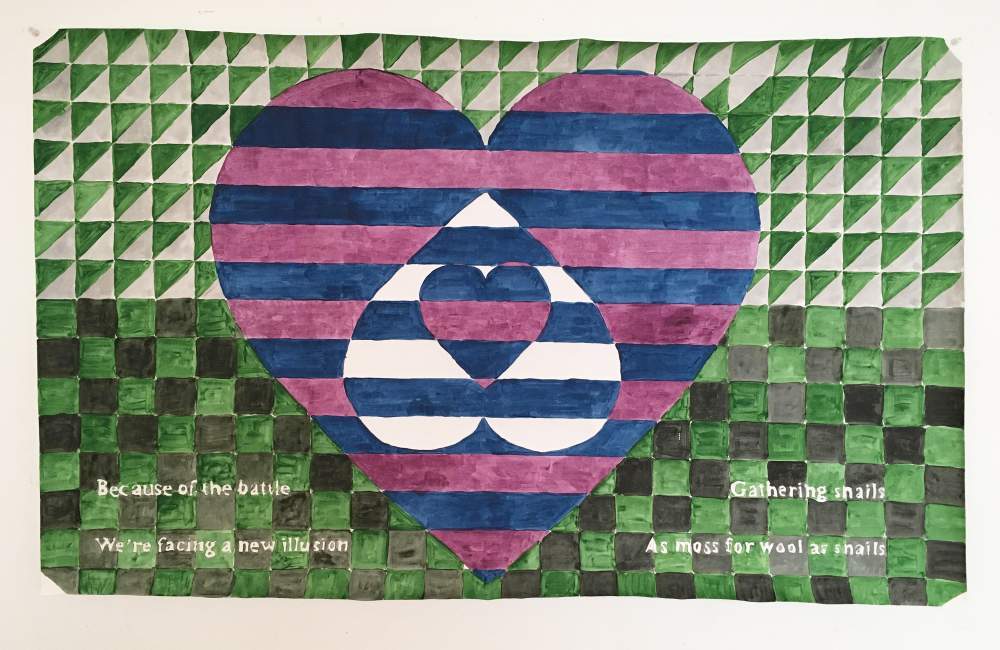 I think that as a good rule of thumb, the thing you tell yourself you'd never do, usually marks the single thing in your creative practice that you should probably do, so I tried. Finding myself making paintings of hearts and poems felt really nuts. Hearts and poems? Really? This was the work I felt I needed to be making? The thing that was going to help me bridge these different sides of my life? I thought no one would take me seriously ever again. I sheepishly texted photos of a couple of these new paintings to my friend, the painter Matt Connors, and he gave me the best feedback I'd gotten in a very long time, that I should "Just do the stupid thing that makes the most stupid sense."

In addition to hearts, you've named Amish quilts, concrete poetry, and Quakerism as influences on this current group of paintings. Have you always had interest in these objects/fields/traditions, or did they enter your thinking more recently?

After I started making the paintings, I thought about other hearts in art, first of course being Duchamp's Fluttering Hearts, then the poet Emmett Williams, who I love, and who used Duchamp's image on the cover of his book Sweethearts. I also thought about Billy Al Bengston, the rich color palettes and patterning of the Amish quilts that I'd sometimes find in antique shops up in Vermont and that I've always been a fan of, and Shaker "gift drawings," which, as a Quaker, I related to in some way as an idea of opening oneself up to something larger in order to help one speak and find truth in urgency.

I began thinking about incorporating text with images, thinking about the image working as a kind of polyphony. Parallel to these ideas for me are Spiritualism, Dada and surrealistic automatic writing and collage writing techniques, which then leads me to concrete poetry of the 1960s and 70s, Apollinaire's calligrammes, the nonsense-logic of Lewis Carroll's Jabberwocky and Alice in Wonderland, and artists and writers like Sue Tompkins, Ian Hamilton Finlay, Mary Ellen Solt, Henri Chopin, and the holistically imaginative practices found in Robert Filliou's work...

What are you working on now?

Well, as my focus shifts through all these influences I've mentioned, the work does too. More and more things come in and fall away. It feels like a pretty fertile time right now. I might always return to these hearts in my work, but it is not the only element going on. The heart-poems, though, do feel like the most punk rock, kind of "fuck you" work I've maybe ever made, so that feels pretty exciting. It's a "fuck it" that brings with it grace, which I think, by nature, is unselfconscious. It's not a "fuck it" that's achieved by giving up, but maybe when vanity no longer has much function in the work. And it might not even be a formal thing, an aesthetic or even a visual thing. Most likely it isn't visual, right, if vanity isn't given the focus? Abandon doesn't need to flail, abandon can in fact quietly tap. Which feels pretty radical to me, and also maybe a bit political? These heart-poem paintings, and what I'm working on now, are intentionally about not giving in to knee-jerk reactions to crummy situations in my life and our world. It takes contemplation and reflection, with the goal being personal revolution. And it feels totally silly to use words like that, but fuck it.

What's on the horizon for The Song Cave?

We have a bunch in the hopper. John Myers' book Smudgy and Lossy is just about to come out, followed by Brandon Shimoda's new book and a newly-translated book by Friederike Mayröcker by the end of this year. We're also currently working on several titles that will be published 2019, including a reprint of a book by Merce Cunningham that we're co-publishing with the Cunningham Foundation to honor Merce's 100th birthday; the first English translation of the final book Chantal Akerman wrote; a collection of "uncollected" short stories written by Raymond Roussel that Mark Ford translated for us; plus our first ever anthology that is just beginning to take form, which Alan and I are both really excited about.



* * *
Ben Estes is a poet, editor, and painter living in Kingston, NY. He is the Founding Editor of the publishing company that he runs with Alan Felsenthal, The Song Cave. Publications of his own writing include Illustrated Games of Patience (The Song Cave, 2015), Eight Poems (Engineered Garments, 2012), The Strings of Walnetto Arrangements (Flowers and Cream, 2011), and Announcement for a Poem, a collaboration with Kim Gordon and Rick Myers (Flying Object, 2012). Estes holds an MA in Art History from University of Iowa, an MFA in Painting from University of Iowa, and an MFA in English from UMass Amherst. Ben Estes, Alan Shields marks the first time in over a decade that Estes exhibits his paintings.