Alice Notley on Philip Whalen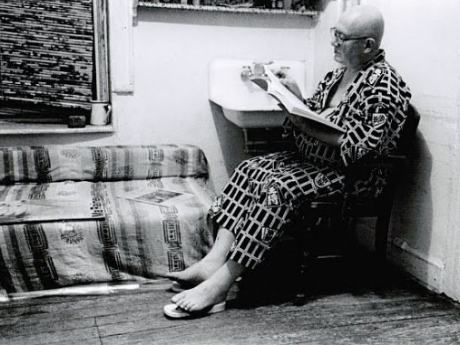 My collection of books by Phil is a mess, everything beat up, waterstained, old and overread. I don't think I've abused anyone else's books so badly. I'm trying to find a quote I can never find (I've tried several times in the past few years), but it haunts me: something like "I realized that the realm of poetry was much older and bigger than I was and would go on without me." This misremembered sentence points to Phil's poetic largeness, and largesse: understanding you are not and could never be "the only one" you can then become a great poet, giving of whatever loony gifts you have, whatever bottomless depths, lavishly. Look at any page of his poetry: you'll get what I mean just visually. But I can't find the quote again; I wonder if someone else said it.

Phil's poetry is as funny and smart as he was, wit and intelligence always being in the service of the innermost higher powers. The Muse, the Buddha, etc. What wills the hand to move the pen upon the paper, saying what It wants. Phil's poetry employs careful but intuitively approached compositional practices: a laying-down of contiguities and patterns of shapes in the form of anecdotes, observations, lists, quotations, overheard material, (also drawings), in unfalteringly alive language held up by a steady Baroque underpinning of 8th-notes (but it sounds like jazz!). What it knows can be changeable: sunlight and clouds on a stream. But also boulders. Mountains. The poems that influenced us in the 60's and 70's are missing from Overtime (Penguin, 1999), wonderful book that it is. I mean extravaganzas like "My Songs Induce Prophetic Dreams," "Monday in the Evening," "The Education Continues Along." You'll have to find a copy of On Bear's Head (Harcourt, Brace, & World, Inc., 1969) or the earlier, beautifully printed books.

Phil had no family, so we all thought we were his family. (We were.) I first made real friends with him at a kitchen table reading recipes together from The New York Times Large Type Cookbook. Reading about food was almost as good as eating it. This was 1972, and he was in the process of joining the Zen community, to become an utterly committed practitioner. Phil lived always in a clean, clear poverty that will remain an inspiration to me. And he never ever disapproved, of one's conduct, say. It was always such a joy to see him. The last time I saw him was in Laguna Honda, in San Francisco, a hospital for the impoverished. He was flat on his back, could no longer walk, and pretty blind. But it was just great to be there, and he was all lit up.



—Originally published in Crossroads, Fall 2002.